Each gun in your arsenal is a beast when it comes to firing. Each weapon has its firing rate and subsequently has its recoil amount. It's essential for the scope to remain in its place, and that's where your scope rings come in handy. Ring scope's main job is to keep the scopes in place.
Best Scope Rings – Overview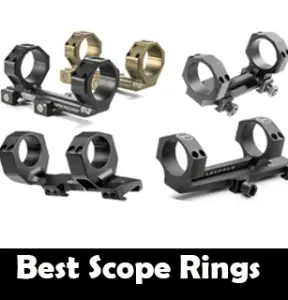 But why stop there? Every task can be optimized to their full potential, and that's why this list is here to inform you about the best scope rings that not only keep your scopes in place but also offer a plethora of features.
While your scope rings determine how good your target acquisition is, your scope rings determine how good your shots will line up. These all factor in the precision of your shots. So it's essential to have a good hold on your scope and shot, especially if you love to practice distance shooting.
Scope rings also offer the option of easy installment on rails, which is paramount in the handling of your gear. In the end, it's essential to buy accessories that line up nicely with your gun, so when you go out on the field, the whole set up doesn't come crashing on you.
Read Related Reading: Best Scope for Savage 220 | Top 7 Choices in 2020
In this list, you'll find which scope rings are best suited to which types of guns and scopes, and you'll have an idea of which gear to match with your firearms.
Top 10 Best Scope Rings/Mounts For Rifles 2020
The ModKin Weaver scope ring is the ring to give you the precision shots you've been craving. The folks over at Modkin have developed this exclusively top gear scope ring for you to depend on, in every shot.
It's designed with a double ring to keep your long optics in place quickly. The Double Scope ring can be attached to Picatinny Weaver Rails. Which means it's entirely usable on your standard and popular guns. The hollowed-out configuration of the ring and the bottom of the base is useful in the sense that it can take a lot of heavy-duty, giving you a sense of dependability on this ring.
There is built-in tape inside per rings to stop it from ruining the scope due to the scratches that will occur on the recoil of each shot. Its job is to keep the scope in place, to prevent it from sliding but also to keep it in top shape. This ring was built for high profile scoping, the elevation being 0.98" from the foundation of the mount to the base of the rings. This ring was designed mostly for scopes that are 1"/ 25.4mm scope tubes or scopes that are designed for distance shooting.
The body is made from aluminum alloy, giving excellent robustness to the scope ring and makes it greatly scratch-resistant. With such exceptional durability, it's also very easily attachable to your rails, saving you the trouble of a long installation period.
Features:
Double Scope Ring for Picatinny / Weaver Rail (21mm)
Hollowed out configuration Design.
Built-in tape inside the rings.
Built for High profile scopes.
Easy installment mechanics.
Built from aluminum alloy.
Pros
Natural alignment with sight due to high profile.
Easy detaching and attaching capability.
Good quality finishing of the product.

Gives great sight for long-range

shooting

weapons.

Excellent hold on scopes.

Good price range.

Lighter than one-piece scope rings.
Cons
Not adjustable with all rifles.
Bottom Line
With excellent holding on the scopes, giving you high profile for better alignment for your eyes,  easy installation, and great quality production of the product makes this scope ring a great purchase.
The NIKON Black precision one-piece is your gateway in fitting your scope in entirely for flaring shots. Nikon isn't just good at making high-quality cameras, but it's also great for making gun-related scopes and accessories that go with it, and from their shelf of gun necessities comes this product.
The product features a double integral ring design. This is a perfect option for maximum scope tube contact, with a better grip on the scope from the ring; you can rely on this product to keep the scope in its place. The double rings are the best choice to apply to Picatinny rails as they apply to the broadest variety of guns that have been made.
The quality of this product is A1, as it is made from lightweight 6061-T6 Aircraft –grade aluminum. This is pretty sturdy stuff, so you can expect that it won't break even under the most rugged treatment given to it. It's also made from non-reflective black anodizing, which is suitable for stealth operations and will make sure you don't pop out due to any light being thrown your way.
The top caps of the rings use #8 Torx-style fasteners with nonslip steel inserts, which further increases the stability of the rings for the scope. With its unique design that provides a broader surface area, and the high fasteners that come with it, your scope isn't going anywhere, even with the most robust recoil from any shot.
Features:
A double integral ring design gives optimal scope tube contact.
It is made from Aircraft- grade aluminum.
It is made for Picatinny / Weaver rails.
It is made with non-reflective black anodizing.
Has non slip steel inserts.
Pros
Great fitting with Picatinny rails.
Excellent matching with other Nikon products.
Exceptional precision and strength.
It is made of high-quality materials.
The single mount makes it easier to install on rails.

Ideal for fast-focus eyepieces.

Good for modern rifles.

Easier to mount than two-piece rings
Cons
Pricey for a ring scope.

One-piece rings are a bit heavier than two-piece rings
Bottom Line
Nikon is at it again, bringing quality products to your doorstep with the exceptional Black precision one piece. It's made from the high-grade aluminum foil and aircraft grade materials that would be tough to break in most situations, and as such, this is a product you don't want to miss out on.
Warne Scope mounts have released a banger of a scope rings that'll help you achieve the best shots on the firing range or the battlefield. The 1 inch Quick detach rings are the rings that you'll have a favorite time relying on, holding your scope like no other ring.
The Warne Company included it's signature Warne indexable lever system, which lets you unfasten the optics from your firearm and lets you reattach it without any loss of zero. You can also know the location of the lever to be indexed once the rings are attached. Once the levers are affixed, simply pull out the lever and place it in your preferred place and let it take its place.
Speaking about fixing stuff in their place, the scope will be non-moving during all your endeavors. Why? Well, due to its excellent grip on the scope, that's why. With rings securely mounted around the scope with the usage of 4 Torx style T-15 socket screws, you can make sure your rings will keep your optics fixed in place.
This isn't the only Warne signature mechanism included in this product; it also has a unique square stainless steel recoil control key. This gives an excellent recoil engagement surface across the whole recoil slate in the base. This ensures no ring shifting or peening and swaging on aluminum bases.
Features:
The ring comes in the heights of med .375 inches.
The quick detach is 1 inch.
Return to zero guarantees.
Rings are securely mounted with high-grade screws.
Warne indexable lever system.
Distinctive square stainless steel recoil control key.
It is made for Picatinny and Weaver rails.
Pros
Easy attaching and detaching of scope rings.
Zero retention.
Easy locking system due to Warne indexable lever system.
Recoil key gives firmness in holding optic.
High-grade screws keep the whole system in place entirely.

Ideal for fast-focus eyepieces.

Easier to mount than two-piece rings.

Ideal for modern weapons.
Cons
A bit hard to get the hang of attaching the optics.

Once-piece rings are a bit heavier.
Bottom Line
The Warne Company has given great twists on the scope by adding their signature mechanisms and quality features to make this a scope ring you cannot pass on buying. This is in the list of the best scope rings under 50.
Nikon comes back with another banger with the Nikon Black Cantilever 1 Piece. It's one of those products that provide secure scope mounting on any AR/ ASR. If you want to scope targets at a much longer effective range, then this is the scope for you.
The Nikon Black Cantilever has a double integral ring design that gives maximum scope tube contact. With as much scope to ring contact that is available in this product, your scope will be fixed in its place like no other. The scope ring has 20 MOA, which gives the ring space for further aim. By aiming down with the 20 MOA feature, it will allow you to adjust and dial longer ranges.
Made for Picatinny / Weaver rails, this gives the scope to apply to most if not all gun types available. The Picatinny rails are the staple for gun-related accessory attachments, and hence it's usable almost everywhere. The Black Cantilever uses #8 Torx-style fasteners with nonslip steel inserts for a great hold on the base on the rails. With these steel inserts, your optic will be stable in its place.
The material used for making this scope is lightweight 6061-T6 Aircraft –grade aluminum with the non-reflective black anodizing finish.  This light material is ideal for stabilizing your target during scope magnification.  This gives the product the topmost robustness any product can offer. With its anodizing finish, it eliminates any reflection on your scope ring and also provides a sleek look to the overall ring.
Features:
A double integral ring design gives optimal scope tube contact.
Made from Aircraft- grade aluminum.
It is made for Picatinny / Weaver rails.
Made with non-reflective black anodizing.
20 MOA
Has non slip steel inserts.
Pros
Compatibility with Picatinny rails.
Great matching with other Nikon products.
It gives excellent clearance for 20 MOA rails.
Exceptional accuracy and precision for added scopes.
Made from the same materials, they make aircraft, very sturdy material.
Single mount means it's easier to install on rails.

Good for budget scopes.

Ideal for modern rifle types.

Light weight for a one-piece ring.
Cons
Only usable for one type of rails.
Bottom Line
This product shares many of the same features with the NIKON Black Precision piece, but it adds the 20 MOA option to its arsenal, which makes it a killer in better target acquisition.
Leapers have released a pair of medium profile 1-inch rings that are produced in the top quality that you have come to expect them to. The pair of optic rings have outdone themselves with the quality they offer and the price at which they are bought.
The rings are made from aircraft-grade aluminum alloy. This is pretty resistant to all kinds of rough treatment, and it's too sure to keep taking punishment, even in the most plausible extreme cases.  It also has an anodized black matte finish, which gives it added benefits such as a non-reflective surface and extra resistance to external factors.
The scope mounts are made for your standard Picatinny rails. Due to the compatible nature of it's with Picatinny rails, you can make sure that It can be used with any gun along with any scope you so desire. It can be fixed into the rails quite easily with its friendly hex screws. The retentive nature and full-length locking plate are sure to let you install it with ease.
It's made for medium height installation, which will help you align it with your eyesight much more quickly. The medium mounting height, coupled with the see-through base, gives you the added feature of looking through iron sights.
Features:
Aircraft material used for construction.
Anodized black matte finish
Friendly screws for installation.
It is made for Picatinny rails.
The hollow base allows the use of iron sights.
Medium mounting height.
Two rings per purchase.
Pros
Top quality material made for production.
Anodized matte finish.
Non-reflective surface.
Easily installable.
The option of viewing iron sights as well.
Great scope ring for Picatinny rails.
Meager buying price.

Affordable price and ideal for cheap scope use.

Two-piece rings are more preferable for long-distance shooting.

The rings are nice and light.
Cons
You need to screw them in tightly. Otherwise, they will get loose.

A bit more complex to install than one-piece rings.
Bottom Line
For the price that is offered on these bad boys, it would be a crime not to buy them. With aircraft grade materials used in making them the see-through base for your iron sights, easily installable scopes to your rails, and great mounting height, you'll be glad you made this smart purchase.
Leopold is the staple product to go to if you want gun-related accessories. Ultimately, the company provides you with the most versatile collection, and out of those collections coms the Leopold Standard scope rings.
Multiple scope rings come in the standard edition, and it's your choice to pick from them. With machine steel construction used in making these scope rings, they are all built to resist any damage. They are made to withstand all the ruggedness that comes with gun handling.
These rings of 0.77inch machine steel STD medium rings are fixed fittingly with an STD one or two-piece bases, so you have access to the breach of your gun. STD bases offer ambidextrous action; you can fit in both directions.
There are a lot of varying heights that you can choose from, which helps in aligning your sights much more effectively and increasing the effective range of the optics you will be using.
Features:
Machined steel construction.
Great for scopes with 1 inch main tubes.
Two-piece design for ambidextrous operations.
Easy access for the breach area.
STD rings are manufactured to match with STD-1 and two pieces.
Pros
Easy to mount.
Different available heights.
Variable scope bases are also provided.
Excellent shifting to zero.

Ideal for long distance shooting.

Very light in weight.

The rings won't get in the way of bolt action rifles.
Cons
Sighting a bit difficult because of breach area sighting.

A bit complicated to attach to your weapon.
Bottom Line
The Leopard Standard is an excellent go-to for scope variety and customization. Due to the high-quality production of Leopard and available variety makes this product great for gun nuts that like to tinker with their guns before setting them up on their rails. Scopes like this are the best scope rings for ar15.
From Leopold's shelf of amazing scope rings comes the scope rings for your rifles. Rifles need scope rings that can handle their recoil power, and not only do these scope rings fulfill that, they also keep your scope like no other.
The Leupold scope rings are made from aircraft air-grade aluminum which is sturdier than your everyday metals used in gun making. Extremely resistant to rugged environments, these scope rings will keep your scope zeroed in and will be reliable in any situation. For installation on your Picatinny rails, you have easily installed Torx Head Screws that are easily screwed able, giving you no complication in setting them up. They're also made from high-grade materials, so you have no fear of them breaking under any conditions.
As rifles come in many different shapes and sizes, it also comes in reason that scope rings should also have the same feature. Leopard offers you a vast collection of riflescope rings that would be suitable for the scope you want to use on your guns. Due to the versatile nature of the scope rings available by Leopard, you have different heightened scopes that will help in adjusting the scopes for optimal target acquisition.
These Leupold scope rings have seen through in the base of the rings so that you can get your iron sights if you so desire. Due to having two scope rings, the scope rings will have a much better grip on your scopes.
Features:
Made from aircraft aluminum grade materials.
It is equipped with easily installable Torx Head Screws.

Multiple Detachable

Leupold

scope rings.

Different height scope rings.
Two see-through scope rings that offer the great ring to scope hold.
Pros
Extreme recoil resistance on the

Leupold scope rings.

Incredible strength and lightweight.
Great variety to choose from.
Excellent retention.

See-through bases that offer a good view.

Ideal for long-distance shooting rifles.

Very light in weight.
Cons
Overwhelming for new gun nuts.

Can be a bit complex to install.
Bottom Line
For range rifles, this is the premium scope rings that you'll want to equip on your firearms. With its versatile choice, you can have vast customization options, and its high-grade quality gives it the edge you wish to out on the field.
Millet has released one of its bestselling scope rings that comes in the form of the Tactical Detachable aluminum rings. If you want an excellent aluminum ring that'll hold your scope under any condition with such an exceptional price, then these are the scope rings you'll need to look out for.
The scope rings come in the size of 34-mm diameter. They are all one-inch rings. With such an extent, they are optimal for low height installation. With four cap clamping screws, they'll have a great clasp on your scope like no other, and due to the tight clamping mechanism, the retention of the scope will be unmatched. The pins are stacked in favor of an even better hold on the scope. With all these features on scope hold, it'll take a lot of pressure for this scope ring to come undone.
The design of this product is exceptionally slim, which allows more adjustability on short tubes, giving you even more easily attachable mechanics. Aluminum construction supplements its sleek design giving it style and function at the same time. The anodized matte finish provides the scope with rings non-reflective features as well.
Features:
34-mm diameter, 1-inch ring.
Made from aluminum.
Four cap clamping screws.
Slender profile for adjustability.
Stacked pins for a great hold on optics.
Matte finish.
Pros
Made from rugged material.
Extreme hold on the scopes.
Easily installable.
Excellent retention on the scopes.
Extremely affordable.

Good for long distance rifle shooting.

Very light.
Cons
Only viable for low scope heights.

Some find them a bit complex to install.
Bottom Line
The millet line offers extremely resistant scope rings, and as such, they are the go-to rings. You will find that they have made this product to be highly favored by their customers and as such, you should also join the ranks of their approving customers as it is also considered one of the best scope rings under 50.
Leapers or better known as UTG released one of their most high-grade products to date. The UTG 2 piece medium pro LE Grade rings have been made to change the game in the scope ring department with the standard they offer.
Made from aircraft-grade aluminum alloy, makes this one of the most resistant products on the market. It's made to be deployable in the harshest environments, and it'll be sure to take a lot of punishment before you even see a scratch on it. With the anodized black matter finish, you have a non-reflective surface on the optic and a sleek design on it to boot.
Four screw rings are applied to this design so that the ring will have a firm grip on the scope.  These screws come to a high quality synthetic protective tape on the inside of the scope rings each, protects the scope from being damaged from the rings.
The quick detachability and adjustable lock lever give the gun user ample simplicity in the installation and configuration of his scopes. If any problem arises, instead of spending time tightening and fixing in screws, just use the simple mechanism of the quick attach/ detach and easily adjustable lock lever system to save time for more shooting related activities.
Features:
Constructed from aircraft-grade aluminum alloy.
Anodized black matte finish.
Four screw Rings for a sturdy hold.
Quick detach and the adjustable lock lever.
Compatible with any Picatinny/ Weaver rail.
High quality synthetic protective tape.
Tight tolerance control
Pros
Resilient material used in making this product.
Non-reflective black matte finish.
Sleek design.
Easy configuration and installation.
High endurance to various external factors.
Protection and retention for scope.

Deployable which can give you more flexibility.
Cons
There may be a problem with MOA adjustment.

They're a bit heavy compared to other two-piece rings.

First-time installation might be complex.
Bottom Line
With so many options and easy to use features at your disposal, it's a great deal for any gun fanatic to take his shooting game to the next level. Leapers are known for their product quality and their shows here in this product as well.
Accu shot has come out with another banger of scope rings in their high profile airgun rings.  Airguns are on the rise these days, and there should be scopes to handle their scoping needs.
Made from aircraft-grade aluminum alloy, it makes it sturdy in its application and more suitable for any weather condition. It's solid compared to other airgun scope rings. It's anodized with a black matte finish, which makes it non-reflective and gives it a sleek black look.
There is a stop pin used in this product that gives a rock-solid application. It comes with locking hex screws, which keeps its place exceptionally.  It also employs a reverse locking plate to fit a full range of airgun rails. This makes it immovable and frankly quite easily applicable to most airguns out there in the market.
Features:
Aircraft-grade aluminum alloy.
Anodized black matte finish.
Stop pin for application.
Ring base design.
Locking screws for a tight fit.
Reversible Locking plate.
Pros
Sturdy material used in production.
Non-reflective finishing used on the product.
Firm grip on rails and scope.
Multiple mechanics used for locking.

Compatible with most airgun types.

Nice and light.
Cons
Only applicable to airguns.
Bottom Line
Airguns also have scoping needs, and that's where Accu-shot has fulfilled the requirement. These scope rings are absolutely a beast to have and takes your competitive scene to the next level.
AccuShot Medium Profile 2-piece 1-inch rings are the best scope to be bought under  50 dollars. Most A1 quality grade scope rings start from 70 dollars and go way up, but leapers have given us the same quality scope rings that you would find on the high spectrum of prices at reasonable prices of below 20 dollars.
The scope ring is made from high-quality aircraft-grade aluminum which is coated with an anodized black matte finish. This makes it resilient and also non-reflective for optimal hunting and shooting in a wide range of weather conditions. This scope is also compatible with Picatinny rails, which let it be used with virtually any gun.
The gun is designed with hollow bases, which lets the shooter use his iron sights if the need arises. This hollow base also serves the function of distributing the impact of each recoil over the whole gun, which gives more stability for the shooter. With easy to install screws, this makes the scope rings that much desirable to install on your rails. You can easily adjust them due to this feature, and this saves a lot of time concerning this task. Overall, this scope is the best out there if you're looking for the best scope rings under 50.
For the best scope rings for heavy recoil, Millet Tactical Detachable Aluminium Ring is one of the finest scope rings that you'll use to minimize the heavy recoil of the shots. This beast has four cap clamping screws that help it stabilize the screw during each fire. It has stacked pins that further negate the recoil that you'll face. With the aluminum used in the construction of this product, it's quite sturdy, and it'll help you keep the optics in place and reduce the recoil. The durable materials also make it practical for any weather condition. 
The product is extremely resilient, but it's also slim in design, giving it a lightweight property to it too. This product will be crucial in distributing the force of the recoil.
NIKON Black Precision one-piece is also one of the best scope rings that come to resist the impact of the recoils. With the double integral ring on a single base, the scope rings totally observe the recoil to its domain and rarely lets it go towards the gun, ensuring you won't feel a thing whenever you'll shoot. With non-slip steel inserts also being deployed in this product, it'll be much easier to handle the jolt of each jerk back of each shot. This product is a must-have if you want an efficient and less troublesome time with scope rings, it gets our approval of the best scope rings for heavy recoil.
If you want a scope ring that can cope with the enormous power of the 6.5 Creedmoor line of guns than Modkin Weaver Scope Rings are the best pick. With the high-quality double scope rings that are used, you'll have a great time handling the scope. With its high profile scoping, you'll be able to see far and wide and couple that with a proper scope, and you'll identify targets exponentially.
IF the need arises that your target is near, then you can use the hollowed out portion to switch to your iron sights quickly. Other than that, there are protective tapes used on the inside of the scope rings. Each shot causes great recoil, and the tape will make sure that no damage will come to your scope.
Other than that, the Accu shot medium is also a great option to choose from. If you prefer adjusting your shots before you fire them, then this scope ring offers that feature. The type of gun we're using this ring requires absolute precision, and so it wouldn't be surprising if one sets up their shot.
Both scope rings offer great versatile options for the 6.5 Creedmoor, and as such, they are both great picks if you want those precise and accurate shots and certainly make it to the list of the best scope rings for a 6.5 Creedmoor.
Scope Rings For Ruger Precision Rifle - Check Here
The Ruger precision rifle is a rifle with immense power and range. As such, it would need a fitting scope ring that will resist the massive recoil that comes with the gun. The Nikon Black Cantilever 1 piece is the one that will do the job due to several reasons.
The Double integral ring gives the scope maximum contact with the ring, which increases the hold on the scope. The better the hold, the fewer chances that the scope will be moved from its place. The last thing you'll need is a wonky scope, and the ring will make sure there is no change in its position. Due to the common base of the scope rings, you don't have to worry about the rings taking the recoil individually; instead, it'll be distributed over the whole base of the gun.
With the non-reflective black anodizing on the scope ring, this will also give the scope rings a slick look along with Ruger precision rifle. With the non-reflective nature of the gun, you won't be spotted, too, due to any light reflection, giving you a stealth advantage as well.
The Ruger precision rifle needs befitting gear that goes with it as each shot is crucial in dispatching the target, and there is no margin for error. It stands to reason that this product is the best choice to match it with the substantial firing power of the Ruger precision rifle and it stands to reason that this is the best scope ring for Ruger precision rifle.
Shotguns have a limited range, and quick target acquisition is the key to taking out your target. As shotguns are designed for close range and extremely powerful recoils, then it's best to employ scope rings like the Warne 1 Inch Quick Detach Rings and the Leopold Standard.
The Warne 1 Quick Detach rings are optimal due to its low profile settings. Shotguns don't need much range, and as such low profile rings are the best bet to go with. The ring comes in med0.375 inches. With each shot, if there is any displacement for the scope, you can always return it to zero within no time. The quick detachability of this scope ring is phenomenal. If you want to adjust anything on the scope, just pop it off with the fast detach. This is surely one of the best scope rings for a shotgun.
Concerning the Leopold Standard, they share the same qualities with the warne, as mentioned earlier scope rings. These rings are also easily detachable and are also great for scopes with one-inch tubes. You can also fix them on either side of the Picatinny rails. But the best part of these rings is that they are versatile, you can mix and match which scope ring will be the most optimal for your shotgun, another one to add to the list of the best scope rings for a shotgun.
So you have the best scopes lined up for your shotgun, and either of them will enhance your close combat experience.
2 Types Of Scope Rings & Parts of Scope Rings
The following are the types of rings:
Two ring scope:
Two ring scopes are used to hold the longer scopes in place while being placed on two different bases. The benefit of using two ring scopes is that you can adjust each of them according to your wish and can set them apart as much as you want. This gives them versatility with scopes.
Two ring scope mounts are considered more traditional and were the go-to for most weapons since one-piece mounts are still relatively new on the market. Two ring scopes usually offer the following benefits over one-piece rings:
They are generally lighter in weight

They are usually more affordable than one-piece mounts

They don't get in the way of bolt action rifles where one-piece rings sometimes get in the way of the bolt

They are more preferable for long-range shooting

These scopes are compatible with a wider range of weapons
The drawbacks of these rings are as follows:
They are challenging to install

Aligning your scope with installation might require some skill
Single base two ring scopes:
The unique base two ring scopes are easy to install as you just have to attach it to the rail of the gun. They are exceptional in observing the impact or recoil of shots, and you can only fit the scope in it and just tighten it up. They are used with particular classes of guns. These are the best scope rings for 308, guns with heavy power.
These mounts are relatively new on the market compared to scope rings but they are often preferred by beginners because they are much easier to attach or use.  Here is a quick look at the top benefits of two ring scopes with a single base:
Higher compatibility with modern rifles or weapons

Very simple and easy to mount

They are easier to dismount which make them more suitable for tactical rifles

They are very easy to use

No alignment issues when you install the mounting

They are more suitable for semi-auto rifles
The drawbacks of these mounts are as follows:
They are heavier

They are not designed for long-range shooting

They often need to be attached to rail base

They can get in the way of the bolt in certain rifle types
How to Choose Best Scope Rings In 2020?
Choosing the best scope ring can become a daunting task, especially with so many compatibility options they offer. Hence the following factors affect the best scope ring:
The main rings job is to help retain the hunting scope in its original position due to massive recoil action. The scopes adjustments depend on the ring's ability to keep it in place. If the ring succeeds in keeping the scope in place, then you don't have to worry about your adjustments coming undone on the focus eyepiece.
Due to the nature of firing guns, the rings must be made from sturdy materials. The best of the scope rings are made from aircraft-grade aluminum alloys. These rings are robust and can handle any rigid environment they are put into. It's also essential that they have an anodized matte finish so that they don't reflect any light.
Easy and quick attaching:
The ring should also be easily installable to the rails as no one wants to be wasting their time just setting up their gear.  The more challenging the rings are to install, the more challenging it will also be to get your scope properly aligned. 
5 Most Asking Scope Rings FAQ:
What are the best hunting scope rings & Mounts?
The best scope rings are the rings that can optimally hold their scopes in place. They aren't moved from their positions due to any factor. They are easily attachable and can be easily detached as well. They are made from the most robust material out there but also have the quality of being lightweight as well.
What are the best scope rings for Remington 700?
The scope rings that are best for the Remington 700 are scope lings that are perfectly aligned. As rings that have a proper alignment that gives your scope a better precision shot. Scope rings like the UTG 2 pieces or Modkin Weaver would be the best bet to use with them.
Are scope rings universal?
Scope rings are not universal. They are mostly used with Picatinny/ Weaver rails, which makes them a bit limited in their compatibility with guns. The guns that don't use this standard of rails have scope rings specially designed for them.
Should your lap scope rings?
Yes, lapping scope rings are suitable for your shots. The scope rings have minimal contact, and if you lap these rings, the contact raises to 90%. This gives your scope a straightforward alignment, resulting in precision shots.
Is 1 inch bigger than 30mm?
30mm scope rings are bigger than 1-inch scope rings. The 1-inch scope rings are more popular due to their lower production cost and accessory availability. The 30mm scopes are much better used in the harsh environment like low light conditions, due to being thicker than the 1-inch scope rings.
Buyers Guide
Ring scopes are imperative in keeping your scopes stationary. Without them, you'll have your scope flying off with each shot. Ring scopes come in many shapes and sizes, and as such, they need to be coupled with railings and scopes that best optimize your shot accuracy. Ring scopes are one of the essential accessories when it comes to scoping because the right ring allows the scope to dispatch your target quickly. That's why this buyer's guide is essential for that (Check Forum Discussion For Ring Scopes).
Which Type of Scope Rings Is The Best To Buy?
Scope rings come in a variety of sizes and types, and it mostly depends on what kind of ring will suit the task at hand. The two-piece ring scopes are used for longer scopes as you have the option of choosing where to place the bases of the scope rings. They are used almost on every gun and can be made specifically for one type of firearm.
Single piece two scope rings are specifically designed for special guns. They are designed to take in the recoil, and the alignment of these rifle scope rings are near perfect. Due to this, they are also comparatively pricey. They are also relatively better at absorbing recoil impact than their counterpart as they distribute the jolt across the base.
So, looking at the options you can choose whichever you want, the better of these is the two-piece ring as it is more widely used and is very cheap. The second option is specific and pricey, and unless you are entering competitions or using this on the battlefield for long-range shooting, its best to stick with the first option.
Easy installing:
Most scope rings are attached to their subsequent rails, but the critical thing to note here is how easily they are connected. There are many techniques to install your scope rings, and it's essential to know which suits you best.
Most scope rings are installed using screws and clamps. The tighter you screw it in, the better the hold on the scope. But it is tough to detach it. So it's essential to have an excellent detaching mechanic to your scope ring. You can easily detach it, make adjustments, and latch it back on without taking much time on it. Single base scope rings are ideal for this. Otherwise, secure lock lever systems are the way to go.