Danner Boots was founded in 1932 by Charles Danner in Chippewa Falls, Wisconsin. He later moved the business to Portland, Oregon where he felt there was a ready market for quality boots. It was, however, the demand for boots from the US Army during the Second World War that made them the household name they are today.
Danner Boots are currently a subsidiary of Lacrosse Footwear but their primary factory and headquarters are still in Portland. They supply the United States military and law enforcement with footwear, which speaks a lot to the reliability of their boots.
Being a Pacific Northwest original, they have maintained the respect for the stubborn landscape and extreme weather that Charles Danner had when they ventured into hiking and hunting boots. For close to a century they have been producing truly American boots. They are so confident in their quality that their entire footwear line comes with a 1-year warranty.
Danner hunting boots come in various sizes, colors, and specifications and are available in men's and women's fits. The versatile hunting boots share certain qualities which make them the top choice for many experienced hunters.
Comfort
Current generations of Danner hunting boots are made with the latest technology with comfort as a key consideration. Their patented TERRA FORCE NEXT platform exemplifies this in the following ways:
Torsion Control
Their Vibram sole has a flexible internal and external shank system that supports the arch of the foot and facilitates the seamless transfer of pressure from the heel through the instep to the ball of the foot as you walk. It is very flexible as it is made of thermoplastic polyurethane (TPU).
Shock Absorption and Cushioning
Vibram's rubberized Ethylene-Vinyl Acetate (EVA) midsole does not pack down with time. It keeps providing cushioning properties and enhancing rebound, so the energy in each step is returned. It is also soft and does not squeeze the feet.
Danner Boots also produce Airthotic support insteps and Danner Comfort Systems (DCS) footbeds for those who need extra cushioning. These are soft and lightweight yet more rigid than foam so they don't compress with time. These insoles are perforated for extra ventilation. They cup the heel and offer the feet arch support.
Easy to Break In
The pliability of the sole and the easy softening of the cured leather means the new boots won't rub and squeeze your feet, leaving painful blisters. They have a short breaking-in period before they adapt to the contours of your feet.
Lightweight
The cushioning between the outsole and footbed does not translate to a bottom-heavy boot because both its EVA and TPU components are lightweight. The ones that are insulated as a form of waterproofing and for protection against cold weather use the lightest cutting-edge material. Danner hunting boots have some of the lowest heat-to-weight ratios.
A light hunting boot enables you to be faster, less conspicuous, and more agile.
Ankle Support
All Danner hunting boots are cut high on the ankle. They can support the ankle and by extension, the calf on uneven terrain, reducing strain.
Camouflage
With colors such as brown, mossy oak, and Realtree edge, the boots easily disrupt the human form as they fit in with natural outdoor elements. The rubber outsoles also ensure you make the slightest noise as you move, allowing you to sneak up on the prey.
For instance, you can easily disappear into the terrain with these Danner Vital Men's Insulated Hunting Shoes in Realtree Edge.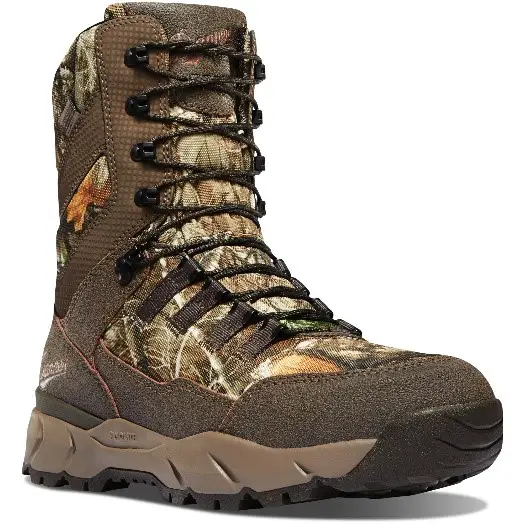 Weather Resistance
Danner hunting boots have been adapted to enable the hunt to continue regardless of the weather conditions.
Water Resistance
The tanning process gives the leather a protective coating so it does not absorb water. Danner boots also have their own Danner Dry liners and GORE-TEX waterproof liners that will keep the water out in extreme cases where they penetrate the leather. These liners also wick away sweat from your feet, keeping them dry and fresh.
Insulation Against Extreme Temperatures
The boots are able to retain heat in low temperatures, even in the presence of moisture by incorporating variations of PrimaLoft insulation, GORE-TEX, and Danner Dry liners. They can therefore be used for pre-season scouting and early season hunts when the weather is cold and rainy. For hot weather, they have boots with lightweight breathable mesh lining on the inside which prevent the feet from getting too hot and absorbing moisture.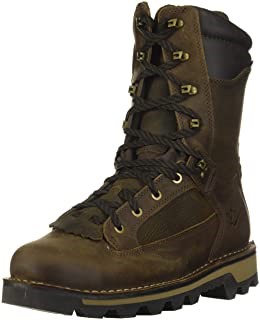 These Danner Powderhorn Hunting Shoes come with an OrthoLite footbed for extra cushioning for the long haul.
Traction
Danner hunting boots have a Velcro-like grip on all surfaces; wet or dry, loose sand, gravel, leaves, snow, or mud. The outsoles have self-adapting patterns specialized for diverse needs. From their own Danner Bob self-cleansing outsole to Vibram's Megagrip and Arctic Grip technologies, they have spared no resources to facilitate a solid footing.
Durability
Danner hiking boots are solely made from high-quality material; full-grain leather, high denier Cordura nylon. They are hand-stitched on the outside, with triple stitching applied to critical stress points. The sole, which is a combination of rubber, EVA, and TPU is very flexible making it stress and crack resistant. Each boot is capable of surviving unforgiving conditions.
Boot Recrafting Service
Don't despair when your boots eventually wear out. You can find out from Danner if they qualify to be sent back to their Oregon factory for restoration where they will be brought back to life by a dedicated team. You just specify what the boots need, whether it's an outsole replacement, leather rework, or re-stitching.
The service is popular and they are exceptionally busy at the end of the hunting season. It costs less than getting a new pair of boots so you don't have to sacrifice the quality you are accustomed to if you are not in a position to afford replacement boots. The recrafting is even covered by a warranty.
Fit
Danner hunting boots employ standard sizing techniques, so the boots fit true to size, with a few adjustments depending on the last mold customizations. Some are designed for specific shapes and depths, depending on target users. There are narrow and wide foot fittings. Some are designed to allow the toes to splay naturally while locking in the heel for stability.
Aesthetics
A Danner boot offers hybrid utility between casual wear and hunting. This is because their protective coating keeps the leather from drying up while preventing water and grime such as mud from robbing the leather of its natural oils. They retain their sheen and will take beautiful photos in both circumstances.
A Danner hunting boot is worth every penny spent. A priceless synergy of vintage design and modern technology.