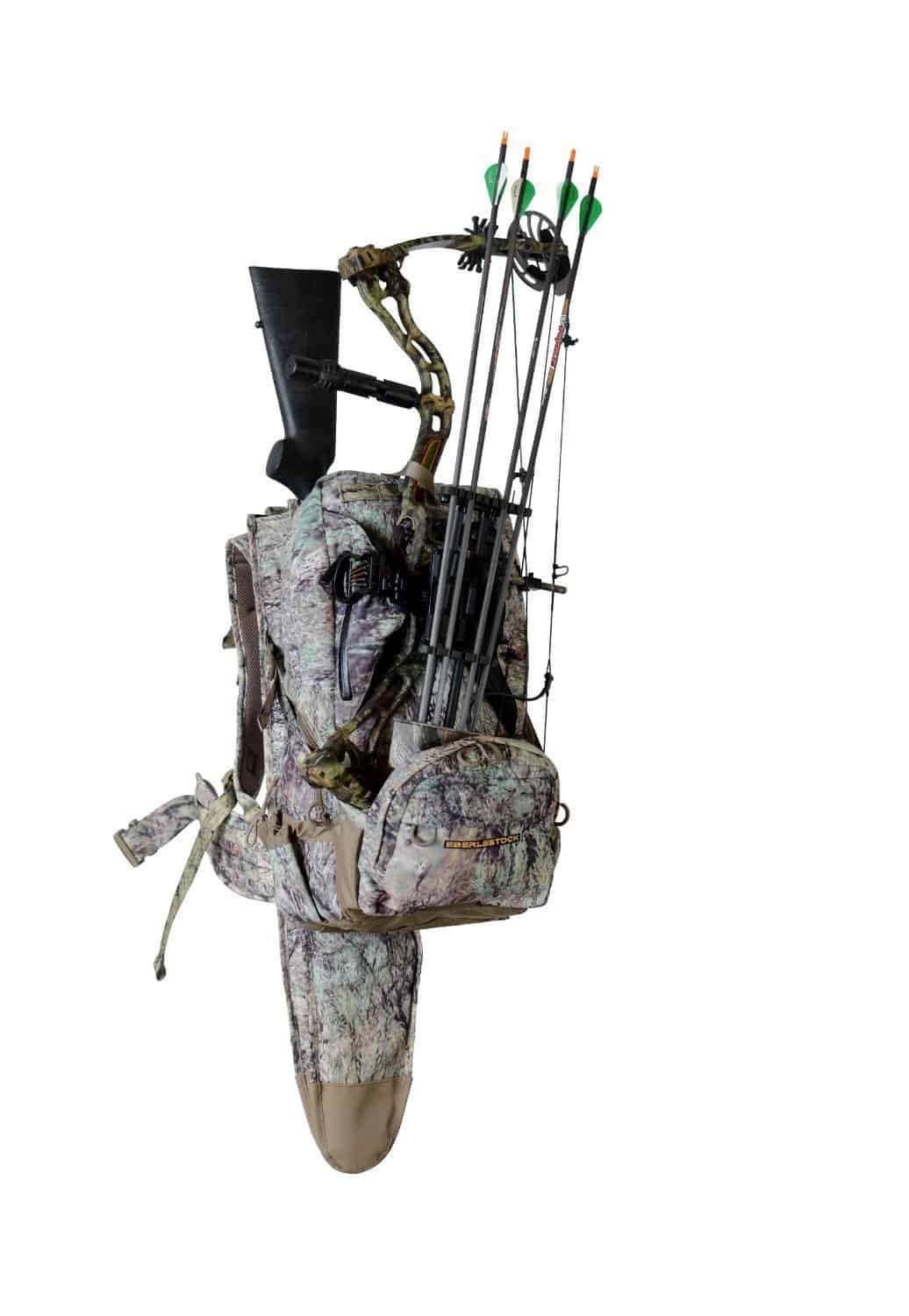 Constantly on your back during an expedition, the hunting backpack is like your trusted sidekick. It carries all your gear, hiding whatever secrets you have within its depths. The backpack will lay on your back, always following you wherever you go.
It's the ultimate partner. We hardly ever notice, but these backpacks are critical in determining whether our hunting expedition will be successful or an epic failure. What we carry is dependent on what the backpack can bear.
If it's too small, then you'll have to compromise. If it's too big, then you might end up carrying gear that you don't really need. If the pack isn't comfortable to your shoulder and back then you'll rue the trip from the very beginning.
So you see, the backpack may make or break your hunting trip. In that case, you need a pack like the Eberlestock X1 Pack. This is the kind of pack you get attached to. It's loyal. It's a zealous companion.
It's everything you need for a day's hunting expedition. But what sets it apart from the other hunting backpacks in the market? Let's find out in this Eberlestock X1 Pack review.
Features of Eberlestock X1 Pack
Size and Weight
When on the search for the perfect hunting pack, the first thing you'll be looking at is its size. Can it fit all your gear? Does it accommodate enough for a day's hunting trip? Can it carry more than a day's gear?
Well, the X1 is perfect for a day's expedition. With dimensions of 22.5 inches by 11 inches by 7 inches in depth, this pack is compact enough to embrace you on your back comfortably.
And with a carrying capacity of 1900 cubic inches, I'm sure you'll find enough room inside to stuff your gear.
Then, knowing the weight of the load will be much, the backpack's own weight has been kept to a minimum. It only weighs in at 5 pounds and 8 ounces when empty.
Weapon Carrying System
To go hunting means carrying a weapon. Still, there's a bit of hiking involved, and you'll need your hands-free while walking.
In that case, the backpack you choose has got to have a system in which you can carry your weapon of choice. The Eberlestock X1 Pack does more than that; it allows you to carry more than one type of weapon.
First of all, it has a deep scabbard, conveniently placed right at your back. This scabbard can accommodate a full-scale hunting rifle, allowing it to snugly slide inside. The butt will emerge outside from behind you making it easy to draw when in need.
Furthermore, the X1 has some X pockets right on its front face. This design forms a saddle in which a bow can fit perfectly. The bow then sits inside the pocket which will also fit a quiver of arrows. So, there you have it, the X1 is great for both rifle and bow and arrow users.
Adjustable Torso Length
To give this backpack the versatility that eludes other hunting packs, Eberlestock fitted the X1 with an adjustable shoulder harness system. The shoulder harness secures the backpack onto the carrier.
With an adjustable one, you can shift the torso length to fit the size of the person carrying. The X1 is adjustable enough that a young child can comfortably carry the backpack.
A grown man, as well, can use the same pack by simply adjusting the harness and allowing the pack to fit his size. Whatever your body size, the X1 will adjust to fit you snugly.
Internal Hydration Slots
A very important feature but often overlooked by manufacturers is the hydration compatibility. As you're walking along, one thing that comes in handy is the ability to keep yourself constantly supplied with clean, fresh water.
Every second spared matters and often results in a successful hunting trip. Eberlestock knows this and has included not one but two internal hydration slots.
In these, you can fit hydration reservoirs and attach a bladder. Using this bladder, you'll have a continuous supply of water without having to stop and all the while keeping your hands free.
Durability
Then, of course, the ultimate hunting backpack has to be as unstoppable as you are. If the backpack covers, then the wearer might not succeed in the quest.
While on the hunt, you'll constantly be crouching behind bushes, creeping through tall grass and climbing trees. The backpack will, therefore, be exposed to lots of scratches and bruising.
This kind of punishment shouldn't bother a good hunting pack. And the X1 remains stoic in the face of such battering. The build is strong, made of a durable material that resists scratches.
The zippers are also sturdy enough to remain intact even when exposed to numerous opening and closing actions. Still, the X1 has a degree of water resistance, meaning when it rains slightly, your gear won't get damaged by the water.
Pros
The Eberlestock X1 Pack has an ample carrying capacity of 1900 cubic inches, just enough for carrying a day's worth of supplies.

With a versatile weapon carrying system, the X1 is perfect for both the gun and bow hunter. The deep scabbard can carry a full-scale hunting rifle while the X pockets easily secure a bow.

The adjustable shoulder harness system makes the backpack easy to carry by people of varied body sizes.

You can get hydrated thanks to the two internal hydration slots in the X1 hunting pack.

This backpack is made to withstand the battering that comes from being in the outdoors.

Being vertically adjustable makes it easy to carry the weight in the pack without straining your shoulders or back.
Cons
The Eberlestock X1 Pack doesn't have MOLLE webbing for expandability.

This backpack isn't fully water resistant. It can only ward off a small amount of water.

The pack doesn't have an inbuilt frame to ease carrying of loads.
Frequently Asked Questions (FAQs)
Q: Can this backpack carry more than a day's hunting supplies?
A: No, the 1900 cubic inches carrying capacity is only enough for a day's hunting trip.
Q: Does the X1 have a frame?
A: No, unfortunately, it doesn't have a frame, but it doesn't carry that much of a load to require one.
Q: Can a child carry this pack comfortably?
A: Yes. Its shoulder harness system can be adjusted to fit a 10-year-old child.
Q: Can the scabbard be detached from the backpack?
A: No, it's built into the pack.
Q: What kind of bow can one carry with it?
A: You can carry a recurve or a compound bow.
Final Verdict
The perfect hunting pack is one that allows you to carry both a rifle and bow and arrows. The Eberlestock X1 Pack fits that category. It was made for a short hunting expedition so its lack of expandability shouldn't bother you.
However, its 1900 cubic inch carrying capacity is just enough to tuck in more than the required amount of gear for a day's trip.
Having the X1 is like having the perfect companion in the outdoors. So, to end this Eberlestock X1 Pack Review, we give the pack two thumbs up.