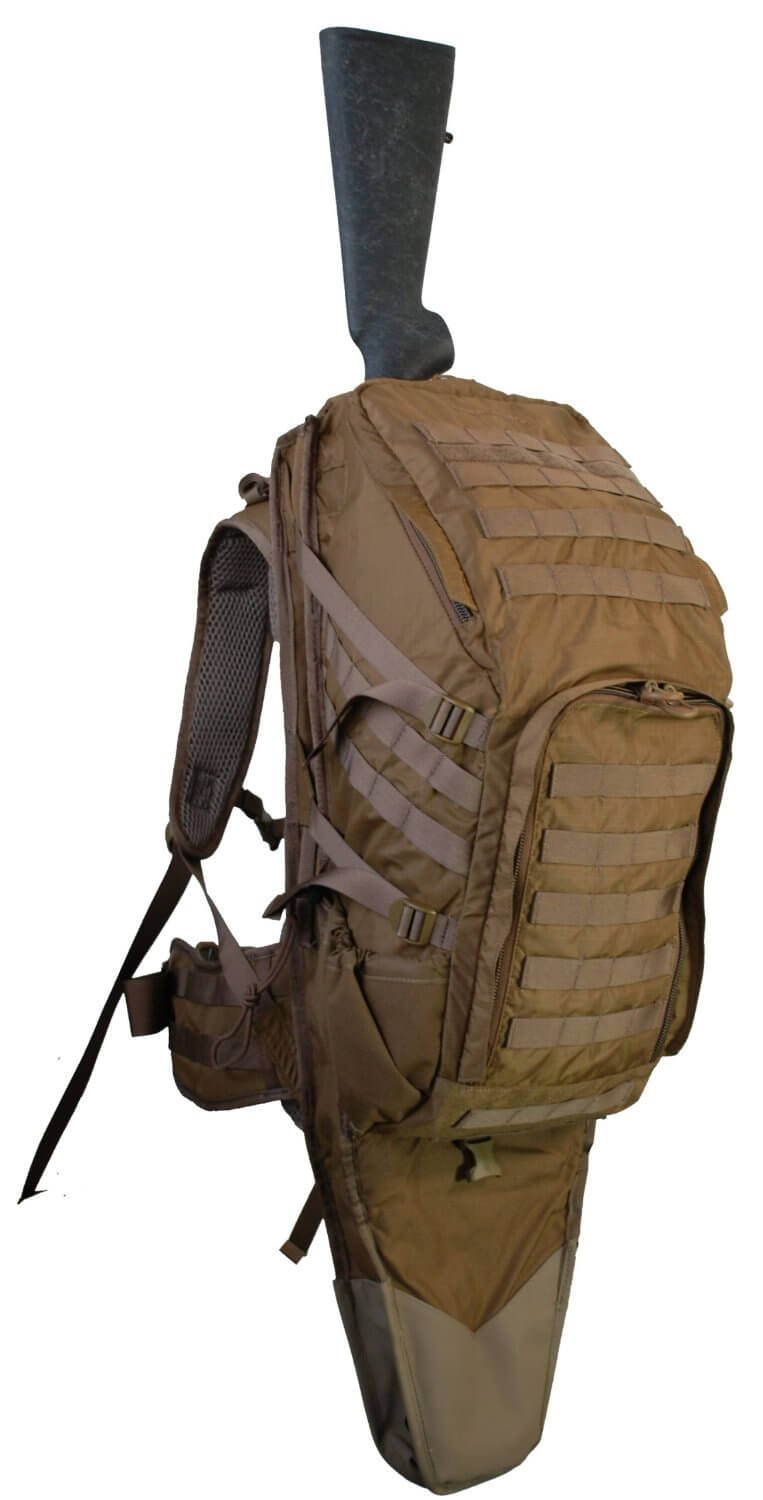 For every outdoor aficionado, there are a number of items that are key for a good outdoor experience. It starts with the shoes on your feet. It extends to the tactical tools you carry. It might even be the types of food you eat.
However, there is one item that is critical to have, that's the right backpack. A backpack for hunting isn't like any other pack. This is a backpack that won't falter when faced with harsh conditions.
It's a pack that needs to remain stoic in the face of danger. It should be able to do all these things while carrying every last piece of gear you need for your expedition. The hunting backpack is a special item to own.
It will be your companion, constantly laying on your back. And that will bring you the most important aspect, comfort. So, with products such as the Eberlestock X3 Lodrag Pack, the bar is set high.
Every last detail of this backpack was carefully thought through. From its build to its size, this is an ideal hunting backpack. If you're still skeptical, then read on and find out why we love this backpack so much. Here's the Eberlestock X3 LoDrag Pack review.
Features of Eberlestock X3 Lodrag Pack
Size and Weight
We've mentioned that the ideal hunting pack must be just the right size to bear all your gear. With the perfect sized backpack, you'll never have to worry about leaving anything behind. In any case, you'd rather carry extra gear since the outdoors can be very unpredictable.
With dimensions of 22 inches along the length, 11 inches in width and 8.5 inches in depth, the Eberlestock X3 Lodrag Pack gives enough space to stuff all you need inside while maintaining a reasonably sized footprint.
These dimensions enable the backpack to accommodate a total of 2000 cubic inches. For a day's hunt, this is a perfect size. Still, the backpack itself has a weight of just 5 pounds and 8 ounces.
Weapon Carrying System
Of course, when going hunting, the single most important item to carry is the weapon. Having a system in which you can carry the weapon conveniently is thus very important.
The weapon should be secured in place yet easy to draw at a moment's notice. The Eberlestock X3 Lodrag Pack has taken this into account. Built into it is a weapon-sized scabbard. It's placed in a very convenient position within your reach when wearing the backpack.
Your rifle will slide into the scabbard and will be held in place. This secure position keeps it from rattling when you're moving. It's butt sticks out from behind you, placing it within your reach and making it easy to pull out.
Compression Straps
So, yes, this backpack can accommodate a massive amount of gear. You'll probably fill the backpack to its total 2000 cubic inches capacity. Every last space within it will bear something you'll need on your hunt.
With such a load, perhaps you're worried that carrying the backpack will be difficult, right? There's no need to worry because the X3 has compression straps on either of its sides. What do these do, you ask? Well, compression straps tighten the load in the pack, bringing the items closer together.
In effect, the load is drawn higher positioning the whole backpack's contents above your center of gravity. You'll, therefore, have a more upright stance making it easier for you to carry the heavy load.
Pals/ Molle Webbing
Eberlestock added everyone's favorite feature; MOLLE webbing. With these, you're assured of expandability of the pack's carrying capacity. On the webbing, you can add extra pouches onto the backpack in which you can carry extra gear.
You can also latch your gear externally without the need for pouches. The advantage of this is that whatever is attached externally is within your immediate reach. However you choose to use the webbing, you're assured that nothing will be left behind.
Furthermore, the webbing gives the backpack a more rugged appeal, at least from my point of view. However, you look at it, having the PALS/ MOLLE webbing is a plus for the Eberlestock X3 Lodrag Pack.
Durability
The ultimate feature of a tactical backpack is its ability to withstand the harsh outdoor environment. And the eberlestock X3 Lodrag pack was built with this in mind. Its build is hardwearing.
As you pass through the woods, tree branches and bushes are going to be scratching against the backpack's body. The LoDrag was built to withstand these scratches, allowing it to emerge from the expedition looking as good is it was before.
The material is also able to ward off rain. It gives the pack a water resistant feature that also protects your contents inside it from the effects of water.
Pros
The Eberlestock X3 has a carrying capacity of 2000 cubic inches.

With a weight of 5 pounds and 8 ounces, this backpack remains light enough to bear the weight of the gear.

It has a weapon-sized scabbard that easily secures a rifle at a most convenient position.

The compression straps enable you to draw the load upwards and raise it over your center of gravity, effectively easing the burden of the weight.

Having PALS and MOLLE webbing, you'll be able to attach extra pouches and gear on the outside of the backpack.

The backpack has a contour shape which makes it comfortable to carry.
Cons
The backpack isn't fully waterproof, just water resistant to a certain extent.

The backpack also doesn't have a frame to ease the load carrying.
Frequently Asked Questions (FAQs)
Q: Is the X3 LoDrag expandable?
A: The pockets aren't expandable, however, the MOLLE webbing help in increasing extra pouches.
Q: Does the scabbard come off?
A: The weapon-sized scabbard is built into the backpack and therefore can't be detached.
Q: Is the backpack hydration compatible?
A: Yes it is. You can insert a hydration reservoir if you so please.
Q: Is there an inbuilt frame in the LoDrag?
A: Unfortunately it doesn't have a frame. However, the contour shape and the compression straps go a long way in easing the carrying of heavy loads.
Q: What color options are there for this pack?
A: You can get the Coyote Brown, Dry Earth, Military Green, Multicam and Unicam Li options.
Final Verdict
This backpack impresses on many fronts. Whether it's the backpack's carrying capacity or its durability, the X3 LoDrag outperforms its peers.
You'll place it on your back and, without uttering a word of complaint, it'll carry all your gear. Using the compression straps, the backpack will ensure you don't feel the full strain of carrying a heavy load.
Also, with its contour shape, the LoDrag will embrace your back comfortably allowing you to trudge along without feeling the weight. As we come to a closer to this Eberlestock X3 LoDrag Pack review we give this backpack two thumbs up.