With technological evolution and increased hunting regulations, a handheld GPS unit has become a necessity for efficient hunting. Every hunter is looking for ways to land the best game with the least disturbance to the ecosystem. A hunting GPS device can be employed in several ways to facilitate this. They can:
Distinguishing between private and public land so that you can hunt without infringing on someone's property.
Marking significant waypoints on the terrain like feeding points, kill zones, boundaries, and more.
Determining the ideal spot to place your hunting stand and mapping them so they can be found on future expeditions.
Picking prime vantage points during a hunt after considering variables such as the wind direction.
Navigating to tree stands even in the dark without having to light up the woods with flashlights.
A handheld GPS receiver eliminates the need to leave beacons like orange markers and reflective pins which will expose your prime spots to other hunters.
Garmin is currently a leader in the hunting GPS device industry due to its versatility of application, employing the latest technology to improve accuracy and make the readings easily digestible. Their devices are equipped with TopoActive Mapping technology, cutting-edge satellite connectivity, and intuitive navigation tools.
While all these properties make for an excellent hunters' GPS device, not every Garmin GPS unit is made for hunting. They also serve hikers, explorers, moto adventurers, and geocaching enthusiasts. We chose to focus on hunters handheld GPS systems and have narrowed down the top 5 models in our review.
2021's Top 5 Garmin Hunters GPS Models
1. Garmin Rino Series


The Rino series of Garmin hunters GPS can be distinguished by the 5-W FRS/GMRS two-way radio they come with. It allows you to communicate with other Rino users in the field verbally or via text message. You can keep in touch when stalking prey without exposing your position.
It has multi-GNSS support and can receive both GPS and GLONASS satellite signals which enhances the accuracy with which it pinpoints your position even in deep cover. The built-in barometric altimeter and 3-axis compass will not allow you to lose your bearings. You are constantly aware of exactly where you are on the map.
It has progressive mapping capabilities enabled by BirdsEye satellite imagery which is a high-resolution color depiction of the terrain, infused on a preloaded Topo 100K mapping. The resulting map is as close to the real thing as it gets. The devices come with microSD card slots which can be used to install even more mapping products for more detail.
Their screen sizes are adequate to display this information as they range from 2.6 inches on the Garmin Rino 650 to 3 inches on the Garmin Rino 755.
Each handheld GPS comes with a built-in NOAA weather radio providing you with accurate weather service warnings and updates on the map screen.
They can connect wirelessly to other devices via Bluetooth, allowing you to synchronize your handheld GPS to your smartphone so that you only need to focus on one screen. You can also connect to a Bluetooth-enabled headset to make communication easier.
2. Garmin Montana Series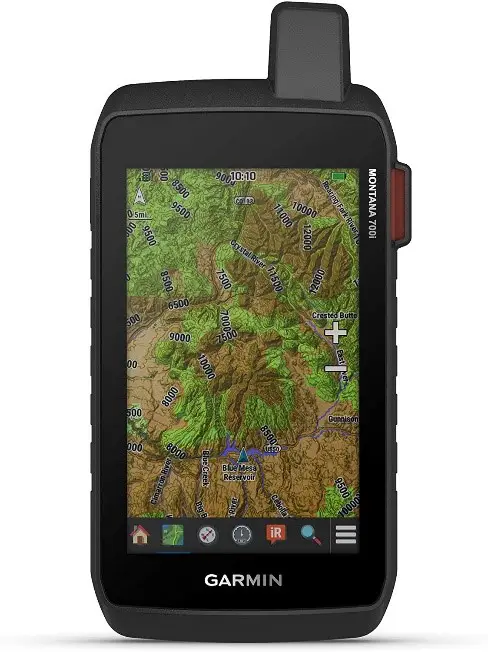 This Garmin hunters GPS series stands out because of its display. It offers crystal clear enhanced colors and high-resolution images from anti-glare backlit screens. It can be read at a glance in sunlight and darkness thanks to the huge display. Their smallest versions are the 4-inch screens of the Montana 600 right up to 5 inches on the latest Montana 750i.
They come with an array of mounting options which allow you to set up the dual orientation touchscreen the way you prefer (landscape or portrait).
Their accuracy is enhanced by hyper-sensitive Wide Area Augmentation System (WAAS) enabled receivers and HotFix satellite prediction which boost their reception of GPS and GLONASS signals. They also have barometric altimeters to pinpoint exact altitude and map altitude gains and losses.
They are compatible with Garmin's numerous mapping options and have microSD slots to facilitate installation. Later models in the series like the 700 and 750 come with 16GB onboard memory which is more than adequate capacity to capture an array of maps. Combined with the 3-axis tilt-compensated compass, you should have no trouble navigating the terrain, day or night.
They have a dual battery system that can take you through days of hunting; they come with a rechargeable lithium-ion battery and are also compatible with AA batteries.
3. Garmin GPSMAP Series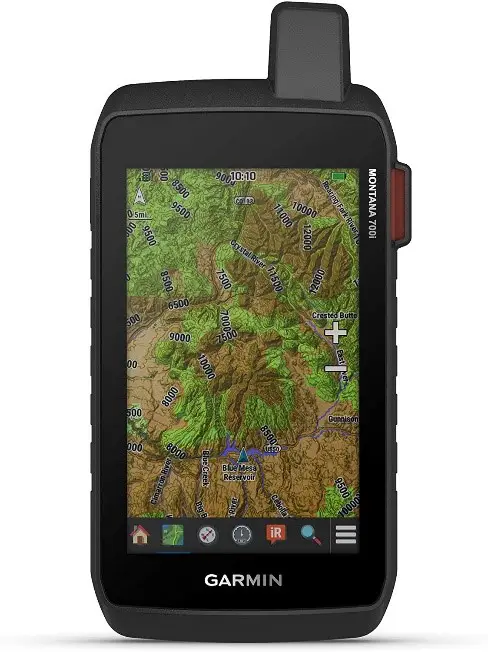 The GPSMAP series of Garmin hunters GPS is primed to give the most accurate location due to the combinations of sensors featured in each device. They have quad helix antennas with HotFix satellite prediction and WAAS-enabled GPS receivers.
Consequently, they have an expanded GNSS support and can receive satellite reception from GPS, GLONASS, Galileo, and QZSS. This combination of signals ensures the reading will be accurate even under deep cover. The barometric altimeter facilitates accurate registration of your altitude as well.
They have a built-in worldwide Basemap and are compatible with Topo U.S. 100K maps, other Garmin mapping offers, and third-party applications. The incorporation of BirdsEye Satellite Imagery results in a realistic display that is well captured in their 3-inch screens to aid in navigation and mapping. Their internal memory is extendable via microSD slots for additional maps.
They can connect wirelessly to other devices through Bluetooth, WiFi, ANT, and inReach satellite technology. You can connect yours to temperature sensors, smartphones, and compatible Garmin GPS devices. This enables communication via text and email through paired devices. You can also share your hunting experience with other Garmin users by sending waypoints, tracks, routes, and geocaches.
They are equipped with Garmin's interactive inReach 2-way messaging functionality through which SOS messages can be sent via satellite. It enables fellow hunters to pinpoint your exact location.
4. Garmin eTrex Series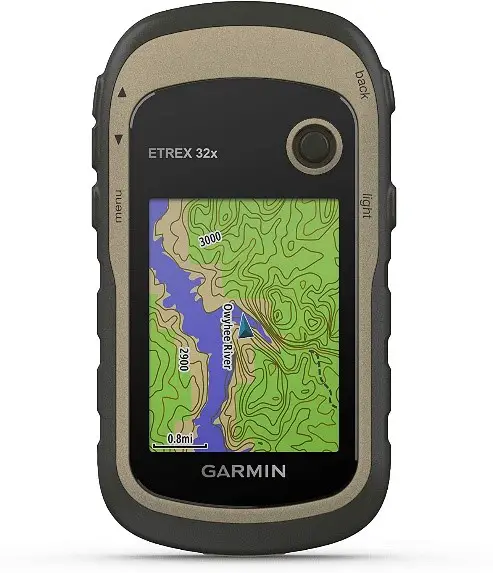 This series has both touch and button handheld GPS devices, the touch having slightly bigger displays at 2.6 inches in comparison to the buttons' 2.2 inches. They both offer decent color displays for the built-in worldwide Basemap with shaded relief. They have from 1.7GB internal memory for the old eTrex 20 to 8GB in the eTrex 32 to accommodate additional maps.
They are compatible with Garmin HuntView Plus maps which combine BirdsEye Satellite Imagery with TopoActive mapping to provide detailed state-by-state coverage of the terrain. The data is inclusive of private and public land demarcation, landowner names, as well as routes and trails. They have microSD slots to facilitate installation.
They receive both GPS and GLONASS on account of their WAAS-enabled GPS receivers and HotFix satellite prediction features, making their readings extra accurate even when you are in deep canyons.
Through their wireless connections to other Garmin devices, you can share waypoints, tracks, routes, and geocaches with other Garmin handheld units. You can also connect to other Garmin devices like VIRB action cameras and ANT sensors.
They support geocaching and you can save and display information like locations, terrains, and waypoints, eliminating the need for paper. The later models even come with preloaded geocaches from previous mapping, giving you a head start.
5. Garmin Oregon Series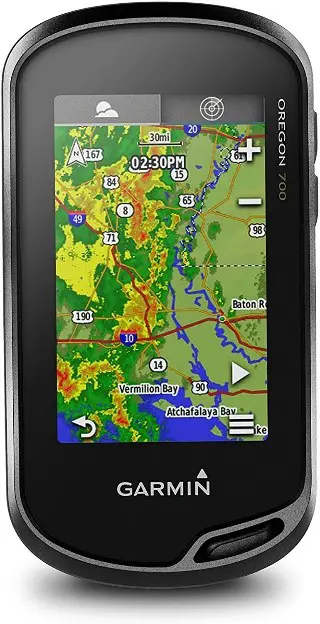 This Garmin hunters GPS series has the most responsive color touchscreen of the lot; they even accommodate gloved operation. The 3-inch screens have dual orientation and you can choose a portrait or landscape view at your convenience. They support multiple mapping options and can even be customized with widgets from Garmin's online store.
Their multi-GNSS support enables them to receive GPS and GLONASS satellite tracking, providing extra accuracy regardless of your cover. Whether you are deep in the forest or in a canyon the HotFix satellite prediction and sensitive WAAS will pin down your coordinates. The inbuilt barometric altimeter sensors finish off the job by determining your altitude so you can tell exactly where you are on the map.
These Garmin hunters GPS are convenient because you can indiscriminately load geocaches without fear as they can store millions of them. You can set your device to download them automatically when you are online. Real-time geocaching allows you to study terrain difficulty in advance so you can anticipate your hurdles.
What Makes These Garmin Hunters Handheld GPS Models Stand Out?
We selected these models based on how functional they are in facilitating a successful hunt. The following considerations make them exceptional:
Navigation
Some features that make navigation easier have been mentioned repeatedly in this article. They include:
A 3-axis electronic compass enables you to read directions regardless of how you are holding the device and whether you are still or moving. Unlike standard compasses which have to be held horizontally or require you to be moving if they are GPS-based.
A barometric altimeter helps you determine your elevation because the higher you go the lower the barometric pressure. It is particularly useful for backcountry and mountainous hunting.
A true hunting GPS unit will not be without the two.
Battery Type
Rechargeable battery packs reduce the weight you need to haul on long expeditions. You don't need to carry backup batteries. They also take away the hassle of properly disposing of used batteries from the hunt. There are portable solar panels and power banks that are compatible with rechargeable batteries. Hunters GPS devices that use rechargeable batteries are therefore recommended.
If your device uses AA batteries and is still compatible with a rechargeable lithium-ion pack, however, you can use it for a long and continuous period. It boils down to individual needs.
The ability to transmit messages and SOS alerts
Garmin acquired inReach in 2016. Their technology enables satellite messaging and SOS. This facilitates connectivity in areas without cell service, inclusive of sending and receiving texts, posting to social media, location sharing, and communication between different handheld GPS devices. You can even get reports like weather outlook, give your own reports on site, and request help in case of an accident.
It is a safety feature that any reliable hunters GPS should have.
Mapping and Memory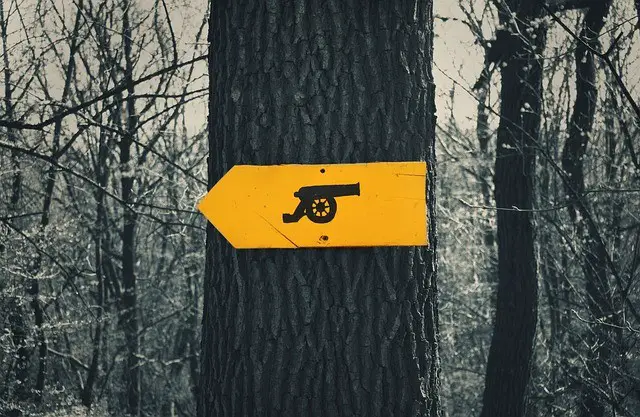 The more maps your handheld GPS device can accommodate, the more accurate the information will be as they back each other up. Many devices come preloaded with a Basemap, which is typically a blank screen that shows major local features. Other maps are needed to fill in the blanks and the device should have built-in memory and/or a MicroSD slot for adding maps.
Global Navigation Satellite Systems (GNSS)
This refers to a constellation of satellite systems including GPS (US), GLONASS (Russia), Galileo (EU), QZSS (Japan), and BeiDou (China). Garmin's multi-GNSS support gives their devices the ability to connect to other GNSS networks besides GPS. This enhances their accuracy and availability regardless of where you are in the world.
The more satellite systems your device can access, the more accurate the reading will be.
Display Size
A large screen size is ideal for hunting as it allows you to clearly view information at just a glance. The device will however be bulky and heavier than those with smaller screens so you need to strike a balance that fits your specific requirements.
Touchscreen vs Buttons
Touch screens are lighter, intuitive, easy to navigate and type on. They work in both landscape and portrait orientations. The technology isn't yet as advanced in handheld GPS devices as our smartphones, but we're getting there. On the other hand, they are not easy to use with gloves on and are unreliable in rough and cold weather.
Buttons allow you to navigate between screens faster and handle better in freezing temperatures while wearing gloves. The choice between these two is mostly based on personal preference and is often influenced by other features the devices have.
Wireless Connectivity
The ability to pair with other devices enhances the functionality of a hunters GPS. Bluetooth, WiFi, and ANT connectivity enable you to share information across your devices and with other compatible users. You can update your routes and receive updates from others. You are also able to communicate better while on the hunt.
If you are still skeptical about incorporating hunting GPS devices into your hunting experience, here is a short hunters GPS appreciation video by seasoned hunters where they testify how a handheld GPS has made their lives easier. These gadgets will make it much easier to plan, monitor, share, and document every hunting expedition.