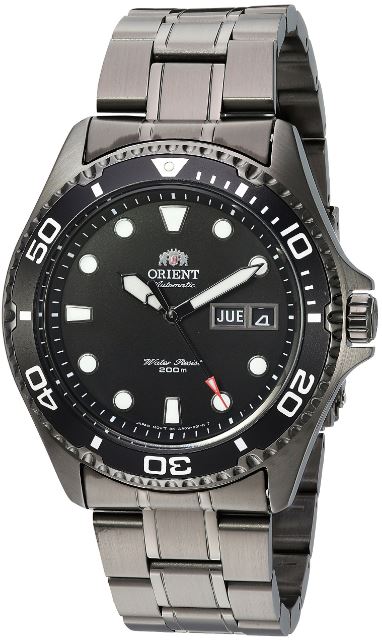 The company Orient Watch is known as the producer of larger mechanical type watches. It was founded in Tokyo Japan in the month of July of the year 1950.
It occupies the third place as the most important creator of Japanese watches, after the Seiko and Citizen brands. At present, Orient distributes its watches to approximately seventy countries.
This article will talk in particular about the Orient Ray Raven II watch, one of Orient Watch's creations.
Read Article: How to Start Backpack Hunting
Features of the Orient Ray Raven II watch
If you are one of the mens who like to wear a good classic watch and also have the added bonus of being a "diver," you will surely like to know some of the features of the Orient Ray Raven II.
The Orient Ray Raven II is a classic men's watch that bears many similarities to the Orient Mako 2. Like other watches of this brand, the Raven II is of excellent quality at the best price. It has the characteristic of being a submersible automatic watch or "diver," and this is one of its biggest attractions.
Size of the Raven II
Among the range of watches, there is a categorization according to size, for example: if the box has a diameter smaller than 36 mm the watch is fine, if it is 37 – 40 mm it is medium size, from 41 – 46 mm it is a large watch, and if it is larger than 48 mm in diameter it is an extra large watch.
The same happens with the thickness of the box, when it is 4 – 6 mm it is fine if the thickness is between 7 to 11 mm it is medium if it goes from 12 – 14 mm it is big and from 15 – 18 mm it is extra large.
The Raven II falls into the category of large watches since the size of the diameter of its case, that is, what measures the entire circular part of the watch, is 42 millimeters, and its thickness is 13 millimeters.
So it is a clock with a good size, but it does not become an extra-large clock. The strap measures 21 mm wide and long has been designed for a man's wrist of standard measurements.
The material of the Orient Ray Raven II
The Orient Ray Raven II watch is a classic model, and therefore both the case and the straps are made of stainless steel. The design is clean, with defined lines.
The box is round, and the glass that covers the watch case is mineral. When it comes to the crystal of mineral origin, reference is made to different elements that, after going through a thermal process, their hardness increases, protecting the watch from scratches.
The other materials with which the glass is usually made are acrylic and sapphire. Of these three elements used for this purpose, the glass is a material that occupies the middle level with respect to quality, since the sapphire is the most expensive and the strongest even three times more than the mineral.
Other Specifications of the Ray Raven II watch
The Orient Ray Raven II is a watch whose appearance is regal and very serious, the predominant color is black. It presents the following specifications:
It has a new unidirectional bezel improved with 120 clicks and a new box design.
It is an analog type display, that is, the time is reflected through hands. When observing the clock face, you will notice that it is typical with hands for the hour, minutes and seconds.
It is automatic. So you do not necessity to concern about batteries at any time. The watches of the Orient brand usually have a very precise and durable machinery.
It has a frequency of "21,600 oscillations every hour, that is, six beats per second.
The closing system that presents is deployable and also has a way to close with insurance.
Another particularity of this clock is that it can be submerged up to 200 meters in the water. It must be taken into account that although it can be said that it is a "diver" due to this peculiarity of being resistant to water, the Orient Ray Raven II is not in its entirety, so it is not recommended for use of professional diving where depths are reached greater.
It has a powerful lumen on its hands and indicators.
The reserve capacity is approximately forty hours.
Provides the calendar option.
Benefits of Buying an Orient Ray Raven II
The Orient Ray Raven II is usually considered the best alternative among submersible watches. It has been famous for its great lumen in its hands and indicators, not only for its brightness but also for the durability of its luminescence.
It has also improved with respect to its predecessor Ray Raven I, by introducing a new caliber F6922 that is automatic and a new bezel renovated with 120 clicks for greater accuracy.
All these changes have made the Ray Raven II position itself as an excellent diving watch while maintaining the classic image for which the Rays have known each other.
Watch Your Orient Raven II watch
The watches must be treated with care so that they can last and keep their parts intact. To keep your Orient Raven II watch in excellent condition, keep these tips in mind:
You should know that every automatic watch will stop if it is not used for a long time, this is not an inconvenience in its entirety because it can be started once you start using it.
Keep in mind that with any submersible watch you should not manipulate your crowns or push buttons while you are underwater, this would be a fatal error because it would enter the machinery and damage it.
Protect it from salt water, when you go to the beach try to wash it with plenty of fresh water when you're back. Sand and salt can deteriorate the internal mechanism and external appearance.
Keep your watch clean, wash it with soap and water, passing a soft brush over its entire structure.