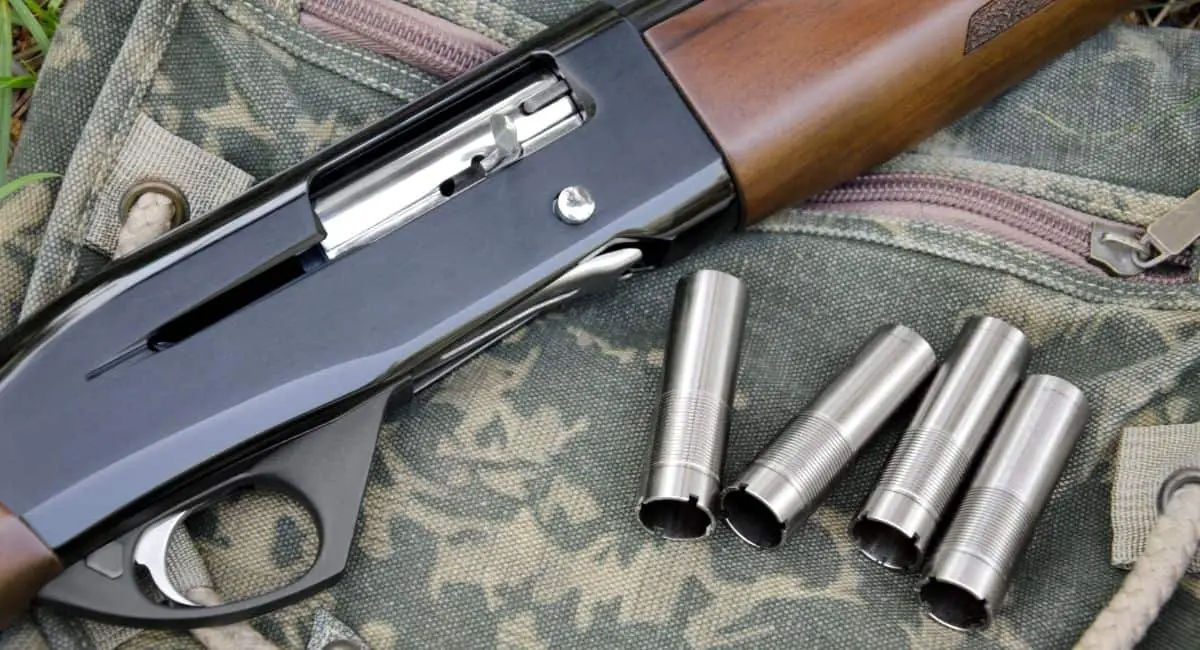 Pheasant hunting is a popular American pastime and isn't considered to be especially difficult. But then, you might have been trying your hand pheasant hunting for some time now without making much progress. 
Some find it difficult to get close to these birds in the wild because they tend to spook easily and fly off in the blink of an eye. Others are not certain on how to choose the best choke for their pheasant hunting. 
The choke modifies the spray of the shotgun pellets for a wider or more narrow array, depending on the specifications of that particular choke. The key here is to select the right choke for your shotgun based on your hunting preferences. This is the first step for a successful pheasant hunt.
Making the right decision will help protect your gun from damages and can help you to make the perfect shot when you are out on the hunt. Join us as we reveal our top picks of the best chokes for pheasant hunting in this review. 
Our Top Picks For The Best Chokes For Pheasant Hunting
The Carlson's Long Range Choke Tube is definitely one of the best choices for you if you are planning to purchase a choke tube for your pheasant hunting. 
This product comes with great modifications, improving on the design of previous models. This new version comes with Carlson's exclusive triple shot technology to ensure a more accurate shot.
The triple shot technology reduces the deformation of pellets, allowing for denser pellet patterns, and producing less flyers as well. The wing chokes on this design are ported to reduce muzzle jump and recoil and to help ensure a clean shot.
Dove hunters will also find this product very helpful. The tube is made from 17-4 stainless steel and has been crafted in such a way to produce the best pattern for dove hunters. 
If you want a more versatile choke tube for both pheasant and dove hunting, you will find that Carlson's Long Range Choke Tube will give you the optimum performance necessary for a successful hunt. 
Features
Item package dimension: 6.89" ×3.27" ×1.81" 
Item dimension: 9" ×4" ×2"
Weight: 0.1 pounds
Size (Gauge): 12 
Carlson's Choke Tube Benelli Crio Plus is another excellent option when it comes to selecting the best choke for pheasant hunting. 
Like Carlson's Long-Range Choke Tubes, this product also comes with triple shot technology, another reason to consider this product in your purchase. As we previously mentioned, this reduces the deformation of pellets, allows for denser pellet patterns, and produces less flyers
The Benelli Crio Plus comes with graduated rings in the taper region of the choke tube. This special feature provides room for a gradual transition from the shotgun bore to the final constriction. 
This design also makes this product effective on all waterfowl types irrespective of the season. Another advantage to the Crio Plus is the 25% extension of the choke tube which helps to get tighter and denser patterns. 
Features
Item package dimension: 7.91" ×3.35" ×1.3"
Item dimension: 4" ×1" ×8"
Weight: 0.19 pounds
Color: Black
Size: One Size
For waterfowl hunting in general, you might also consider Carlson's Waterfowl Choke Tubes as another viable option. 
This product was designed to work for virtually all types of waterfowl hunting. This product also comes with Carlson's signature triple shot technology for denser pellet patterns. 
One of the major features of this product is its mid-range constriction of .710 and long-range constriction of .700. This feature allows for increased accuracy ranging from about 20-29 yards. 
These features make it useful to select the correct shot size whether you are shooting a long or mid-range target. 
Carlson's Waterfowl Choke tubes also come with alloy construction as well as a wrench for installation. The choke tubes are also longer and extended by about 25% making for a more accurate shot. 
Constructed from 17-4 stainless steel, you can be assured of this product's durability and strength. Carlson's Waterfowl Choke Tube is one of the best choke tubes for waterfowl hunters on the market today. 
Despite its many winning features, some customers have complained that it is a bit of a challenge to tighten the choke tube after each shot taken. 
Features
Item package dimension: 8.46" ×4.8" ×1.14"
Weight: 4.55 ounces
Color: Black
Material: Stainless Steel  
The Carlson's Sporting Clays Choke Tubes is another option to consider when purchasing choke tubes. 
If you are looking for the perfect choke for pheasant hunting with shot patterns that will be in a tighter grouping, this is another great product to consider. 
Carlson is known to manufacture quality choke tubes and this particular product is no exception in terms of quality. Also manufactured with 17-4 stainless steel, you can rest assured that your shotgun will remain effective for a very long period of time when using this product. 
Carlson's Sporting Clays Choke tubes produce much more consistent pellet patterns compared to the previous versions of choke tubes. This could be due to this model's parallel section that measures a 25% larger diameter compared to the other previous models. 
To ensure easy removal, the choke tubes are knurled on the end. The tubes also come labeled with the constriction measurements for easy reference. Additionally, whenever you purchase a choke tube from Carlson's you enjoy a lifetime warranty from the manufacturer, so your satisfaction is guaranteed!
Features 
Item package dimensions: 7.2" ×3.9" ×1.81"
Item dimension: 4" ×1" ×8"
Weight: 1.6 ounces
Color: Stainless
Material: Steel
Size: Modified choke
Carlson's Winchester Choke Tubes are another good option from Carlson that should be considered when purchasing choke tubes. 
This 12ga shotgun choke tube has the same constriction as that of an improved cylinder. You can be sure to enjoy much more consistent patterns due to its extended parallel section. 
Perhaps you intend to do upland bird hunting, this choke tube might be your best bet. The dense pellet pattern produced by this product makes it easy to use in any shotgun, regardless of the barrel length. 
Just like the previous product, it is made with 17-4 stainless steel, ensuring the choke tubes remain very effective for a long period of time. 
To ensure easy removal, the choke tubes are knurled on the end and like the Sporting Clay's model, the constriction layers are marked on the tube for user reference.
Some customers have complained of the fact that there is no universal choke for different games. 
Features
Item package dimensions: 3 4" ×2.3" ×0.6"
Item dimension: 4" ×1" ×8"
Weight: 0.1 pounds
Color: Silver
Warranty: Lifetime
Size: Improved cylinder choke
Factors to consider before buying Choke Tubes 
The Choke Size 
Choke size is an important factor to consider before making a purchase for choke tubes. What determines the choke size is the number of thin wire loops usually wrapped around the barrel of a gun. 
The choke size you select will depend largely on the purpose it is meant to serve. The tight chokes usually cover smaller areas and are used for birds that fly long distances as well as birds that usually fly with little or not much maneuvering.
The loose chokes are mostly used when trying to capture lively birds with erratic flight paths as well as birds that enjoy flying around in a circle. 
Typically, a tight choke will be your best bet when pheasant hunting, especially when the birds attempt to take flight at high speeds after the first shot has been fired. You have a better chance of shooting birds that don't fly in a straight path. 
The loose choke will become much more helpful when you are trying to target a bird that is very close, your chances of hitting the target will be increased. 
The Shot Size 
It is also important to consider the shot size before making a purchase for choke tubes. 
Because if the target is missed and the birds escape, the shot could damage something else around or even hit upland birds.
So it is advised that when using tighter chokes, choose heavier loads with smaller sizes to be used over a long distance.  
Material used for its Construction
A good number of choke tubes are made from iron and steel. While it may seem important to  consider the material used for the construction of the choke tubes you want to purchase, this doesn't really affect the performance of the tube.
That is to say, choosing the material for your choke tube comes down to personal preference. 
The Pattern Spread
The constriction of the choke will greatly determine how much the shoot will spread when the shotgun is fired. Chokes vary in tighter or looser patterns which will affect the pattern spread. This is another factor to consider when purchasing your choke tube. 
Improved cylinders and modified chokes can produce a more accurate pattern quality for pheasant hunting when compared to unmodified chokes. 
The size of the intended game should also be considered when choosing a suitable choke tube. 
Frequently Asked Questions
What is the best shot size for pheasant hunting? 
Usually, most pheasant hunters may use up to 3 or 4 shots when hunting. This seems to be the most suitable amount for all kinds of weather. 
However, if the weather becomes unfavorable or pheasant season changes in any way, it is advised that pheasant hunters not use more than 5 shots when hunting these birds. 
What is the average speed of a pheasant? 
Based on observations, pheasants can attain speeds of about 8-10 miles per hour when running. They only fly when they sense danger or know they are being pursued. At this point, they could attain speeds of about 60 miles per hour. 
Best Brands 
Carlson's Long Range Choke Tubes
You can be rest assured that you are making the right decision if you decide to go for Carlson's Long-range choke tubes. We highly recommend it, especially for dove hunters. 
Carlson's Sporting Clays Choke Tubes 
Carlson's Sporting Clays Choke tube is one of your best bets when purchasing choke tubes. It is one of Carlson's high quality choke tube products due to its previously mentioned special features. It comes highly recommended! 
Conclusion 
With the wide range of products available on the market, we hope this product review helps you make the right choice in purchasing the best choke for pheasant hunting. Good luck a