Some hunters prefer to hunt in the woods and wait for their prey in the tree stand. But maybe you're an upland hunter who is passionate about climbing high, steep mountains. No matter what type of hunter you are, either way, you need footwear that not only allows you to go hunting comfortably but should also be lightweight, so you don't have to worry about fatigue. That means finding the best cold weather hunting boots for winter.
The best option is a good pair of boots specifically designed for hunting. Hunting boots must have certain essential features to perform this activity. One of the most important characteristics is the weather they can withstand. Being a frequent hunter means that you should never let your outing be ruined by unexpected cold weather.
As a hunter, you are faced with varied terrain over which you will have to hike for several hours or even days. Rocky trails, swamps, areas full of crawling animals, and even snowy regions are some of the terrain you will surely have to traverse in your adventures.
This guide will show you the features of the best 5 hunting boots for cold climates 2020/2021. After reviewing this guide, you will surely be able to choose the boots that suit your needs more easily.
1. LaCrosse Men's Alphaburly Pro 18″ 1600G Hunting Shoes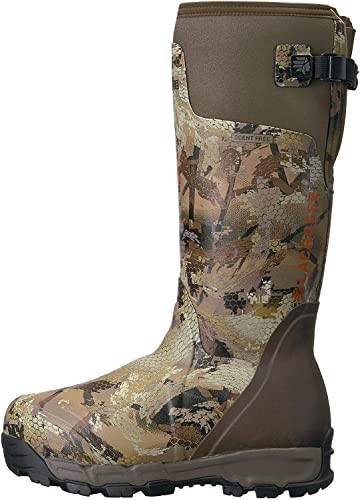 The shaft of this boot measures approximately 16 inches from the arch. The platform has a height of 0.075 inches. The insulation offered by these boots is a treat for any hunter. They feature a thin, lightweight layer of 1,600-gram Thinsulate insulation, which helps prevent cold to -70ºF, which is incredibly functional for the most extreme climates.
As you know, the toe, heel, and instep are the highest stress areas. The LaCrosse Alphaburly boots have a tri-layer rubber design in the toe and heel and two layers of rubber in the instep, which greatly relieves stress on the feet. No matter how fast you walk or how firm and hard you step, the sole of these rubber boots will keep you comfortable at all times.
In addition to all the amazing features we've already mentioned for this rubber boot, the LaCrosse hunting boots have removable insoles. The unique tread sole will help you move even on the toughest terrain. The welt ridges are deep, allowing you to keep your balance. And this depth also allows mud and dirt to be easily dislodged from the sole.
If you haven't had enough positive feedback from these boots, they feature a raised lining that allows for proper ventilation during the winter or rainy season. This lining will also keep them warm and dry.
This type of waterproof boot reaches the knees and is equipped with a neoprene reinforcement at the back. If you are wondering how this benefits you, the answer is simple. With this feature, the boots can fit any calf size and still leave room to tuck in your pants if you so desire.
Here's a rundown of the best features of this rubber hunting boot:
Removable sole
Embossed lining
Waterproof
Rugged
Keeps you warm
1,600 grams of Thinsulate for better insulation
Neoprene reinforcement
If we talk about the disadvantages of this insulated hunting boot, we will find very few, but they must be considered.
Unfortunately, the LaCrosse Alphaburly boots do not include a heel and toe tab. This can make it difficult to remove them with ease.
2. Guide Gear Giant Timber II Men's Insulated Waterproof Hunting Boots, 1,400-gram, Mossy Oak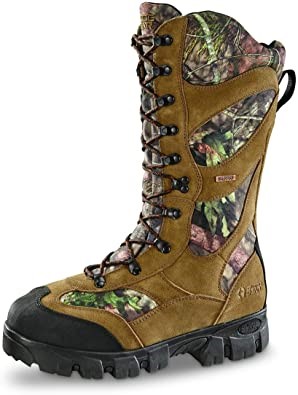 One of the features that sets Guide Gear boots apart from other warm hunting boot options is the Scent Mask that helps control odor. This is great for helping manage and tame deep odors while offering breathable step-by-step relief.
The Guide Gear has 1,400-gram Thinsulate Ultra insulation that keeps you warm and dry all day long. Of course, no hunter likes to have cold feet while on the hunt. The bootstrap provides heat, so your feet stay warm during long hours of hiking in the coldest climates.
These winter hunting boots are made with a leather and nylon material, along with the waterproof and breathable HydroGuard membrane. With these boots, you will be able to cross puddles and swampy paths without water coming into contact with your feet.
In addition, these winter hunting boots are highly waterproof, thanks to a membrane that blocks water so that your feet are dry and fully functional on wet and slippery surfaces.
This waterproof hunting boot fits comfortably without causing blisters or foot fatigue. So, you won't have to worry about that trifle during your trek. These boots are temperature proof down to -58ºF, which is wonderful for cold weather hunting during the winter.
The mesh-lined EVA footbed is designed to add cushioning and bounce back into the boot, making it extremely comfortable and fatigue and foot fatigue-proof. Experience ultimate comfort thanks to the EVA footbed that reinforces each step with cushioning and rebound to give your feet strength to move forward.
Another feature worth mentioning and emphasizing is the absorbent mesh lining for breathability and freshness.
The guide Gear has a rubber heel cap and toe cap for extended wear and shock absorption. There is an additional padded tongue on these great hiking boots that helps prevent foot pain and fatigue. This tongue offers extreme protection in the most sensitive areas of the feet and legs, such as the shins and calves, from abuse.
Below is a list of the Guide Gear's best features:
1400-gram insulation
Odorless wear
Protection of sensitive foot areas
Highly waterproof
Pillow cushioning
The Guide Gear warm hunting boot has only one downside to consider: they are not as durable compared to other hunting boot models with similar features.
3. Danner Men's Pronghorn 8″ 1200G Gore-Tex Hunting Shoe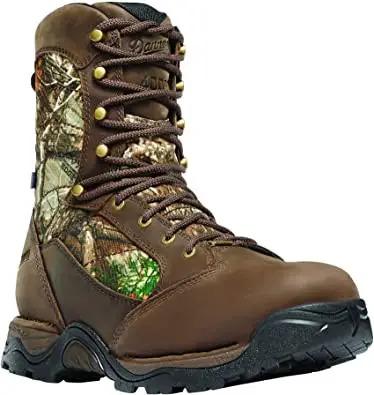 The Danner brand manufactures various products for cold weather hunting, but with these Pronghorn boots, we have found the best reviews. The quality offered by this cold weather hunting boot is unmatched, and the best thing is the affordable price at which you can find them. They also have an attractive and modern design and look pretty good.
As we have mentioned, one of the features that you should look out for when you want to buy hunting boots for cold climates is the materials with which these boots are made. You can easily notice that the manufacturers took special care when deciding on the materials for the warmest hunting boot.
Danner boots have a fantastic waterproof rating for starters, so you can use them for walking in the snow or during a storm, and your feet will stay dry. However, the surface layers made of nylon and full-grain leather ensure the boots stay dry and make them durable.
Thanks to the Gore-Tex lining, your feet can breathe without any problems and repel water effectively.
We can't fail to mention the 1200 grams of PrimaLoft insulation that the Danner has because, without a doubt, this feature makes your feet stay warm in sub-zero temperatures. Rest assured that its insulation will keep any hunter's feet from freezing.
Also noteworthy is the polyurethane cushioned footbed of this insulated hunting boot that allows you to stay comfortable for hours. You'll see how the insole adapts to your feet, so over time, you'll notice they become even more comfortable. If you're going to be traveling so many miles in search of your prey, you'd better have maximum comfort and convenience so you can concentrate on your hunting job.
One of the best features of the Danner winter hunting boot is that it is not heavy. Their platform is designed to offer optimum performance without sacrificing stability and firmness in your gait. The lightness of these boots will become your favorite feature and a key element in deciding to buy them.
The Vibram Pronghorn rubber outsole offers excellent traction even on the roughest terrain.
Once again, we have listed its best features for you in the following list:
Pronghorn Vibram sole for stability and lightness
Gore-Tex lining makes them waterproof and breathable
PU cushioning insole
BI-Fit Stability Board for extreme underfoot comfort and forefoot flexibility
Permeable nylon and full-grain leather upper
Vibram Pronghorn outsole for superior traction on rough terrain
Only one flaw can be pointed out about this pair of hunting boots: they tend to be quite small. Therefore, the only recommendation is to choose your size carefully, especially when ordering them online.
4. Rocky Men's Sport Utility Pro Hunting Boot

Unlike the boots we have mentioned so far, the Rocky Sport Utility Pro is a bit heavier. However, it offers high-quality materials and allows a hunter to keep his feet warm and dry all day long. In this case, the leather and fabric design are the main features that provide warmth during the hunting session.
If you're looking for cold weather hunting boots, you're probably looking for the boot you buy to be waterproof. And yes, the Rocky Sport Utility Pro is. You'll be able to walk in the snow or rain without getting your feet wet.  They feature a highly moisture-resistant design and are quick drying. This boot will really give you the support you need in cold and wet weather.
Withstand freezing temperatures with the help of its 1000 grams of insulation. These fit easily to help you keep your toes warm without being too bulky and heavy.
As for the sole design, these boots hold up well. The sole has good traction preventing you from slipping on any wet or slippery terrain. It will also allow you to be comfortable at all times. The type of terrain is not an obstacle for this model of hunting boots. Due to the cushioning and the rubber insole included, you will be sure to be able to walk on varied terrain with the utmost comfort.
You will not have to worry about sweaty feet with these boots; you can forget about this problem. In addition, your heels are protected.
You may notice some discomfort and stiffness around the calves, but thanks to the Mossy Oak Break-Up camouflage included in these boots, you will notice that this stiffness fades away after about the third use.
Here are the most notable features of this product:
Rubber sole
100% leather and textile
1000 grams of 3M Thinsulate Ultra insulation
Sport Utility outsole for traction and stable footing
10 inches in height
The major downside of this product is that it is too heavy and has a bit of a weakened lacing system design. As a result, it is possible that they may fray over time.
5. Irish Setter Men's Vaprtrek 800 Gram Hunting Boot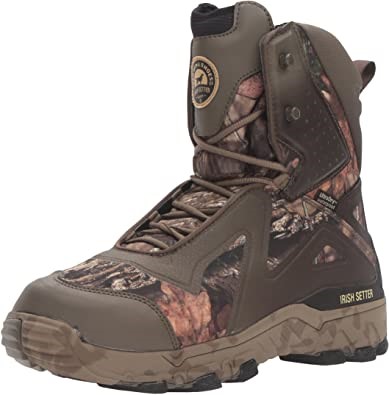 The best feature of these boots is their ability to camouflage in trees; the dark green color and camouflage texture make them an excellent choice for forest and mountain hunters.
These boots have light insulation of 800 grams, making them more lightweight so you can walk comfortably for long periods of time. This brings us to the padded tongue technology that puts it on the list of the most comfortable boots on the market.
The padded tongue of this lightweight boot provides incredibly comfortable, soft, and smooth support for the shin. You can forget about the typical shin splints that hunters usually suffer from after long hours of wearing this type of footwear.
They have StableStep technology that provides excellent stability, including a pair of heel cups that cover your heels for extra support on the outside.
You will be able to keep your feet dry at all times thanks to its Ultra Dry function, which is a marvel. It perfectly combines the waterproofing system with a lining that manages moisture perfectly so you can keep your feet dry in any wet terrain.
The Irish Setter also offers the ScentBan function that combines different materials in the insole and lining, eliminating bacteria and preventing foot odors.
Its most notable features are:
Rubber sole
ScentBan function that eliminates bad odor
800 grams Primaloft insulation
Lightweight
Waterproof
RPM technology
The narrow size is the only disadvantage we can find in this product. It may not fit a wider foot correctly. Be careful when choosing the size and especially consider the width of your feet.
Buyer's Guide
Now that you have learned about the best features of hunting boots for the winter season, it is time for you to decide which one is right for you. Remember that when you go hunting this season, you'll want to keep your feet warm for as long as possible.
Don't just decide based on the appearance of their design. Instead, compare their features and find which one best suits your needs. Before making a decision, you must take some factors into account. Here are some extra tips to help you choose wisely.
Stick To Your Budget
When making any purchase, it is essential to know your budget. This will allow you to make a smart purchase. Find some cold weather hunting boots that have the features you are looking for and fit your budget. This process can be time-consuming, but you won't regret taking that precaution.
Make a List
A good idea before making a purchase is to list the features you need for your cold weather hunting boot. While we know that you are looking for winter hunting boot options that allow you to withstand low temperatures, you should not be guided only by that need.
You should also make sure that they are comfortable and made with the best quality materials. This will guarantee that your hunting boots will provide you with comfort for several years.
Don't Get Carried Away by Bargains
Most people make the mistake of being surprised by a low price. However, this can prove costly in the long run. It is quite positive to take advantage of the sales season, like during the holidays. However, you must know the features that each product offers you to choose the most suitable and functional for you.
Choose a Reputable Brand
The market is full of brands that offer hunting products. However, you should choose a brand that has prestige and is recognized. This will assure you that you are buying a product with the best quality standards.
Generally, renowned brands will offer you 24-hour attention for any doubt or clarification. Hunting boots from a reliable brand will give you the peace of mind that you are acquiring a product designed exclusively for hunting in freezing temperatures.
Conclusion
With this guide and our additional tips, it will be easier to compare products and make a good purchase choice. Hunting boots are a really important accessory for cold weather hunting during the winter. Don't take this decision lightly and do thorough research of the brands and models available.
After reviewing and comparing products, rest assured that you will be purchasing the best hunting boots for cold weather.