Knives were some of the first tools ever invented by man and continue to be arguably the most universally acknowledged crutches without which we can't walk. Fixed blade knives are undoubtedly the most reliable of the numerous shapes and types because they are stable, easy to clean and maintain and offer an extra degree of safety.
This should not be taken to mean that all fixed blade knives are superior to other knives. Some impressive folding and detachable blades out there would rank much higher than quite a number of fixed blade knives if we conducted an unbiased survey. You need to back the right fixed blade knife to get ahead of this pack.
Today we shall look at 10 of the best fixed blade knives in the current market, how they can bail you out tactically and why you should consider having them in your survival kit.
1. Morakniv Companion Stainless Steel Outdoor Knife

It is made of high-quality Swedish Sandvic 12C27 stainless steel with a hardness rating of HRC 56-58. This packs a toughness that makes it durable and ensures the cutting edge maintains its sharpness through multiple uses. Whether you are carving tinder, cutting wood, or scraping a firelighter, it endures the labor graciously.
It is also corrosion and stain-resistant, meaning you can use it on your food without contamination concerns. At 4.1 inches, the sharp drop point fixed blade is an incredible game skinning and dressing tool which can also be applied in carving great pieces for cooking. These blade qualities make it a great survival knife.
The handle is ergonomically designed for a steady grip with patterns that make it non-slip by providing friction for those instances when the knife is wet and slippery either because of the weather or handling bloody and fatty animals.

2. KA-BAR Knives' US Marine Corps Straight Edge Knife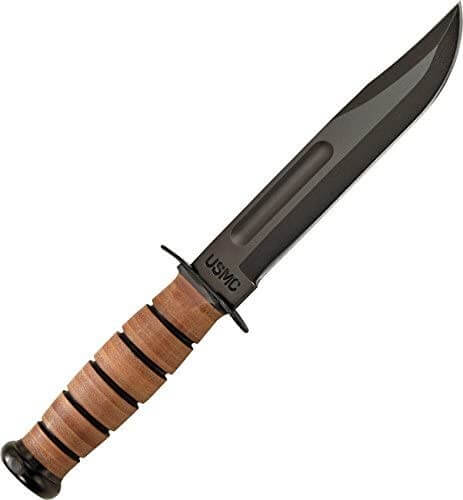 This is arguably one of the most famous knife brands popularized during the second world war when it was part of the standard general issue knives to the United States Marine Corps members. This explains why it is still preferred as a personal knife to date, and it can be the perfect gift for military and ex-military loved ones.
Popularity aside, the knife carries its weight in terms of functionality and toughness. Its blade is made of 1095 CRO Van steel which has a high carbon steel content and falls in the category of hard steel. It can be used in very abusive conditions and still maintain the cutting edge and shape without scratches or kinks. It has a hardness rating of 56-60HRC. It is also easy to sharpen and ideal for stabbing, gutting, and other various camping needs.
The hardness is partly attributed to the low chromium content (at only 0.6%), making it somewhat susceptible to corrosion. This is easily mitigated by regular cleaning and drying and avoiding extended exposure to moisture.
It comes with a leather sheath that is durable and aesthetically appealing, with a color that matches the handle.

3. Smith & Wesson SWHRT9B Fixed Blade Knife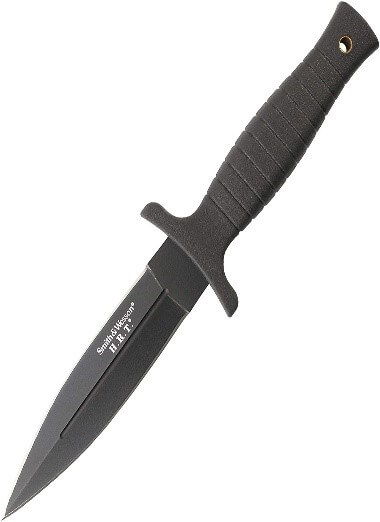 The brand Smith & Wesson is internationally acclaimed for the production of high-quality survival and tactical gear. Their firearms are of renowned quality, and their knives do not lower the bar even an inch.
This blade's double edges and sharp point make it especially useful for stabbing and piercing, which is enhanced by its streamlined shape to ensure minimal resistance is felt.
The high chromium content of the 7cr17MoV steel provides excellent corrosion resistance and high tensile strength, which will absorb the shock of hitting bones when dressing animals. It is a blend of elements designed to make a durable yet cost-effective blade, ultimately impacting the cost of the knife. You get great value for money with this beauty.
What it lacks in edge retention capability it makes up for through the ease of sharpening. You can easily get it to the sharpness you want, making it the ideal tool for slicing tinder from wood, forging arrows, and piercing the skin. The rubber-wrapped handle with a handguard ensures the knife stays put as you work so that it is both safe and efficient.

4. Cold Steel SRK Fixed Blade Knife

This knife is not surprisingly a jack of all trades being the standard issue for the Navy SEALS during their Basic Underwater Demolition Trainings (BUDS). It is made to be versatile and enduring in the most demanding environments and is very popular with military and tactical law enforcement personnel. SRK is actually an acronym for Survival and Rescue Knife.
It comes with a trademark Secure-Ex sheath that snaps onto your belt hoop so you can easily put it on your belt and remove it as the need arises, facilitating swift response. It also has a lanyard hole big enough to easily accommodate a 550 paracord if you prefer or need to hang it.
The clip-point blade is made of SK-5 carbon steel, which falls under the category of hard steel, meaning it can hold its edge well against a lot of surfaces. It has a percentage of chromium to aid in tensile strength, impact resistance, and fighting corrosion even though it is not stainless steel.

5. KA-BAR TDI Law Enforcement Knife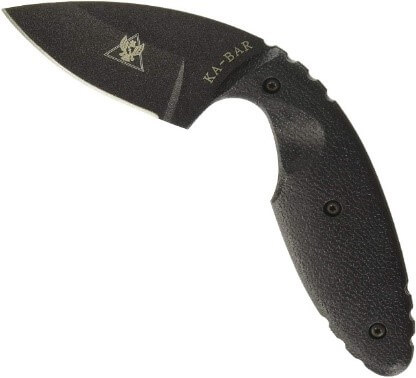 This is easily one of the best fixed blade knives when you think about self-defense and protection. First of all, the small blade combined with its curved shape makes it easy to hide IWB (Inside the Waistband) if the local regulations allow it. It will not leave a large enough print to alert your aggressor that you are armed.
The sheath can also be carried IWB and allows fast deployment and sheathing. You will even feel it clicking into place as you insert the knife, which gives you confidence that it is firmly held. You don't have to keep glancing at it and look all suspicious. The blade is coated black, so you don't risk it drawing unwarranted attention through reflection.
Therefore, it is not surprising that TDI represents the Tactical Defense Institute, where this knife was designed by the institution's founder and owner, John Benner. The drop point blade is designed to slice or pierce at close quarters without losing possession of the knife.

6. CRKT Minimalist Black Drop Point Knife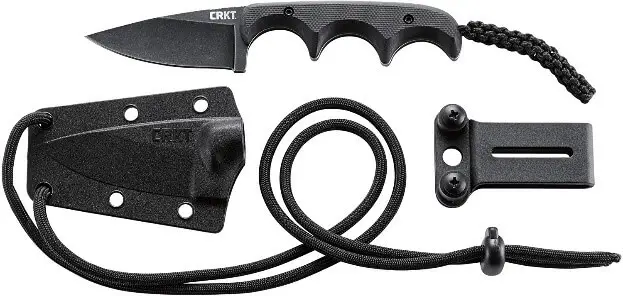 This is a product of the Columbia River Knife & Tools shop, which has an expansive lineup of ergonomic minimalist neck knives capable of making impressive cuts for their sizes.
The blades are 5Cr15MoV stainless steel which means they offer great resistance to corrosion due to a high chromium percentage in their composition. This makes them ideal for handling different food types.
The steel is also not too hard, indicating the edge will not take long to get blunt. Luckily this also means they are easy to sharpen, and you can maintain them as sharp as you need them to be for a variety of jobs like striking fire starters, dressing smaller animals and carving tinder off twigs, and shedding the wet bark off them.
They are lightweight and easy to carry, which makes them convenient for survival and tactical knives. Their sheaths come with a paracord that goes around your neck so that they are easily accessible.

7. SOG SEAL PUP Elite Clip Point Tactical Knife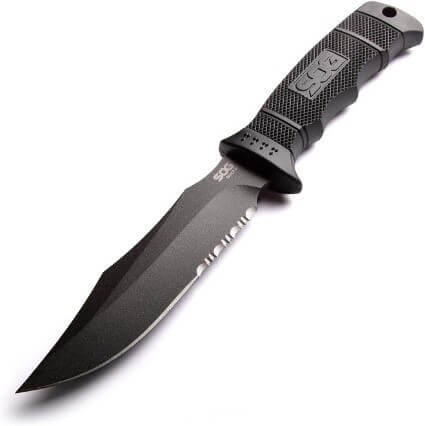 The clip point makes the blade great for piercing and stabbing, and its cutting edge is a partially serrated edge for cleaner cuts. At 4.85" length, it can just as easily be used as a boot knife, a hunting knife, or a combat knife, depending on the prevailing need.
It has been fashioned using AUS-8 powder-coated stainless steel reinforced by cryogenic heat treatment. This is an ideal recipe for a hard enough blade to hold a cutting edge with enough flexibility for exceptional tensile strength so that it is not brittle. It is also corrosion resistant and will not require a lot of maintenance effort.
The knife is made in the United States by an American Company. SOG is a tool and knife manufacturer founded and based in America with over 3.5 decades' experience. They named it after a US special ops outfit in Vietnam known as the Studies and Observations Group.

8. ESEE Knives Izula-II

The handle has full-size canvas Micarta scales that are comfortable to hold and whose texture enables a non-slip grip. They also have a karabiner hole near the butt which enables countless and effortless on and off body carrying positions, guaranteeing easy access. Its molded polymer sheath with its removable clip plate will ensure it is safe to carry in all these positions.
The high carbon 1095 steel blades are designed for hard use, which opens up limitless possibilities if you have 3.9" at your disposal. You can skin and dress a whole deer with this single knife or use it for self-defense if that is your emergency.

9. Kershaw Secret Agent 4007 Concealable Boot Knife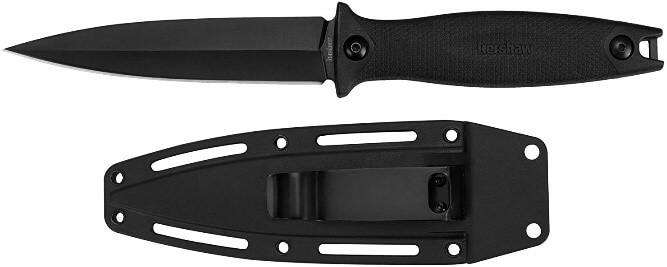 Kershaw is an American knife maker based in Tualatin, Oregon, who deals in all kinds of knives, from the pocket knife, camping knife, hunting knife, and fishing knife to rare collectors' editions. This places them in a unique position to know what is required for the ideal survival or tactical knife. The secret agent is packed with features that will help you through many tight spots.
It is easy to conceal carry whether you are wearing dress pants to an official event or you are surviving in the wild. This can be partially attributed to its non-shiny yet stylish matte finish achieved through black oxide coating. Besides eliminating attention caused by the blade's glare, this provides extra corrosion resistance.
The sheath has numerous slots for leg carrying straps that will enable you to walk safely and comfortably, with the option of quickly accessing the knife if you need to. It still comes with clips that will enable you to attach it to your belt or IWB carry. To top it off, they included a lanyard hole at the butt of the knife to provide more hanging options.
It has a nice grip because of the textured rubber covering a reinforced synthetic polymer that constitutes the handle. The heat-treated and stainless high carbon steel blade design also ensures you have the winning combination of hardness, strength, and durability.

10. Gerber Ghostrike Fixed Blade Knife

It comes with a modular glass-filled nylon sheath that can easily be mounted on the belt or the ankle. A Lanyard hole at the butt of the knife provides more carrying options that can be utilized when you don't need to conceal the knife.
The full skeletal tang makes the knife lighter without compromising the stability and accuracy that comes with a full tang. It is a continuation of the blade, made of 420HC steel with a black ceramic coating. This renders it tough and resistant to corrosion at the same time. The knife can hold its edge through numerous cuts and will not present a big challenge when cutting.
A rubberized diamond texture grip covers the skeletal tang of the blade design to make it non-slip and comfortable on the hand, so you can use the knife for longer durations without tiring the wrist.
They are made in the United States at Gerber's Portland, Oregon factory, which means they must be subjected to standard appraisals, and the listed materials are genuine. This also makes it easier to follow up on Gerber's limited lifetime warranty, granting that extra peace of mind.

Determining the Best Fixed Blade Knife for Tactical and Survival Needs
You may or may not have realized certain qualities are common in our list of knives. We used them to shortlist these fixed blade knives, and we will lay them down at this point to justify our picks.
Ability to Maintain the Edge
In layman's terms, this refers to how long the knife will retain its sharpness. It is a factor of the material from which the blade is fashioned. A higher carbon content makes the blade harder, meaning it will prevail against more surfaces, enabling it to maintain its sharpness. This is important if you will be hunting and skinning because there is a lot of cutting involved. It is critical if the game is large and more cutting is necessary.
This quality will not be given as much thought in a self-defense knife which you will mostly try to avoid using, and when you have to, it will not involve extended cutting.
Ease of Sharpening
Hard metals dominate the battle when scraped against a sharpener and will take much longer to get to the required sharpness. This is why your high carbon knives should be sharp straight out of the box. Luckily, they can maintain this sharpness for longer. Blades with a higher chromium composition are less hard and will sharpen faster. They are good for soft cutting and camp craft like fire lighting using strikers.
Strength of the Blade
It is easy to confuse this with hardness, yet it is a different feature. While a hard blade will maintain its cutting edge and hold out nicely against abrasion, it also tends to be brittle and may break easily with a high-impact strike or if it falls. Chromium and other elements are usually added to make the knife less rigid to absorb shock better. A balance should be sought between carbon and the other elements to optimize strength.
Corrosion Resistance
The more chromium the blade has, the more it shifts towards stainless steel. This ability to fight corrosion reduces the effort required to maintain the knife and make it safer to handle food. It also makes the knife less hard and unable to hold the cutting edge. There should be a balance between elements in this area as well.
Shape of the Blade
Narrow and pointed blades are great for stabbing and piercing, qualities you will want in a skinning knife and a self-defense knife. Wide blades come with longer edges that are more curved, making them ideal for cutting and slicing, qualities you would want in a skinning and slicing knife.
The Handle
It should be ergonomically shaped to make it easy to hold and, at the same time, protect you from injury. The grip should be non-slip, which is attained by giving it some form of texture, grooves, or making it out of non-slip material like rubber.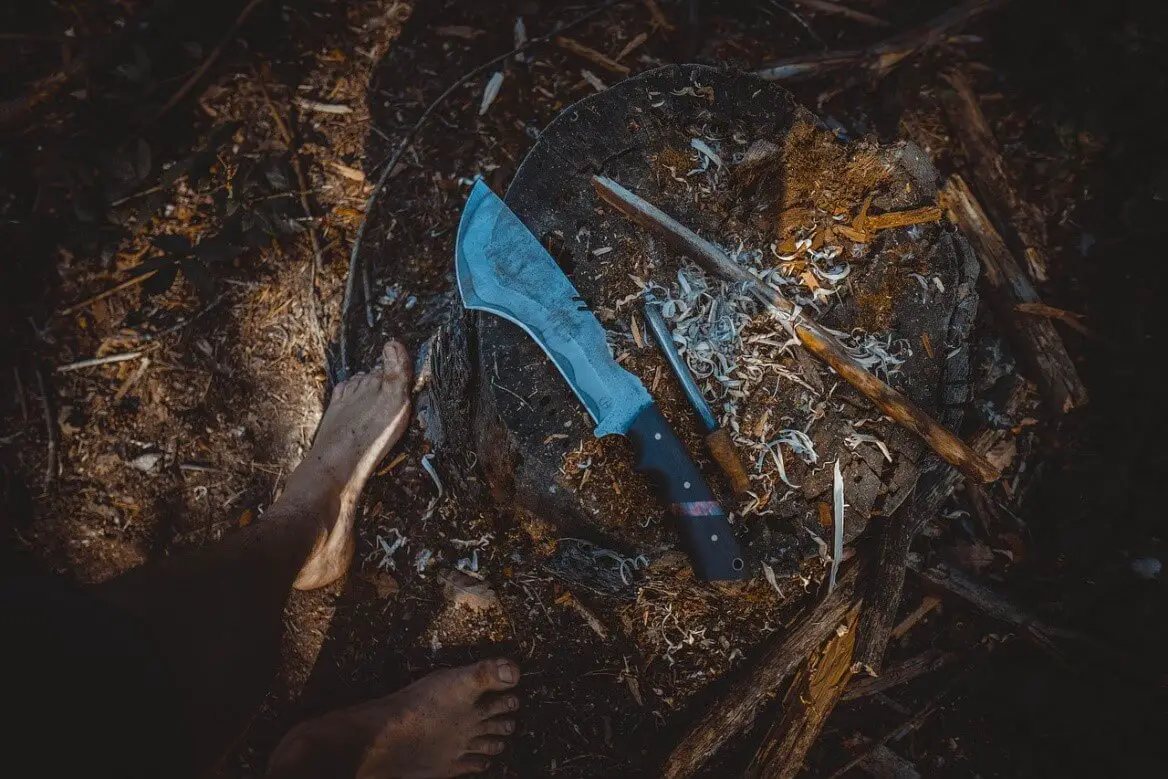 Pro Tip: Stay Legal
As you go about your knife hunting, ensure to keep updated about the national and local restrictions and bylaws and their stand on concealed and open carry knives. Their interpretations of your motives for carrying a knife and the types of knives that are dangerous to the public often vary. You also need to know the difference between where you should carry them openly and where to conceal them.
The Bottom Line
By now, it should be obvious that all parts of the fixed blade knife play a role to collectively impact the overall experience. All knives have strengths and weaknesses, some more than others. The one that is best suited for your survival and tactical needs is highly dependent on the kind of circumstances you will find yourself in.
You now can see why a knife is suited for specific tasks and which ones can multitask. We encourage you to go out there and start your collection so that when the time comes, you will have a pool to select the best fixed blade knife from.