Skinning is always a race against degradation and should be set up to be done as efficiently and fast as possible. Speed preserves the quality of meat while preventing contamination.
The longer you take to skin, the more body heat the carcass loses and the higher the risk of bacterial growth on the surface of the carcass. You also want to be done before that annoying buildup of flies.
All resources that will be utilized, including skinning knives, should be easily accessible, highly effective, and resilient enough to get the job done.
Your target prey greatly influences the specific characteristics sought in a skinning knife because different carcasses are skinned differently and require different resources. Let's check out these qualities and how the game dynamics influence them.
The Shape of the Knife Blade
The three most relevant knife blade shapes for skinning knives are the clip point, drop point, and trailing point.
Clip Point Blades
These have the forward third of the knife blade concavely clipped off on the non-cutting edge of the knife, making it thinner towards the tip. The clipped bit is occasionally sharpened into another cutting edge. The tip ends up closer to the center of the blade increases the knife's piercing effectiveness.
The thinner spine allows it to make quicker and deeper punctures wherever it is inserted because of reduced drag during insertion and facilitates faster withdrawal.
Drop Point Blades
Their spine slopes gradually from the handle towards the blade's tip in a convex shape, allowing the blade thickness to be maintained almost to its tip. They have more control when cutting, and the thicker tip is stronger than the clip point, making it ideal for tougher cutting.
Trailing Point Blades
These have their back edges curving upwards to end above the spine, giving it a larger curve on its edge and an extended cutting area. This makes it great for slicing, especially larger prey.
Some animal hides are attached to the carcass through a thin membrane which is easy to sliver with a sharp knife without too much pressure. Only the tip of the blade is required for such operations.
Clip point blades are ideal for skinning these animals as they offer precision in tight spots and easily penetrate the hide. Drop point skinning knives are also great because they are stronger and have more control for the tougher bits and separation of joints.
These animals include sheep-like doll sheep, goats, and their relatives such as antelopes and the whole deer family comprising mule deer, whitetail deer, moose, and elk.
On the other hand, trailing point blades are used to make the sweeping cuts required to remove hides from animals like wild boars and feral pigs. Theirs are usually attached through layers of fat fibers that have to be sliced using longer strokes, utilizing the entire belly of the trailing point cutting edge.
The Blade Length
A small blade enables you to make such fine cuts you can even remove the cape for mounting as a souvenir. These blades are easy to control, reducing the chances of nicking the hide or leaving valuable meat attached to it. A 3 to 3.5-inch overall length can skin anything from upland birds and waterfowl to squirrels, rabbits, and bigger game.
The larger the game, the longer it will take to work with a small skinning knife, though. 4 to 5-inch blades may be used for medium-sized game such as whitetail and mule deer and up to 6 inches for brown bears, elk, and moose.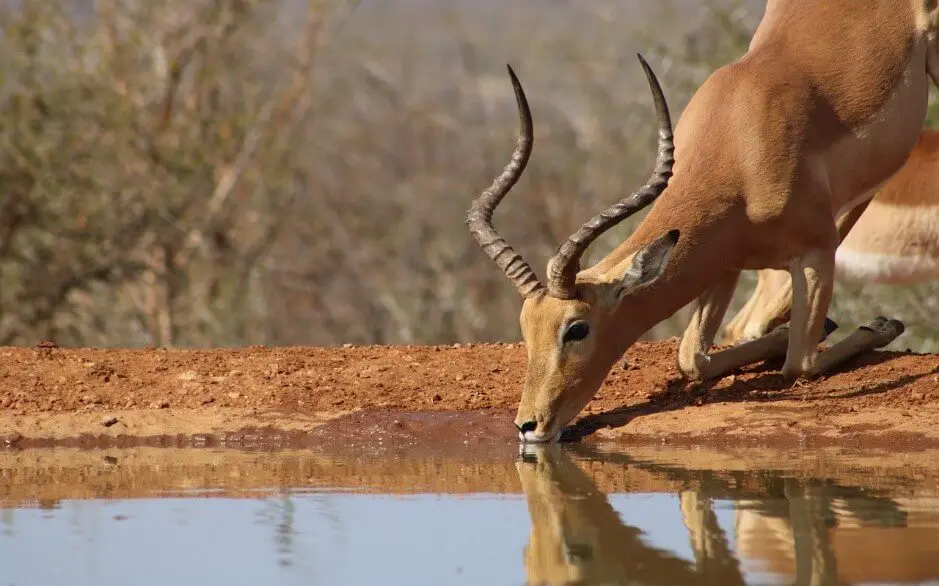 Fixed or Folding Knife Blade?
This is a matter of personal choice since both types of blades come in various shapes and sizes with some impressive skinners. However, our opinion favors the fixed blade for a couple of reasons:
Cleaning the nooks and crannies of a folding knife blade is not easy. Dirt, fat, hair, meat, and blood will gunk it up really fast. The deposits may interfere with the folding mechanism, and it may even start smelling, which is not sanitary at all. A lot more effort needs to be injected into cleaning and maintaining them.
Fixed blade knives are also less likely to break in the middle of separating a joint as they are more sturdy.
Blade Material
This decision is a battle between a stainless steel blade and high carbon steel blade. Most blades are made of a mixture of iron and carbon.
You need to find the right blend for your skinning knife requirements. Some skinning knife blades are both high carbon and stainless steel, getting the best of both worlds.
Stainless steel has chromium infusion that makes it rust and corrosion-resistant, meaning it will hold well when exposed to blood, moisture, and other corrosive substances common with hunting and skinning.
The blade also becomes harder; it can hold the edge and does not require constant sharpening, although it is harder to sharpen. Hardness is measured in Rockwell Hardness (HRC). Knives range between 54 and 64 HRC, and the higher the HRC, the harder the blade.
A high carbon content, on the other hand, makes the blade tough and durable. They are also easier to sharpen. The knives, however, need to be cleaned often and thoroughly to rid them of the corrosive material.
Handle Ergonomics
It should be comfortable to hold throughout the skinning duration, meaning the size should fit comfortably in your palm. A textured handle or one with handle scales has the added advantage of being non-slip, which reduces the risk of injury by providing a firmer grip.
Our Top Five Skinning Knife Models
1. Schrade Uncle Henry's 153UH Golden Spike Fixed Blade Hunting Knife

Its 7cr17MoV steel has a high chromium composition which makes it highly resistant to corrosion, gives it tensile strength, and helps this skinner knife retain its sharp edge, meaning you won't need to sharpen it in between your skinning. It also has the right carbon content to make it tough without getting bristle; its hardness rating is between 60 and 63 HRC.
The blade comes sharp straight out of the box and maintains this sharpness for a long time. Luckily it comes with finger divots on the handle for a firm grip and a front guard to prevent accidental cuts.

2. Condor Tool & Knife's Bush Lore Camp Knife with a Sheath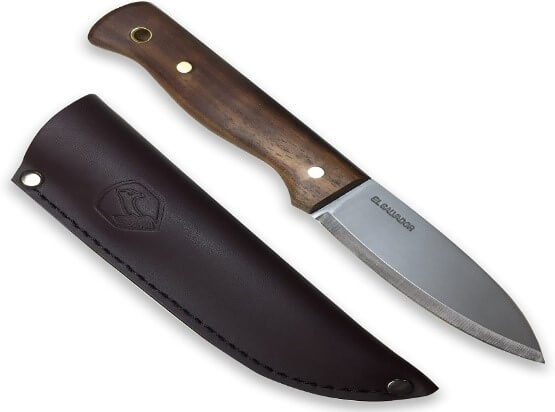 The high carbon steel blade is supported by the stability of a full tang which makes handling with its ergonomic walnut handle easier. It has been finished by bead blasting, giving it a matte outlook that suits a regular hunter.It comes with a black leather belt sheath to facilitate easy access to your good skinning knife and ensure safety when you put it away.

3. Gerber Gear's Moment Field Dress Kit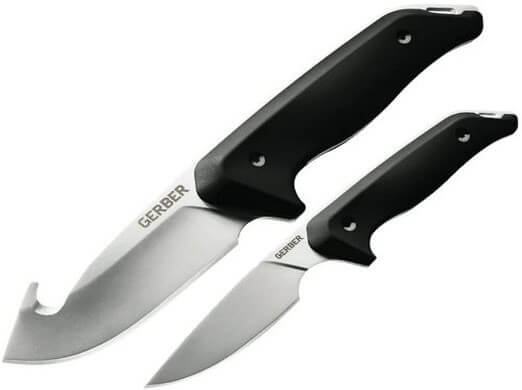 It combines a large fixed blade knife with a gut hook and a smaller one ideal for caping and finer slicing. The combo fits neatly in their designated sheath for easy portability.
Their non-slip textured rubber handles and full tang construction make for easy skinning combined with how they come sharp and ready to use straight out of the box.

4. The GVDV Hunting Knife Kit for Field Dressing Game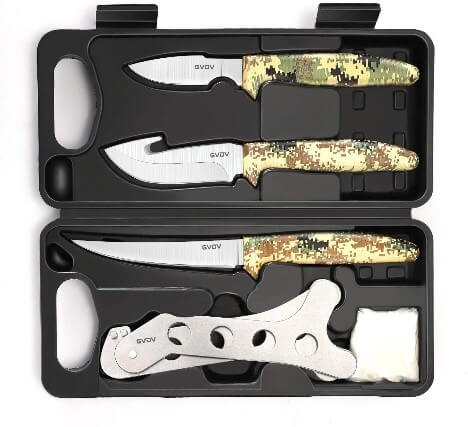 This is a versatile package for skinning game comprising a 3.1" drop point blade caping knife, a 3.7" curved blade hunting knife with a gut hook, a 4.7" thin curved blade boning and fillet knife, and a ribcage spreader. They come in a hard case for easy transportation.
The razor-sharp blades of all the knives are made of high-quality stainless steel, and the handles are ergonomically designed with grooved surfaces and finger concave shapes for firmer grips.

5. Outdoor Hedge's Field to Freezer Game Processing Set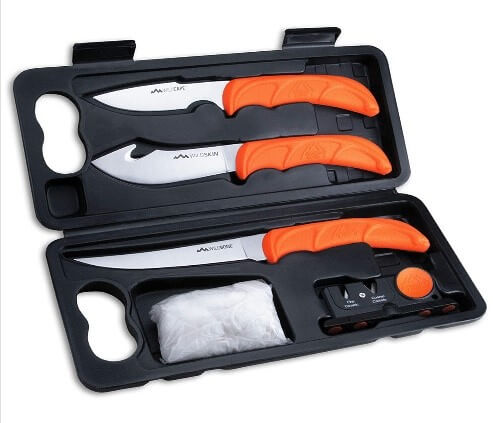 These all-purpose skinning knives come in a hard carry case containing a 2.5" caping knife for making detailed and precise cuts, a 4" gut hook skinner, and a 5" gutting and fillet knife for deboning. The package includes their 2-stage sharpener, saving you the extra expense. Their non-slip orange handles are easy to spot, and they will seldom get misplaced or forgotten in the field.

Your specific situation will dictate the appropriate skinning knife, although it is not uncommon to encounter unforeseen circumstances. The knife sets with different specifications ensure you are covered for most eventualities which is why packaging is becoming a common practice in the skinning knife business.