To validate why we are making a big fuss about a deer skinning knife and why you should not pick any random knife for the job, we should probably start by looking at how it is done and the fundamental requirements.
What You Should Know About Skinning Deer
You start by slitting the skin and peeling it back before getting to the carcass to keep the hair and fur away from the meat. Your skinning knife helps you cut the skin at the neck and legs and peel it off wherever it may get stuck as you pull it off the carcass.
The hide of a deer is usually attached to the carcass by a thin membrane that can be simply slivered using a sharp knife to separate it from the meat.
It is advisable to be done with skinning as soon as possible after harvesting; no more than two hours later. The hide comes off easier while the carcass is still warm. You are also rushing to bag the body before the FBI (fungi, bacteria, and invertebrates) flag it for decomposition.
Deer have been known to carry pathogenic E. coli bacteria that can grow rapidly once the animal is deceased without altering the meat's appearance, smell, or texture.
Other bacteria will change the color of the meat or make it slimy and sticky, with an unwelcome odor. All these render the carcass unfit for human consumption as it will cause illness if ingested.
Flies worms and other insects are also always lurking at a close distance, waiting to claim that which they did not work for.
You also want to avoid a contest with other opportunistic predators out there. The sooner you can bag your catch, the lower the probability of having to ward off competition.
Airborne contaminants, the weather, and prevailing temperatures will also affect the quality of meat if left exposed for long.
This ambient urgency coupled with the skinning intricacies and prevention of contamination demand a very specific and optimized knife. It should make the process easy and efficient, so you can get the cleanest separation with the least effort in the shortest time possible.
We are here to guide you through particular features that define a great deer skinning knife and how they contribute to the process.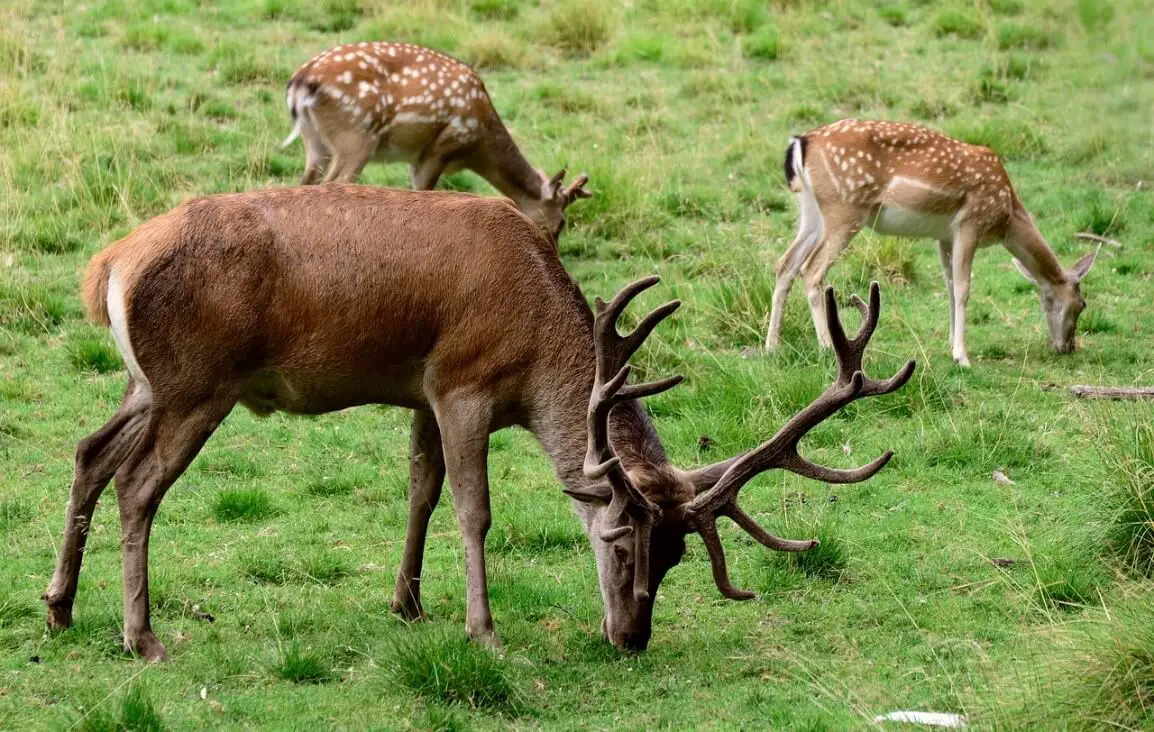 Your Checklist for a Great Deer Skinning Knife
The Shape of the Knife Blade
Look out for a thin, sharp point and a curved base. The thin point pierces the skin and severs the membrane attaching it to the carcass in tight spots such as the legs and joints. A curved base maximizes the knife's cutting surface regardless of the size of the knife blade while reducing the range of motion needed, making the process faster and less tedious.
The width of the blade also makes a difference in how it handles. A wide blade will have a longer cutting surface because of the bigger arc. This makes it ideal for carving the wider sections of the deer.
On the other hand, narrow blades thrive in detailing where precision is required, like when maneuvering through thin spots like the limbs or when caping, because you prefer the hide unscathed even as you neatly separate it from the flesh.
Experienced hunters most favor clip point and drop point blade designs because most of the work is done with the tip, and they both have thin points and curved bases.
A clip point knife blade has a third of its spine clipped towards the point, either in a straight line or a curve, which renders it thinner than a drop point. The tapered part is often sharpened, making it an additional cutting edge. It can therefore puncture the skin effortlessly and will access the most buried sections with unparalleled precision.
The Old Timer 1520TL Sharpfinger Full Tang Fixed Blade Knife is our current favorite clip point, deer skinner. The full tang 4" blade is made of high carbon stainless steel, holding the sharp edge through numerous deer hunts.
It comes with a brown leather sheath for the belt, which ensures it is stored safely when not in use and can be carried easily to the hunt.


A drop point blade has the spine sloping in a convex shape towards the tip. This shape allows the thickness of the spine to extend towards the tip, making it stronger than the clip point. Buck Knives 863 Selkirk drop point blade is an excellent deer skinning knife. It comes with a bonus ferro striker cum whistle integrated on the leather sheath.
It has been subjected to the Paul Bos heat treatment, a combination of heating and freezing, which produces blades that maintain their sharp edges much longer than regular blades.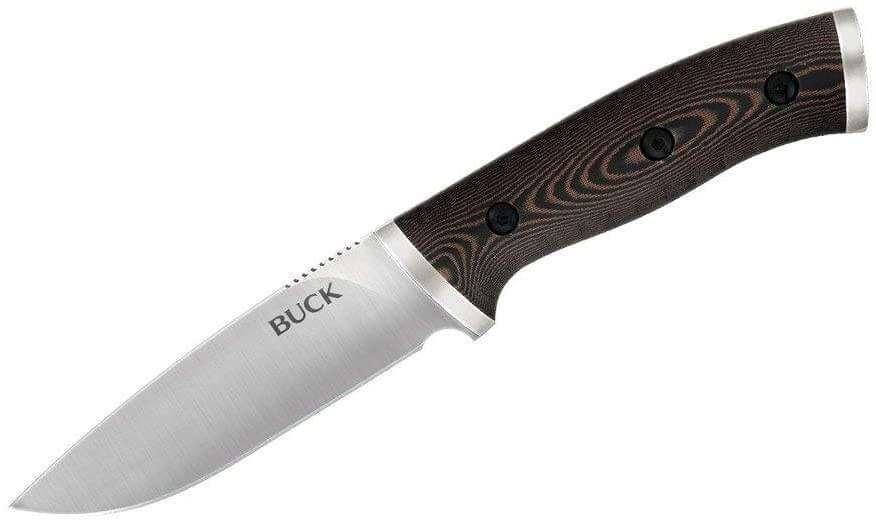 Blade Size
A smaller blade is more accurate and easier to control for detailed skinning, while a larger one will save on time by covering extended stretches with fewer yet wider strokes. If it is too small for your size of game, on the other hand, it can turn sideways in your hand when it hits bone since there is no allowance for shock absorption. This can damage the carcass or hide and is an injury risk.
If it is extra-large, you lose out on accuracy and leave a lot of meat on the hide. It is also heavier, yet you need the knife to be lightweight. This makes it is easy to move around with and use for as long as it takes to skin your deer without resulting in fatigue or wrist pain.
You should consider these in comparison to the size of the game as you strike a balance. A blade size between 3.5 to 5 inches is optimal for deer skinning.
Blade Material
The material should be non-corrosive, sharpen nicely and maintain its cutting edge. They are usually an infusion of carbon and stainless steel in various proportions. The higher the carbon content, the harder the lade will be. It, therefore, lasts longer and maintains the cutting edge, so you don't have to keep sharpening it. Stainless steel provides corrosion resistance and will keep the knives sanitary.
All these properties are critical for a great knife, and you should strike a working balance between them.
The Knife Handle
The handle should be comfortable to hold, whether the edge is facing downwards or upwards, because skinning involves adjusting to the contours of the animal's body. It should also resonate with how you prefer to hold the knife. Some hunters wrap all their fingers on the handle while others are used to their index fingers resting on the blade's spine as a form of guide while skinning.
As you proceed with skinning, your hands are bound to get dirty and slippery with all the fat and blood. A good quality handle has some form of texture to make it non-slip, facilitating a firmer grip for precise cuts and personal safety.
It also comes with a form of protective finger guard forming a barrier between your finger and the heel of the blade for additional safety. Avoid handles with exaggerated finger groves; they limit your range of motion, yet you need to keep changing your grip position as you skin your deer. They can also be generally uncomfortable if your fingers are not the exact fit.
Pay attention to the material the handle is made of, as some make it easier to attain the rest of the handle qualities we have discussed, in addition to durability and hygienic properties. The handle should be easy to clean and should not harbor gunk or skinning residue that will ultimately start smelling, corrode the blade or even contaminate your meat.
Aesthetic appeal is also important to some hunters, and you should factor it in if you are one of them. There is a host of colors and patterns to choose from, and it's a matter of personal preference.
Fixed Blade Knives
A fixed blade is the most stable for skinning since the entire unit moves as one, and you can guide it better with your fingers. It is rigid, strong, durable, and easy to sharpen because it has no moving parts to consider.
They are also easy to clean because of their mostly simple designs, meaning less effort is required for maintenance, and they will naturally last longer.
Folding Blades
These are also popularly referred to as buck knives after the American knife manufacturer credited with inventing the first folding hunter, which revolutionized the knife industry.
Folding knives are good when you have limited storage capacity because they are more compact when not in use and don't need to be sheathed. They can even be carried in the pocket.
However, you should be prepared for a rigorous washing regimen after every dressing. You need to get to every nook and cranny to keep the knife sanitary and avoid clogging the folding mechanism.
If you still feel like a fixed blade skinning knife is too bulky and inconvenient or are inclined towards folding blades as a force of habit, we have been scouring the market for a tool that suits you.
Our recommendation based on how it packs all the benefits of a fixed blade skinner with the right dimensions for deer skinning will be Cold Steel's Voyager LG Clip Point Plain Edge Folding Knife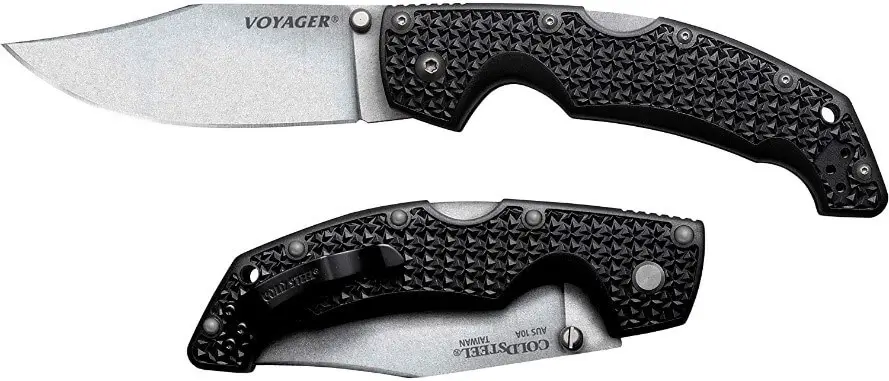 They flick open easily using a well-placed thumb stud and feature Cold Steel's Tri-Ad locking system, which is shock-resistant and secure enough to safely penetrate tough skin.
The blades are Japanese AUS10A alloy blades incorporating the patented San Mai heat treatment technology to laminate three layers of stainless steel in one blade. This involves sandwiching a hard high carbon steel layer between two tough lower carbon steel layers.
The inner layer enables a superior edge holding capacity, so the knife stays sharp longer than your regular stainless steel blades, and the outer layers absorb lateral stress so that the blade is not brittle like other high carbon blades.
Replacement/ Disposable Blade Knives
These are relatively new in the market and have one main advantage over both the fixed and foldable blades when it comes to deer skinning knives; Their blade can be replaced for a sharper or more appropriate one right there in the field, and they usually come with extra replacement blades.
Most of these blades are designed to be disposed of after one use or as soon as they get blunt. Therefore, their replacements are readily available in the market, and you can pack more than the original set of blades as backup, depending on the duration of your excursion. Note there are no restrictions to sharpening them for later should you wish to extend their usage before disposal.
Check out the Outdoor Edge RazorLite folding hunting knife with replaceable blades.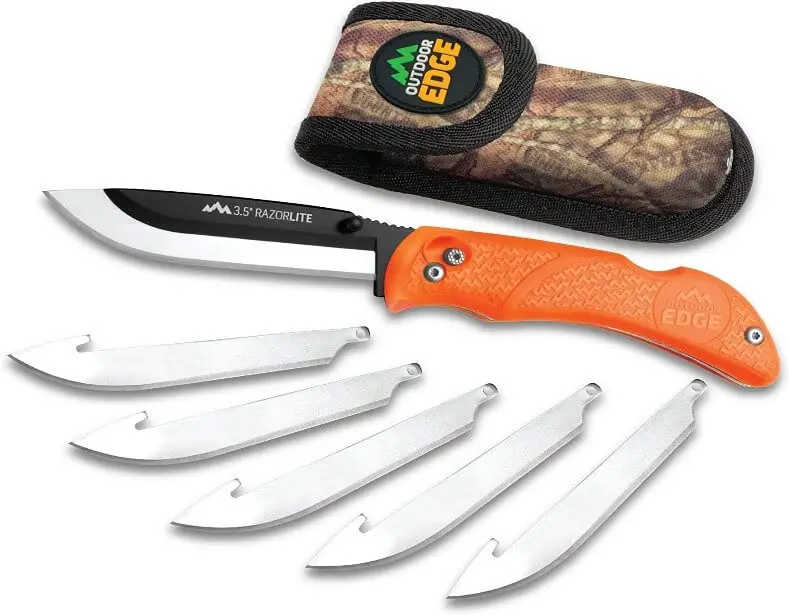 Its hand-finished sharp blades are made of Japanese stainless steel and are removable, which facilitates thorough cleaning and replacement when dull. The blades are fitted in a rigid black oxide coated holder made of stainless steel, which is durable and easy to clean.
This everyday carry (EDC) knife comes with six blades and a mossy oak camo carry sheath with separate compartments to house the knife and its spare blades. Its Razor Safe system securely locks the blades in place, and the blade holder provides stable support. This synergy gives it the strength of a traditional fixed blade knife.
The release button safety requires a bit of pressure, so it will not accidentally release the blade mid-session. Changing the blade is still considered easy; it doesn't require any tools; a thumb and finger will suffice.
It is exceptionally resilient because you can keep backing it up with a pack of Razor Safe compatible replacement knife blades whenever necessary. The one currently available on Amazon is a 6-piece with a 3.5" drop point skinner, a 3.9" gutting blade, and a 5" boning/ fillet blade which comes with their own blade box for storage.
The information in this article is meant to empower you to combine functionality with personal preference when choosing a deer skinning knife. The experience should be enjoyable and safe for the hunter and all consumers of the meat.