Planning for a shooting trip over the weekend? You will need to pack a pair of gloves to keep your hand well protected. Regular gloves will just not cut it; you need a pair of shooting gloves.
You are in luck if you are looking for the best shooting gloves. There are different kinds of shooting gloves designed to fit the needs of a shooter. Here is a list of the best shooting gloves in the market that will help you choose which to go with.
1. Magpul Core Technical Lightweight Work Gloves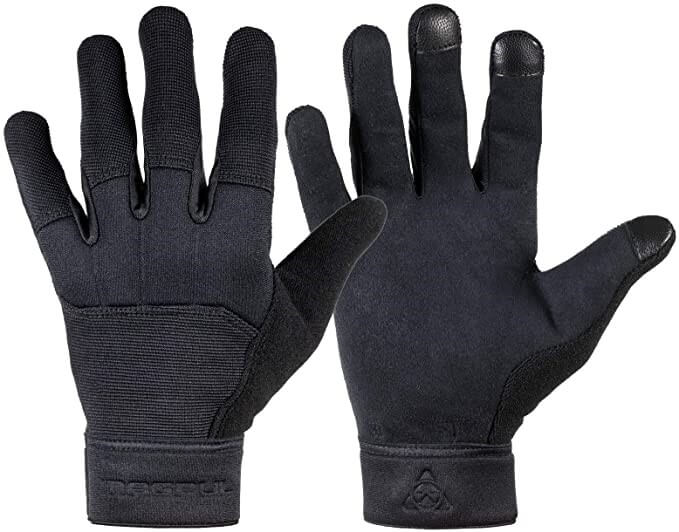 Magpul is one of the biggest companies in the firearm accessories industry. The company has a wide range of accessories that are aimed at easing the life of a shooter. The Magpul Core Technical Lightweight Work Gloves are form-fitting with a soft elastic material.
The gloves have an elastic wrist that makes them quite comfortable. The elastic wrist also helps them to stay in place and not slip off accidentally. You will require slightly more effort when putting them on or off, though.
The gloves have a small loop that makes them easier to put on. They also have a bare hand feel, which is very smooth and comfortable. It is unlikely to experience any rubbing or bunching with these gloves, even when worn after several hours.
PROS
Durable and lightweight
Terrycloth-backed thumb area.
Tough synthetic suede palm
CONS
Not great for hot weather

2. 5.11 Tactical Men's TAC A2 Glove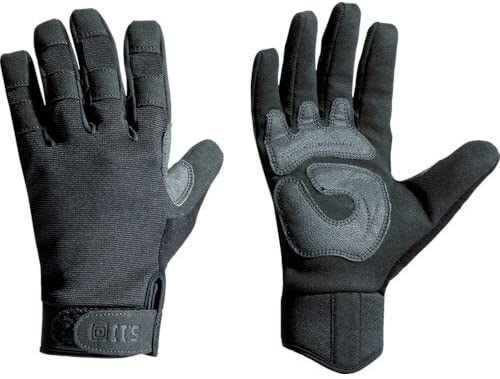 The 5.11 Tactical Men's TAC A2 Glove is designed with people who have wide hands in mind. These gloves are equipped with a special four-way stretch back panel that ensures that the gloves are always comfortable, even when worn by people with unusually wide hands.
They are equipped with a Velcro strap attached to the wrist area to adjust and make them more comfortable. The wrist area has an elastic band, which provides freedom for movement.
The finger and palm pads help provide extra durability. They have a Teflon coating that is designed to resist soil and liquid stains.
PROS
Reinforced pull tab
Soil and liquid stain resistant
Machine washable
Ideal for wide hands
Four ways stretch back panned
CONS
Thick fabric
Not great for hot weather

3. PIG Full Dexterity Tactical (FDT) Delta Utility Gloves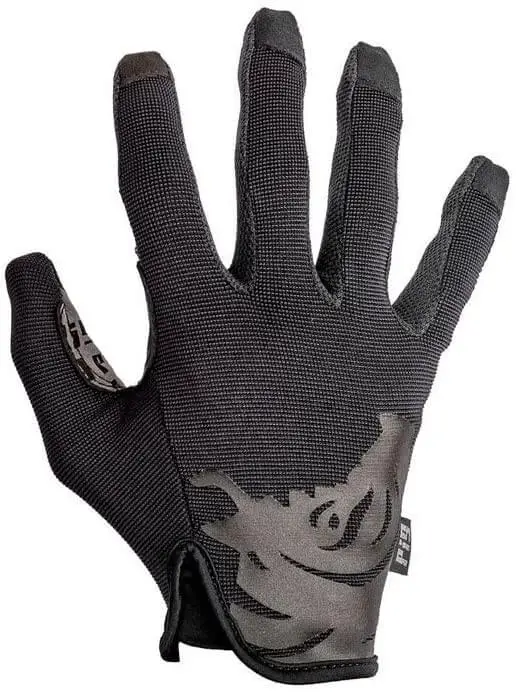 The PIG Full Dexterity Tactical (FDT) Delta Utility Gloves offer great protection for your hands without reducing your dexterity. They have a wonderful "bare hand" feel, which makes them perfect for shooting. The bare hand feel is provided by the patented Touch Screen Conductive Thumb and Trigger Finger.
These gloves have been designed to make sure you have the perfect grip as well as comfort. The trigger finger has a thin material that makes pulling the trigger very easy. The other fingers have a different kind of thickness that is ideal for every shooter's needs.
The gloves have ventilation holes, which makes them breathable and deliver great sweat-wicking. The palms are made of multi-piece palm, which is thin and makes the gloves quite comfortable. The exterior material of these gloves is very durable.
They are designed with comfortable padding on the edges that provide excellent grip. The knuckles are protected with Ballistic Nylon 1000D. These gloves have a closure at the wrist area to keep them from slipping off.
PROS
Available in different styles
Have ventilation to make the hand more comfortable
Have a hook closure
Comes with great dexterity
Utilizes Touch Screen Conductive Thumb and Trigger Finger material
CONS
Achieve a perfect fit requires careful measurement

4. Mechanix Specialty Vent Coyote Gloves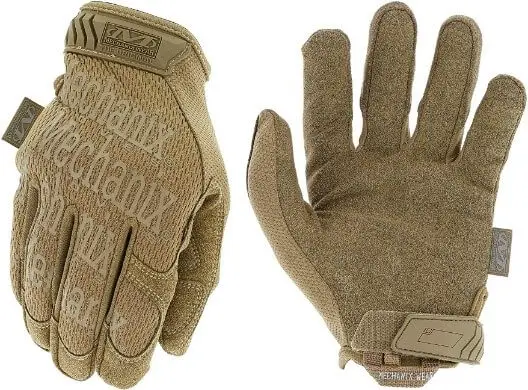 If you plan to go for a shooting trip in hot and humid conditions, the Mechanix Specialty Vent Coyote Gloves will be the perfect choice for you. This is mostly because they have the right features to keep your hands perfectly dry while shooting. These gloves are designed to make your shooting experience very comfortable.
The Mechanix Specialty Vent Coyote Gloves are designed to keep your hands well ventilated and well aerated at all times. This is attributed to the breathable mesh material and an o.6mm thick palm. Even if it gets hot, the air will circulate through your gloves.
The gloves come with perforated trigger fingers that feature touch screen capabilities. It makes it quite easy to grip and pull the trigger.
The low-profile thermoplastic rubber ensures that it securely fits your wrists, ensuring that they do not slip off while hiking or shooting. The gloves are designed to fit your hand's natural curvature.
PROS
Machine washable
Ventilated finger fourchettes
Have nylon carrier loops
Well ventilated palms
Ideal for hot weather
CONS
Quite expensive
Not durable
Not ideal for heavy tasks

5. Hatch NS430 Specialist All-Weather Shooting/Duty Glove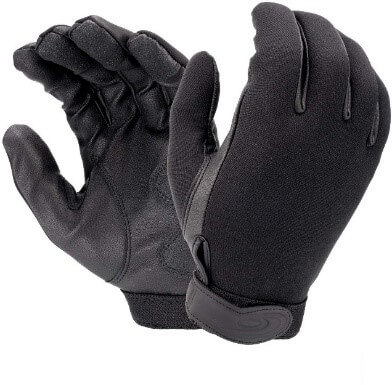 The Hatch NS430 Specialist All-Weather Shooting/Duty Gloves are ideal for cold weather. Anyone who has ever gone shooting in frigid weather knows just how difficult and uncomfortable it can be. Having such a pair of gloves will help improve your experience shooting even in the most extreme weather.
The Hatch NS430 Specialist All-Weather Shooting/Duty Gloves have been designed to keep your hands warm thanks to the neoprene material used in its manufacture. The fabric also helps keep the gloves comfortable and provides maximum dexterity.
The gloves have a synthetic leather palm that improves agility. The special Extreme-Grip patched on the fingertips and palm areas help enhance the grip, especially when it's raining. There is a wide range of sizes to help find the perfect fit. The biggest downside is that these gloves are not ideal for hot weather.
PROS
Designed with a hook and loop closure
Various sizes available
Ideal for cold weather
Soft and flexible
Give a snug fit
CONS
Not ideal for summer
Not ideal for people with sweaty hands
Best Shooting gloves buying guide

Best Shooting Gloves Buying Guide
Getting the best shooting gloves can be quite tricky. You will want to have comfortable gloves while still not overlooking the style. Here are some of the basic factors to consider when getting your ideal shooting gloves.
Material/ Fabric
The fabric used to make the gloves will affect how comfortable and versatile the gloves are on your hands. Make sure that the palm and fingertips are textured to enhance the grip while you are shooting. Ventilation is very important, especially if you are going on a shooting trip during summer. If so, your hands may become hot and sweaty. You will therefore need to choose a pair that will deliver the perfect ventilation.
Size
Make sure that you pay attention to the size chart before buying gloves. Some gloves are designed with a narrow fit and can be especially uncomfortable for people with large hands. In most cases, make sure that you get a pair that is a size larger than your usual size.
Padding
Ensure that the gloves you choose are well padded to protect your hands. Pay close attention to the material around the knuckles to ensure that you do not suffer from the shocks and knocks while you are shooting.
Wrist Closure
You do not want your gloves to slip off accidentally while you are shooting. Make sure that the wrist closure is made of an elastic and comfortable material. The wrists should ideally be well-padded and adjustable.
Weather Conditions
Some gloves are designed to be fully ventilated. Ventilation will ensure that your hands are keeps as cool as possible, especially in hot weather. Other gloves are designed to insulate your hands against cold weather. It is important to get gloves that are suited for the weather.
Choosing the best shooting gloves will depend on a lot of factors. Before you get your gloves, consider all the factors without forgetting the weather conditions. Based on your needs, you will get shooting gloves that match up to your needs.