Whether you are hunting in temperate weather or extremely cold conditions, the fact is that you need protective hunting gear for your entire body. Bowhunter gloves are particularly important for people who value some level of comfort and increased grip.
The good news is that there are hundreds of options available in the market today as far as bowhunter gloves are concerned. The bad news: there are hundreds of options available in the market today as far as bowhunter gloves are concerned.
No, having an abundance of choices isn't always a good thing. Thankfully, however, you can always look for expert opinions to help guide you through as you try to find the best option for your specific needs. This bowhunter gloves reviews article will do just that and so much more.
Our Top Picks for Best Bowhunter Gloves
Hunting mittens will not only keep your hands warm and toasty during cold weather hunting, but the right pair will also ensure that your hands retain their dexterity throughout.
Although some hunters don't fancy using hunting mittens (they are bulky and often interfere with your shooting style), the truth is that if you find the right pair, your shooting will remain the same, and many of them aren't even that bulky. That being said, here are some of the best hunting mittens in the market today.
1. Manzella Productions Bow Hunter Convertible Glove/Mitten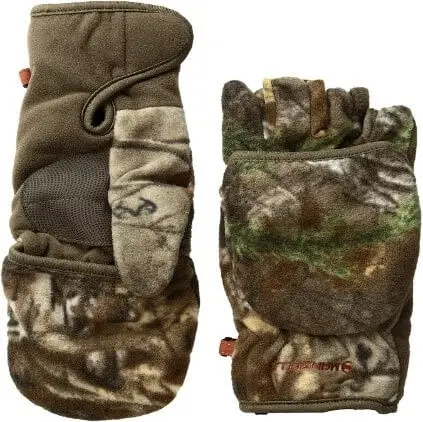 If you have ever been on a long hunt, you know that sometimes you need to stay up in your stand and be as still as possible. This isn't always ideal during winter when your entire body can quite literally get frozen in place. These Manzella Productions Bow Hunter Convertible Glove/Mitten are designed to prevent your hands from going that far.
Manufactured using warm fleece fabric, these gloves/mittens even have built-in pockets for heat-packs meaning that your hands will stay warm and toasty as you wait for that Whitetail to walk by so you can have your shot.
One of the biggest issues most hunters have with mittens is that they are so bulky that they get in the way of hunting. Unfortunately, mittens have to be bulky to keep you warm. The best ones, however, have an allowance that lets you hunt without a fuss.
For example, these are pop-top mittens that reveal half-finger gloves when you need to use your trigger finger or general hand dexterity. Furthermore, they feature a synthetic suede palm, which gives you enhanced bow control. It even has a bow release collar built-in.
PROS
Quite warm and comfortable
Has built-in heat-pack pockets
Pop-top gloves that reveal half-finger gloves
Built-in bow release collar
Synthetic suede palm

2. ScentLok Men's Full Season Bow Release Gloves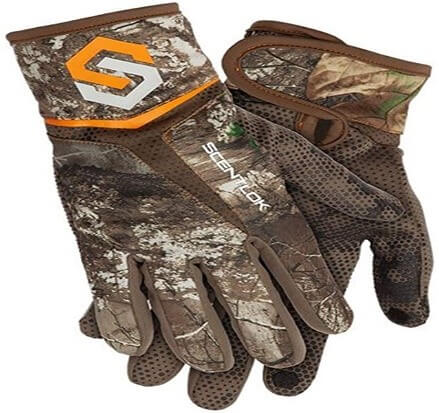 The ScentLok Men's Full Season Bow Release Gloves are quite nearly the best bowhunting gloves you could find within its price range. The manufacturer was clearly taking pointers from experienced bowhunters because they have included almost everything a hunter would need in a bowhunter's glove.
They are made out of lightweight polyester fabric, for starters, which doesn't interfere with your hand dexterity or mobility. Couple that with silicon-printed palms, which allow for reliable grip, and you have a pair of gloves that gives you excellent bow control.
These gloves are made out of extremely soft and comfortable fabric, which keeps your entire hand and fingers warm, giving you a much faster reaction time so you can drop that buck when he walks by. This fabric has moisture-wicking qualities, ensuring that your hands don't get wet and clammy.
Another excellent feature is that the gloves incorporate Carbon Alloy technology, ensuring that no odor is emitted even if your hands sweat. This is really important since scent control is a big part of big game hunting.
PROS
Durable
Comfortable
Touchscreen fingertips
Silicon-printed palms
Odor control through Carbon Alloy technology

3. Under Armour Men's Hunt Liner Gloves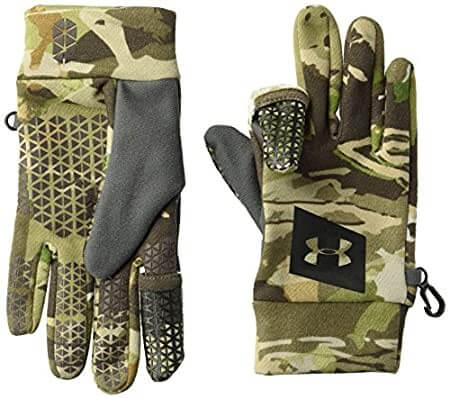 When you see the logo of a reputable brand like Under Armour on anything, you know that you are getting a high-quality product. In keeping with that amazing tradition, these Under Armour Men's Hunt Liner Gloves are quite literally a cut above the rest. Made out of 90% Polyester, 7% Silicone, and 3% elastane, these gloves are designed to stay dry whenever the prevailing weather is wet while retaining its excellent grip and warmth.
What Under Armour has done here is avoid using a mixture of spandex and polyester like their competitors. This mix does give bowhunting gloves the requisite stretchability, but it also lowers their durability. Under Armour has gone above and beyond to mix polyester with elastane, which offers you the necessary stretchability as well as durability. The added advantage of that fact is that you can easily size these gloves and still feel very comfortable in a pair that isn't necessarily your exact fit.
PROS
Durable
Strippable index finger
Great grip
Very comfortable
Fairly water resistant
CONS
Only suitable for early to mid-hunting season
Quite pricey

4. Archerymax Handmade Three Finger Archery Glove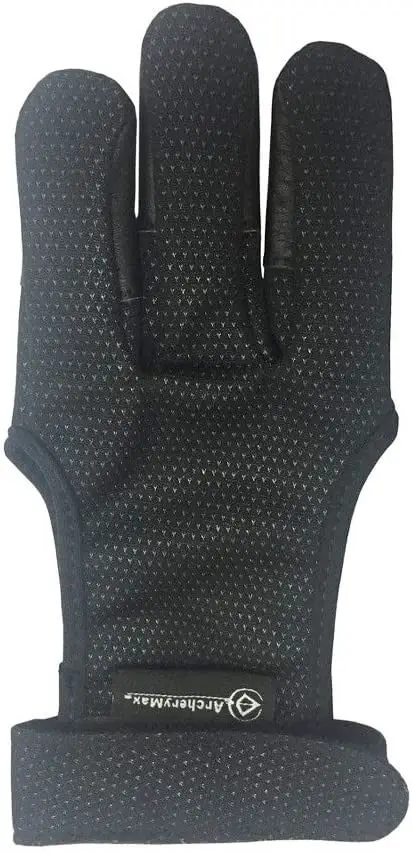 If you are the kind of hunter who enjoys archery in the early season, then you will love this Archerymax Handmade Three Finger Archery Glove. The three finder design is perfect for people who don't fancy covering their entire hand when bowhunting.
Made out of high-grade cow leather, this glove is durable and waterproof, and highly resistant to rips and tears. It's beautifully stitched together and features a stellar all-around construction.
The three fingers on this glove all have thinner leather topped off with a protective layer that allows for a better feel when you draw back your bowstring. All in all, it fits well, works well, and protects your fingers perfectly.
PROS
Affordable
Made out of high-grade cow leather
Designed for warm-weather hunting
Durable
Comfortable
Easy to adjust
Provides extra protection for your fingers
CONS
Velcro strap that is quite loud
Doesn't work well with colder weather

These are by far some of the best bowhunting gloves in the market today. Whether you are looking for cold weather bowhunting gloves or are looking for something that works well in warm weather, this list has it all.
Now, all you have to do is decide whether you want a full glove, a half-finger glove, or a three-finger glove and go for it. Of course, that depends on the kind of hunter you are and the kind of hunting you intend to do.