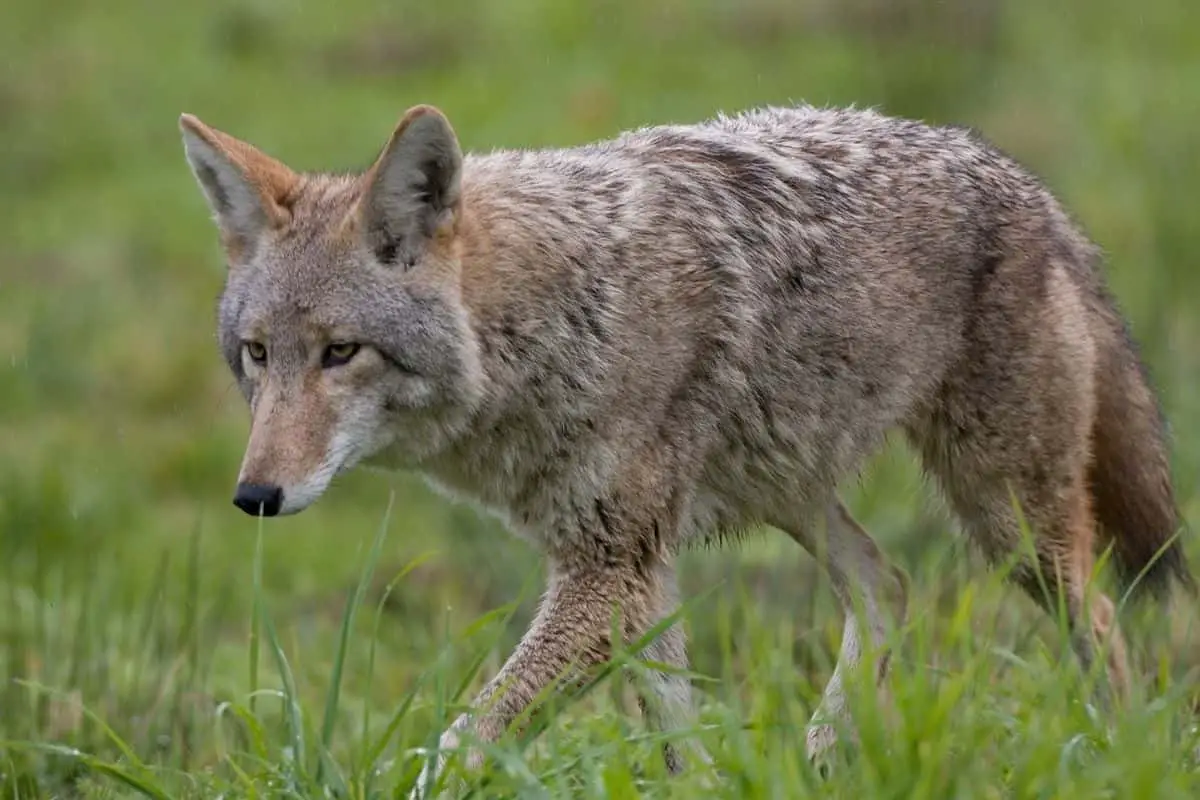 Coyote hunting is an exciting sport because these cunning animals are not always easy to locate. That's where having a proper electronic coyote call device comes in.
It is important to keep coyote numbers under control because these crafty animals have virtually no predators. They can live up to 20 years and can cause immense damage to other animal populations.
An electronic coyote call is a must-have device for hunting coyotes. These handy tools play all sorts of animal sounds that can lure in coyotes to a specific region.
With an effective caller, you can sit back and wait for your target to arrive. Coyote calls can dramatically increase your chances to successfully hunt coyotes. 
Picking an Electronic Coyote Call Device
There are lots of different types of game callers available on the market. We have spent quite a lot of time comparing products so we could provide you with the best options.
The following ones are our top picks because lots of people who tried them loved these products. These are also the callers with all the right functions for successful hunting expeditions.
Here is a quick look at the best callers to get:
The Icotec Night Stalker is our top pick because this caller stands out from the rest in many different ways. The speaker is larger, you can store a wider range of sounds and you can play more sounds at the same time. With this one caller, you can hunt a much wider range of animals.
This caller is a bit heavy at 4 pounds because it is fitted with a larger speaker. The speaker offers impressive volume so calls can be heard from further away.
The caller comes with an LCD remote that has a night and day mode for easy viewing. The remote also has a vast range of over 300 yards and various buttons allow you to easily play different calls. It comes with 240 professional calling sounds already programmed.
You can store up to 500 sounds on this device. Your favorite calls are easy to access because you can list 20 under "Favorites." You can also use the caller to play up to 2 sounds simultaneously.
Some buyers did comment that light-up buttons would have been ideal for night hunting. Because the caller is so loud, it requires a lot of batteries. You will need 10 AA batteries, but the battery life is relatively good.
Specifications
In second place, we have the Foxpro Patriot Predator Call. This caller is much more affordable and it does offer quite a few impressive features.
The caller has a large high-efficiency horn that offers powerful sound blasts that can be heard from afar. It also has aux jacks that allow you to connect loose speakers for even more sound. 
The device comes with 35 quality FOXPRO sounds as well as 100 free sounds. But you can load your own sounds by connecting the device to a USB port. Up to 300 sounds can be programmed onto the caller.
The remote has a fairly good range of over 158 yards. Its LCD makes it very easy to see and play the sounds you are looking for. 
This caller is not quite as expensive to operate because it requires 4 AA batteries to run. It is also a lot lighter than the Night Stalker and weighs just 1.5 pounds. 
Specifications
The Icotec Gen2 GC300 is a good pick for those who need something basic and straightforward. This caller can't be reprogrammed. However, it has easy access buttons so you can quickly locate the sounds you want to play. It is also loud due to a larger speaker.
The caller is heavy at 4 pounds because it is fitted with a large 3 1/4 inch speaker that can make louder and clearer calls.
The caller only has 12 sounds, all of which are ideal for hunting coyotes and other predatory species. Sadly, you can't reprogram the caller with your own sounds. Fortunately, the 12 calls included are very easy to find because each one has its own button on the remote.
The caller takes only 4 AA batteries and can function for up to 8 hours depending on the quality of the batteries. The remote range is also impressive at 300 yards. 
Specifications
This caller by Lucky Duck is a great pick if you need one that has a decoy to fool animals. The caller has a motorized decoy that moves around while the caller makes a sound. This decoy allows you to lure wild animals to a very specific spot for an easy kill.
12 quality sounds are installed on the device and you can add more calls by loading these via SD card. 
The caller's remote has dedicated buttons so you can easily play the sounds. It has a vast range of up to 300 feet and a relatively large 25watt speaker that distributes sound very well.
The caller can play only one sound at a time and requires 10 AA batteries to function. This can be pricey and can make the caller very heavy. Overall, it's a good, basic caller if you need something that is easy to use or if you want to lure prey to a very precise spot. 
Specifications
The Flextone Vengeance caller is our best budget option. This caller looks pretty flashy and it offers quite a few good features for its price.
The caller is very light and portable at just 1.26 pounds. It is not the loudest because it is fitted with a 10-Watt and a 5-Watt speaker. But the speaker positioning allows you to lure in prey from different directions. This is because the speaker plays in different directions.
The caller can only play one sound at a time, but it does come with 100 pre-loaded sounds. YOu can download and load more sounds if you like. The remote controller has a 150-yard range and is very easy to use because of simple press buttons.
You can also change the call and volume on the caller itself since it has the same playback buttons as the remote controller. This caller requires 8 AA batteries to function (which is a lot), but the battery life is very good.
Specifications
Buying Guide
Any of these callers are terrific for luring in coyotes. If you have a tough time choosing between these devices, perhaps this buying guide will help narrow things down.
The Best Budget Caller
The Flextone Vengeance is the most affordable on our list. It is a good caller, but we do feel that spending a little bit more on the Icotec Gen2 for more volume would be a good option to consider. 
The Best Multifunctional Caller
The Lucky Duck E-Caller's little motorized decoy is ideal for luring prey to a specific spot so you can make the kill. It is the only caller with a different feature than just calling. 
The Best Reprogrammable Caller
If you like to add your own sounds, then you should consider any of these except for the Icotec Gen2. This is the only one that cannot be programmed. But you can load your own sounds on all of the other callers. 
The Loudest Caller
The Icotec Night Stalker is the loudest. It is also our top pick because you can add the most sounds and you can play 2 sounds simultaneously. 
The Best Overall
The Icotec Night Stalker is our overall top pick from this list. However, if this one is too expensive, then you can also get the caller by Foxpro since this one is almost as good but available at a much better price. 
Final Thoughts
We do hope that this guide helped you find a good electronic coyote call device so you can hunt with ease and be more successful.
If you are also looking for other superior quality tech gear, then you should hop over to some of our other guides. We compare a lot of different tech products that are sure to make your life or hobbies a lot easier.