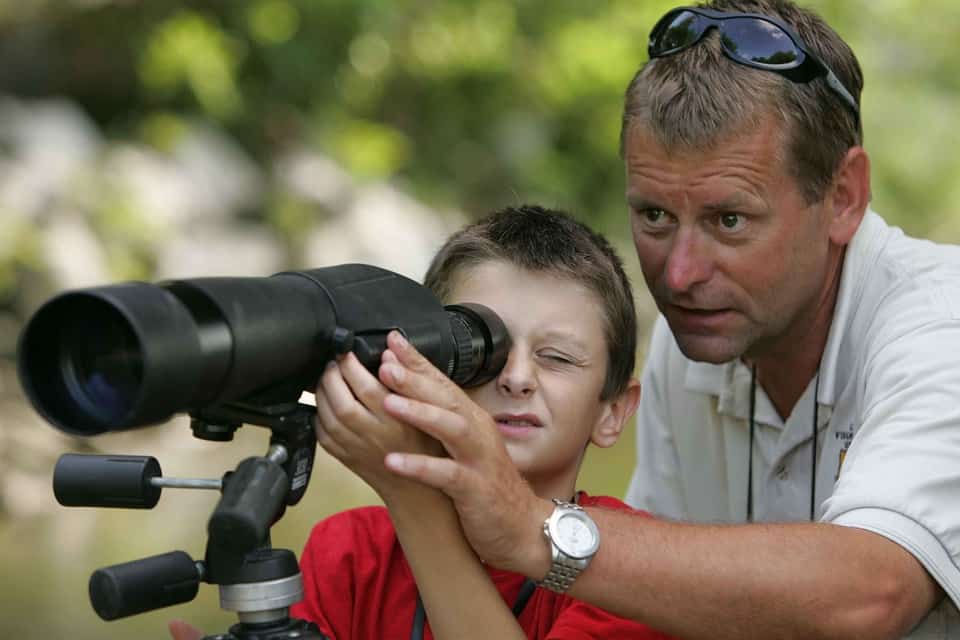 Have you ever used a spotting scope? If you are not sure of how it works, we've got you covered in this article. Before you buy a spotting scope, here are some essential tips I thought you should know.
How to set a spotting scope on the tripod
Firstly, you need to unlock the tripod legs to extend it. You can also do this by unclipping the leg levers. After this, lock the levers back into their position after you have set your preferred height.
Adjust the leg extenders to the height of each leg if you are using the spotting scope in rocky terrain.
Determine whether you need to add extra weight to grip the tripod. If the tripod has a hook at the centre, you can hang the scope bag to add some weight.
Remove the spotting scope from the case. You can decide to leave it on if it has a stay-on-cover.
Most tripods are fitted with a tripod adapter or a mounting plate which is easy to remove from the mounting surface of the tripod. Thread the plate or the adapter to the spotting scope and then tighten using a wing nut or any other tool for tightening.
Place the scope on the tripod. You can use the quick release systems which require you to slide the plate into the mount until it produces a click sound.
Quick release systems contain a button that you can press when you want to remove the scope. Remember to unlock it first if you had already locked it in place.
If you require more height, you can unlock the neck extension and then lock it back after you have achieved your desired height.
I have seen Robert Border the author of Adventure gears Lab has already discussed spotting scopes in details. Read this article to find the best spotting scope for hunting, birding.
How to Prepare the Spotting Scope for Use
Most spotting scopes contain the stay-on cover and the first thing you should do is to remove the parts of the cover to expose the eyepiece, objective lens and the focus controls.
Remove all caps that might still be on the scope.
How to Search For Your Target
Start from low magnification as you focus your image for a wide field of view and sharpness. You can turn and move the focus controls until the image becomes clear and sharp.
If you are among those who wear glasses, you should twist down the eyecups until you get enough eye relief
Pull out the retractable sunshade from the objective lens if the sun is at an angle with the spotting scope if your scope has this feature.
Scan for your targets using the panhandle to see the terrain
After you have found your target at low magnification, you can now increase the power until you achieve your preferred view by adjusting the zoom ring.
You can refocus the focus controls to get a clear image.
Types of spotting scopes
The most common designs of spotting scopes are:
Angled spotting scopes – These are easy to share with a group. They also have a higher eye point which means you need to use a shorter tripod. They are the best for spotting hiding animals and treetops.
Straight spotting scopes – These are the best for beginners. They enable you to see animals on the ground more easily. The best thing about these spotting scopes is that you do not have to strain your neck when level viewing.
Reasons Why You Need Spotting Scopes
Locating an animal in the middle of a large herd- It can be a very challenging task to locate a single animal in a herd. Binoculars will also not help you in this since they do not have high magnification. A spotting scope will enable you to locate your target easily since it has a high magnification.
Find an animal in the hiding place – Some animals move from one place to another at a specific period of the year or after a certain number of years. A spotting scope will help you spot their movements from as far as 300 yards.
Differentiate between similar species – Some animals look almost the same and sometimes it may not be easy to differentiate when they are far. With the help of a spotting scope, you can easily differentiate since it provides a clear and sharp image of your target.
Conclusion
As you can see from the article, a spotting scope is very powerful and will be a great tool to carry during your outdoor adventures. The best thing with spotting scopes is that they are very easy to use. If you have never used a spotting scope before, you need to follow the above tips.
Before buying, look for a scope with high magnification. A good spotting scope should also be portable and easy to use. Have you learned something?