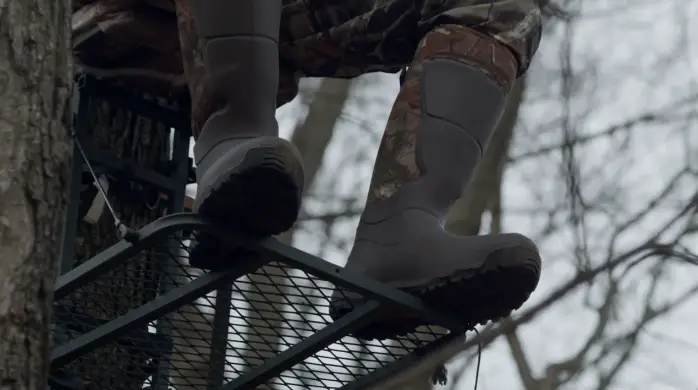 Having the right kind of hunting boots on your feet will ensure that you're not only comfortable during the entire duration of your hunting trip, but they will also improve your agility, stamina, and strength. Because of the different landscapes that you will be hunting over time, a hunting boot that can cater to all kinds of terrain is essential.
Additionally, hunting boots should also provide security and protection. In fact, those two qualities are the most essential and comfort just comes after. It is because terrains can be harsh and dangerous at times and hunting boots should keep your feet safe as you move around looking for your prey as you hunt. Furthermore, weather conditions also affect your hunting skills and capabilities. You might want to find boots that could protect and at the same time, adjust with different harsh weather conditions.
That's why we've put together a list of the best of the best. That is to assist you with how you tackle terrains and weather conditions throughout your entire hunt. Whether your hunting over gravel, grass, rocks or water, or even in a bog, you'll always be on solid footing. 
Rubber Hunting Boots – Comparison Table
Product
Features
Latest Price

1. LaCrosse Men's AeroHead 18" 3.5mm Hunting Boot

Durable
Provides great support
Embossed neoprene liner

Check Price

2. The Original MuckBoots Adult FieldBlazer Hunting Boot

Rugged
Abrasive resistant
Versatile

Check Price

3. Bogs Men's Classic High Camo Winter Snow Boot

Waterproof
Excellent insulation
Lightweight

Check Price

4. LaCrosse Men's Alphaburly Pro 18″ Hunting Boot

Comfortable fit
Removable mid-soles
Stable on any terrain

Check Price

5. MuckBoots Men's Arctic Pro Hunting Boot

Waterproof
Reinforced toes
Aggressive outsoles

Check Price

6. Bogs Men's Bowman Waterproof Hunting Boot

Waterproof
Neoprene insulation
Odor protection

Check Price

7. Kamik Men's Hunter Boot

Tough
Removable felt liner
Adjustable nylon collar

Check Price

8. The Original MuckBoots Adult Wetland Boot

Durable
Tough outer sole
Waterproof

Check Price

9. Bogs Men's Classic Ultra High Insulated Waterproof Winter Boots

Sponge middle sole
Great sizing
Waterproof

Check Price

10. LaCrosse Men's Grange 18" Hunting Boot

Ozone-resistant
Removable footbed
Snug fit

Check Price
The Benefits of Rubber Hunting Boots
Hunting boots are not like hiking boots. They are specifically designed to help you perform at your best in the hunting field. No matter what kind of terrain you will be hunting over, and whether you are hunting elk or hunting coyotes, you are going to need boots that can protect your feet in all kinds of situations, because the longer your feet can stay protected, the longer you will be able to take part in the hunt.
Hunting boots will keep your feet warm during the coldest weather and ensure that your feet stay dry even when you wade through streams in search of your prey. They not only protect your feet, but good hunting boots also provide you with great support for your feet when you have to stand or walk for hours on end.
In addition to listing the toughest and most durable boots on the market today, we made sure that all the boots on our review are stylish, comfortable, warm and extremely gentle on your feet and calves.
1. LaCrosse Men's AeroHead 18" 3.5mm Hunting Boot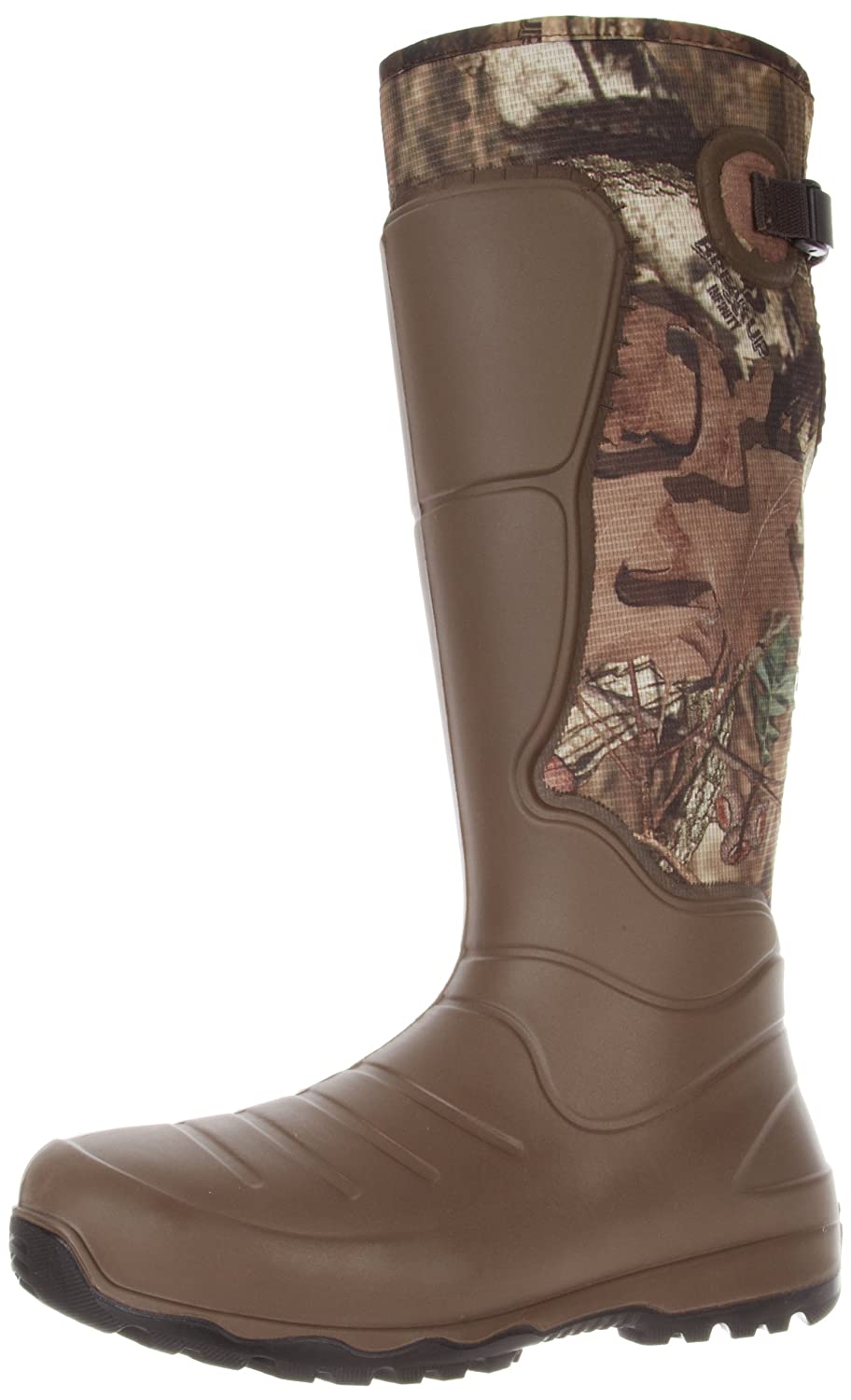 It's just like they say at Lacrosse, if hunting's in your blood, LaCrosse boots should be on your feet! These rubber hunting boots are durable, yet surprisingly comfortable even in the harshest of environments.
They provide great support for your feet (something which you will appreciate when you have to stand for hours while stalking your prey). They have three layers of rubber in the toe section and two in the heel for extra protection.
LaCrosse also made sure that the AeroHead boots have a unique tread pattern on the sole for better grip. These boots manage to merge durability with comfort and style very well.
Pros
All-terrain

Insulation

Flexible 

Neoprene liner for improved air circulation

Neoprene gusset
2. The Original MuckBoots Adult FieldBlazer Hunting Boot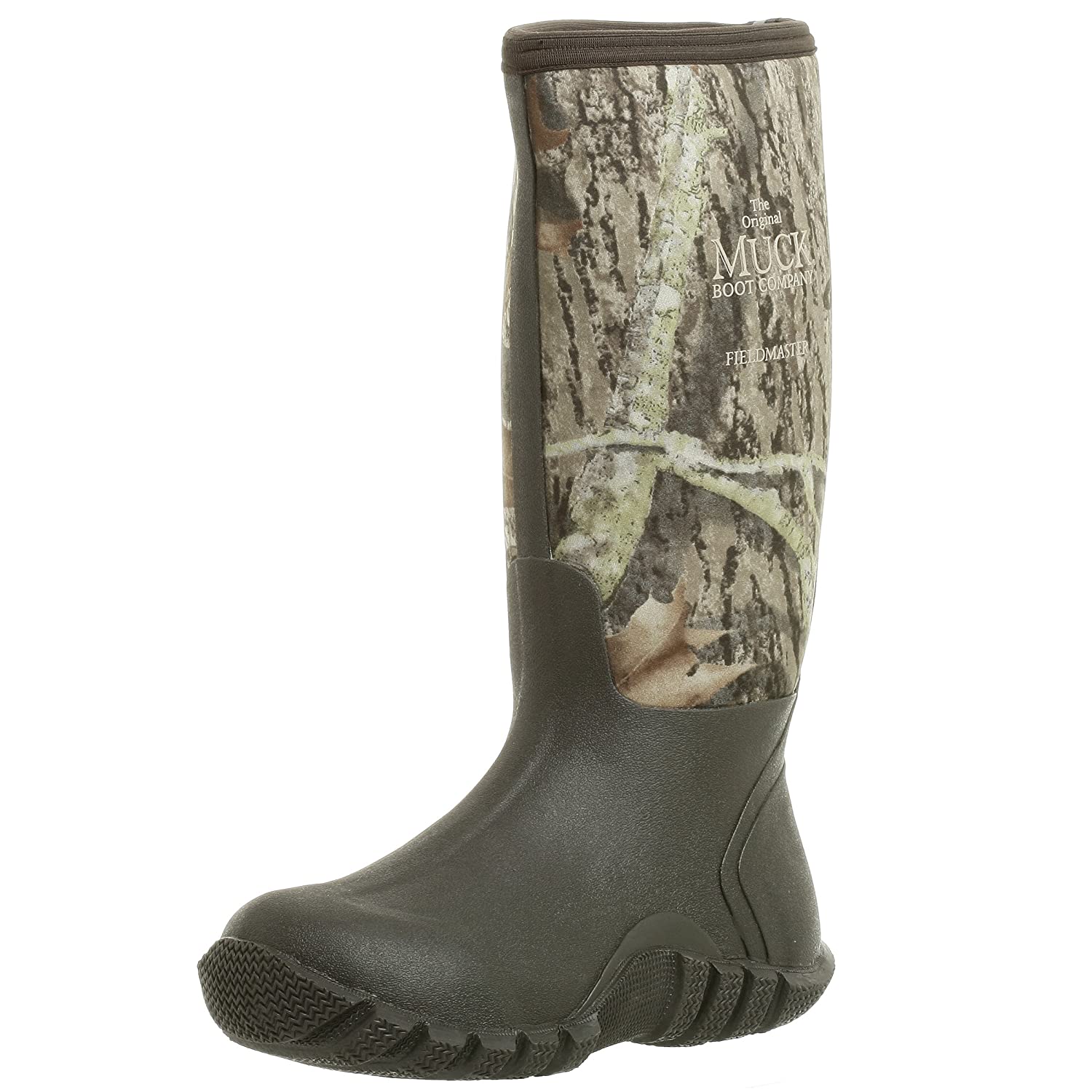 These knee-high hunting boots are designed with one thing in mind – to make them as tough as possible while keeping your feet dry. 
Thanks to vulcanized rubber shell and the breathable mesh lining, these boots are not only tough, but they are also comfortable.
They have a reinforced achilles support panel and shank, as well as being abrasion-resistant.
Take them on your fishing trips, or even use them when doing some seriously mucky yard-work. These are some heavy-duty all-rounders.
Pros
Resilient

Versatile

Waterproof rubber hunting boots
Cons
One size fits all (height)
3. Bogs Men's Classic High Camo Winter Snow Boot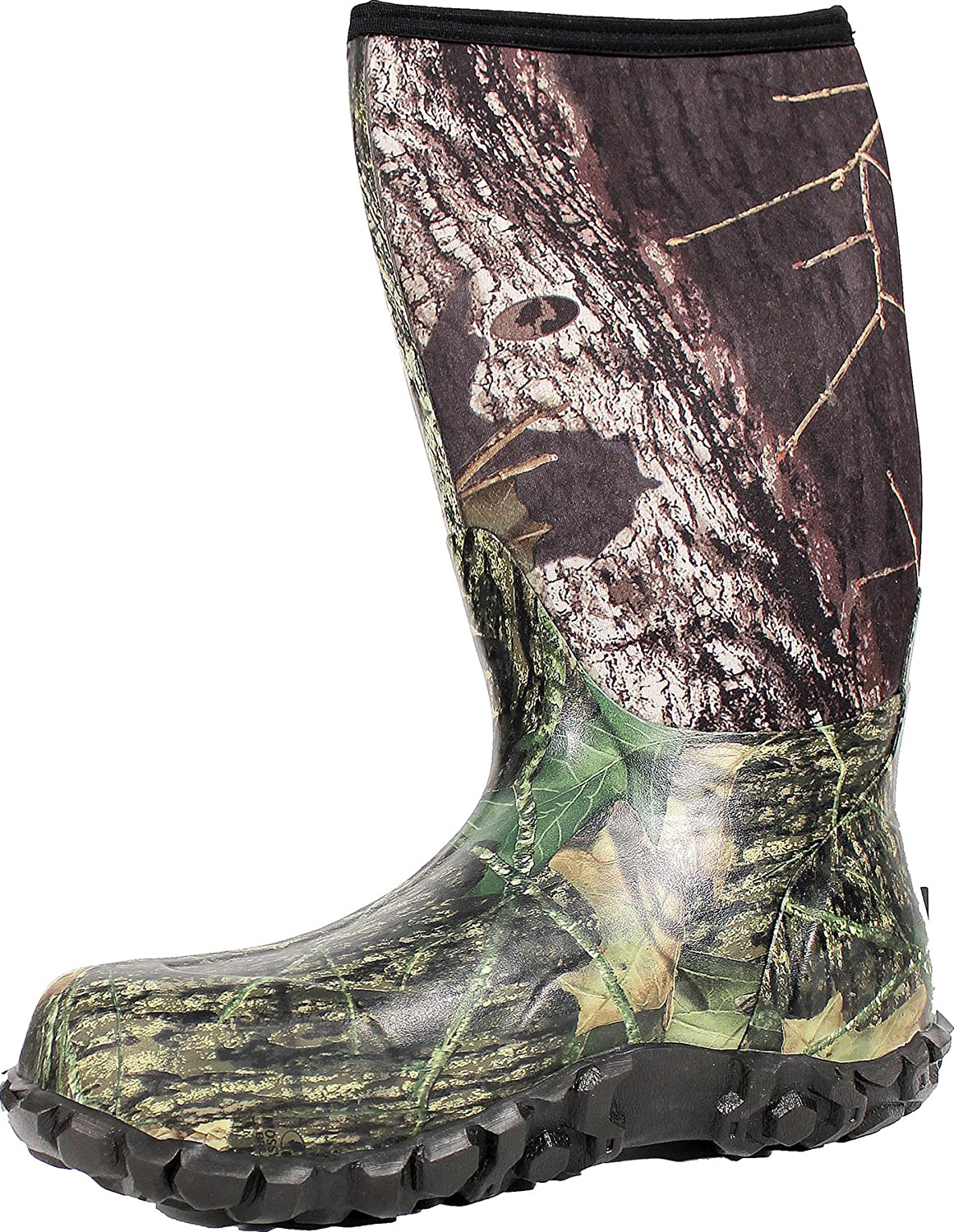 The high cut of these 100% waterproof boots will ensure that your feet stay dry no matter what. The boots boast a pull-on design that makes them easy to put on and pull off. Made of durable neoprene, the uppers on these boots stretch to fit any foot with comfort and ease.
These will keep your feet warm even in -40 degree weather! They have non-slip out-soles which will ensure that every step you take is solid and steady.
Antimicrobial insoles help to keep your feet odor-free. We all know just how quickly hunting boots can start to smell after a few days with your feet in them!
Pros
Great waterproof protection

High-quality insulation 

High-quality odor control

Light yet durable 
4. LaCrosse Men's Alphaburly Pro 18″ Hunting Boot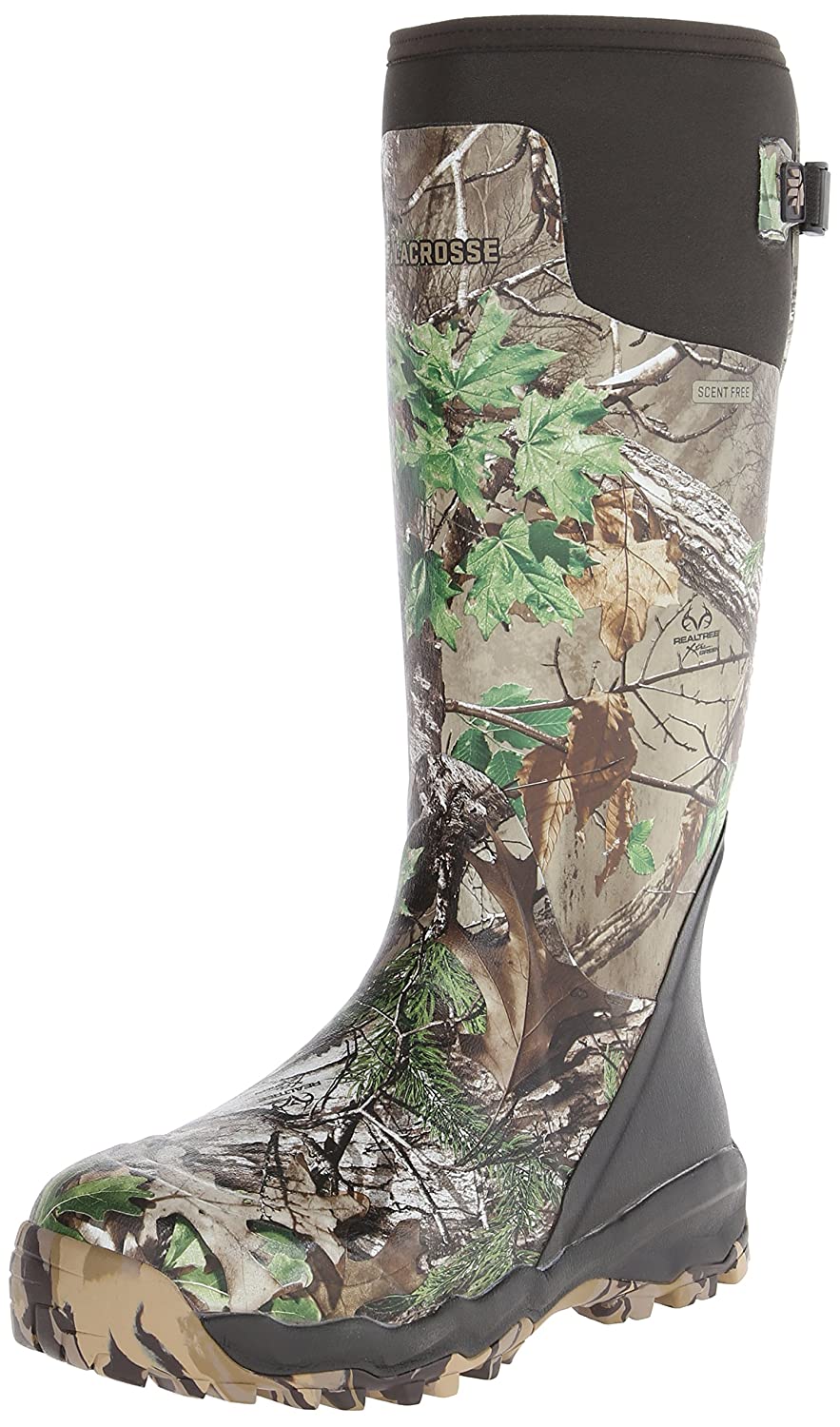 These uncompromising boots are hand-crafted, and the construction of rubber over neoprene makes them warm, well ventilated and waterproof – an invaluable asset on any hunt.
These boots are designed for all kinds of terrains and they are most durable in high-stress areas. They boast tough uppers which feature a triple layer of rubber in the toe guard and heel, as well as two layers in the instep.
Pros
Amazing traction 

Warm, scent-free, and waterproof

Form-fitting

Thick removable mid-soles and footbeds

Adjustable back gusset 
Cons
Active Fit design can make boots too snug around the heel and ankle
5. MuckBoots Men's Arctic Pro Hunting Boot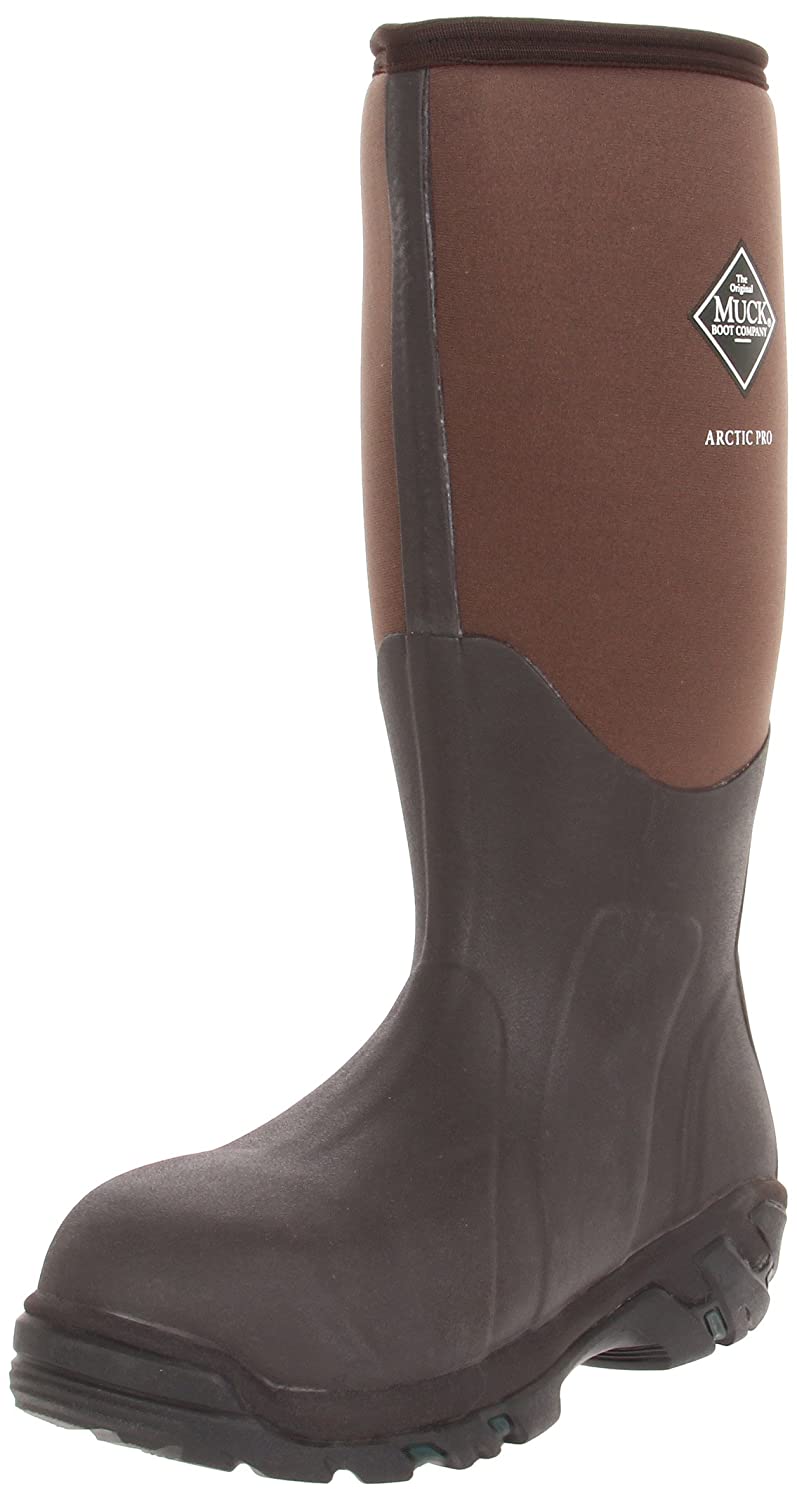 The MuckBoots Men's Arctic Pro rubber hunting boots feature rugged outsoles and reinforced toes for added protection in harsh environments. Their average height is 15 inches.  They are light, considering the level of comfort and protection they provide.
These hunting boots set the standard in protective support and warmth. It's no wonder they were chosen to be worn at the Alaska and Antarctica research stations. These are among the warmest neoprene boots in the world.
Pros
Comfortable, waterproof

Fortified against frostbite with fleece lining

Stretch-fit topline binding 

Aggressive outsoles

Reinforced toes

Comfort tested to -50 degrees
Cons
Some customers complain about the durability in daily use
6. Bogs Men's Bowman Waterproof Hunting Boot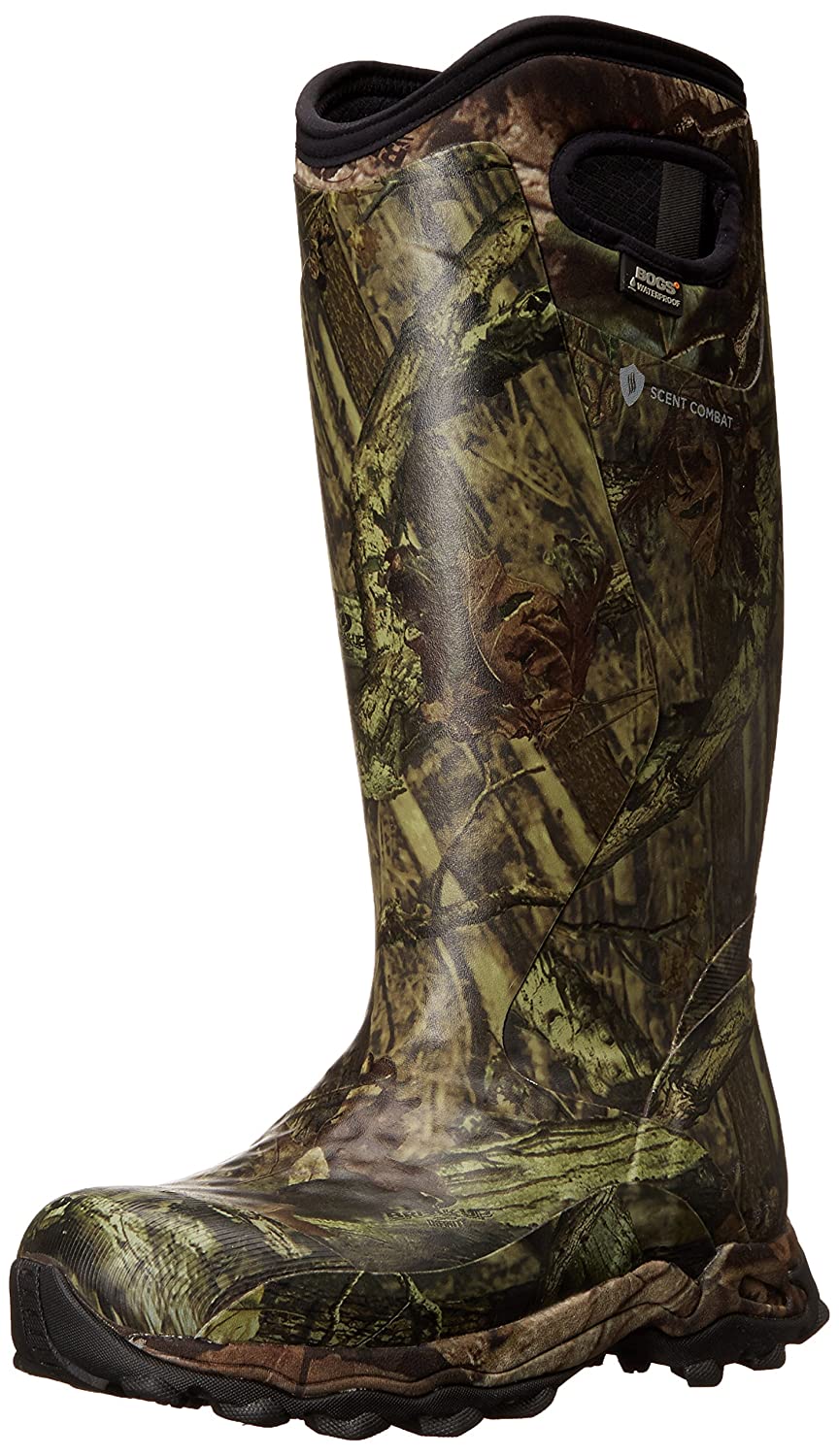 These boots are designed to carry you through any rough conditions or terrain with your feet intact. They are tough, durable and versatile.
The Bogs Men's Bowman Waterproof hunting boots can be used while taking part in outdoor sports, performing equine or pet care, or even while taking care of your lawn and garden.
They are made of the highest quality and will last for years to come. A lot of customers have left glowing reviews about these boots after testing them.
They come lined with neoprene which means that you get the extra warmth without the extra bulk. They are also lighter than you would expect for a boot with so many features.
You don't have to worry about slipping in these boots. The aggressive tread makes these boots safe for walking on uneven terrain and will ensure that your every step is secure.
They are super easy to get off thanks to the heel kick at the back. This performance-oriented boot will have you in the thick of the action in no time at all.
Pros
100% waterproof
Neoprene insulation ensures warmth with less bulk
Antimicrobial odor protection insole eliminates smells
7. Kamik Men's Hunter Boot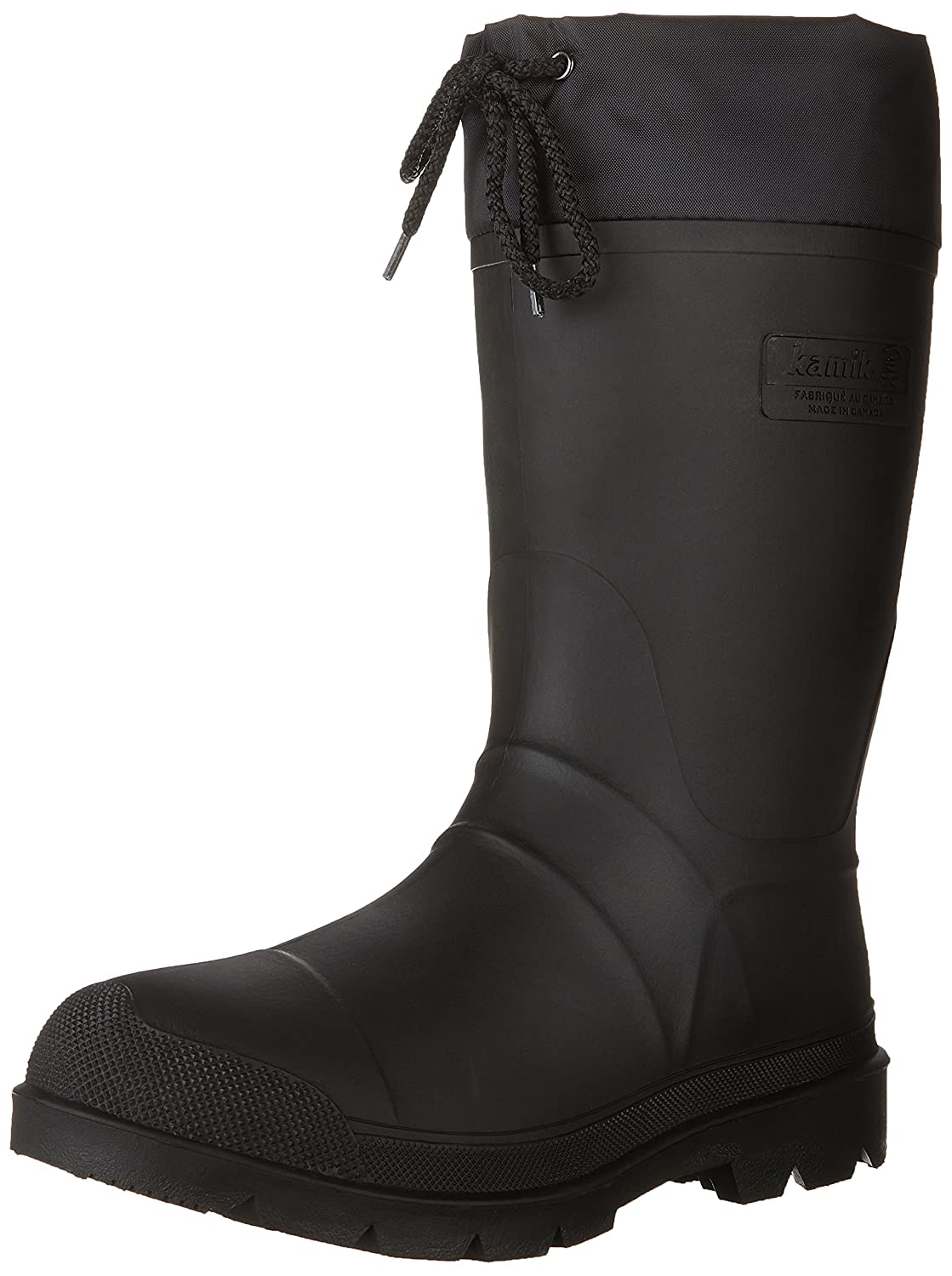 The removable 8mm felt liner in these durable, waterproof boots keeps your feet safe and dry in soft comfort. The Kamik rubber hunting boots have an adjustable nylon lace collar which allows you to tighten them for a snug fit that will keep the winter air out.
They come with a cold rating of minus 40 degrees, which is great news for those who intend to spend a lot of time outdoors during winter. The aggressive outsole provides extra strong grip and traction for those perilous hikes up steep, rugged terrains.
Kamik boots are designed to give you the utmost protection in the most extreme conditions. This is a truly dependable, high-quality boot that you will love.
They also come with the replaceable liner that can be taken out to air and dry, and the tall height of the boots ensures waterproof protection even in deep snow and slush.
In fact, this is probably going to be the last brand you ever want to buy because Kamik has taken the time to ensure that their boots are not only warm, tough and durable, but they also look stylish, too.
When it comes to superior comfort and dependable protection in harsh conditions, these rubber hunting boots are in a class of their own.
Pros
Tough and Durable
Molded upper for extra comfort
Removable felt liner gives soft and comfortable fit
Adjustable nylon collar allows for a snug fit
Cons
Size chart is slightly off, and chart measurements may vary by size
8. The Original MuckBoots Adult Wetland Boot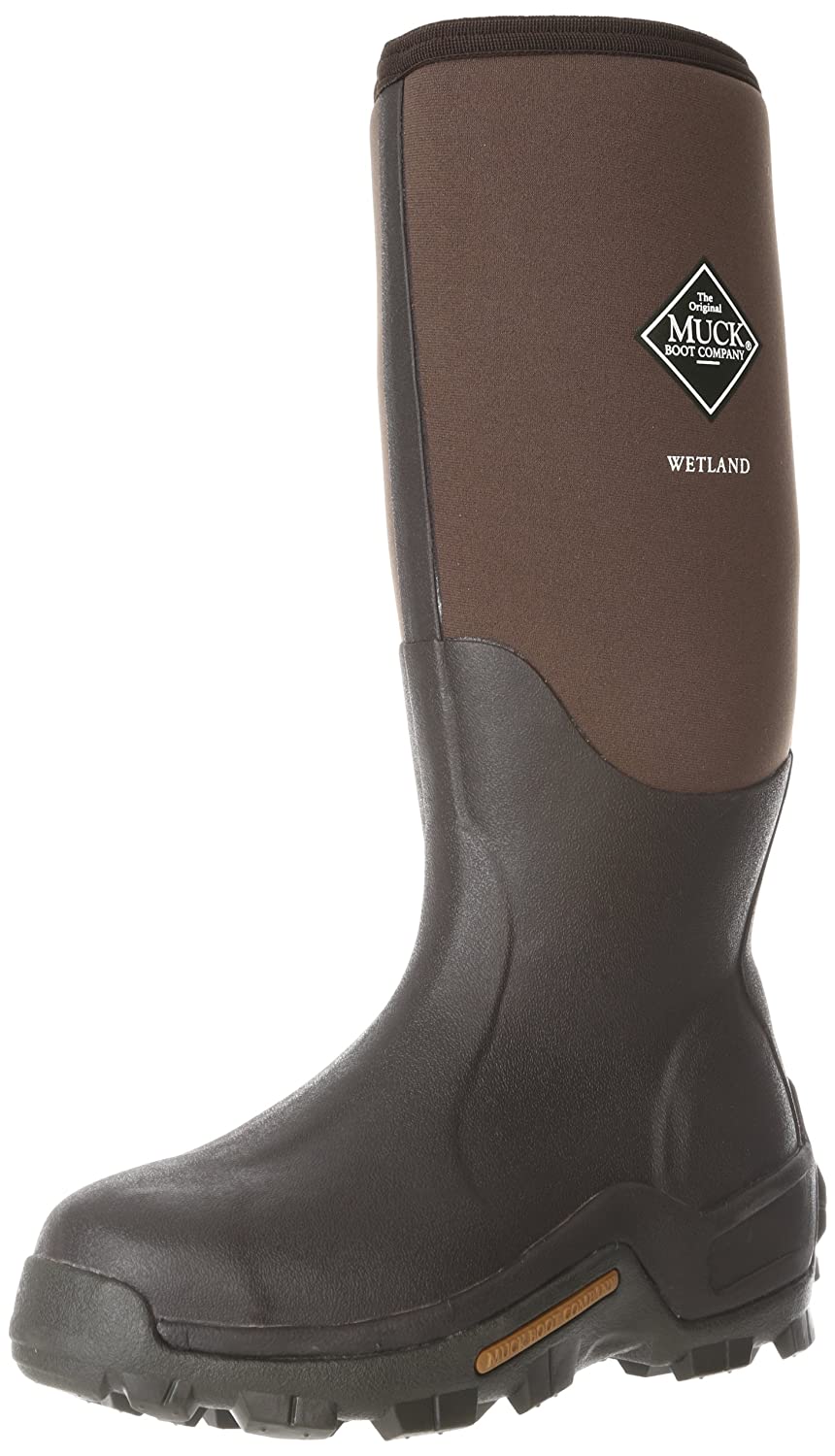 These knee-high Wetland boots are designed with a stretch-fit topline to ensure a tight fit. They are ideal for hunting, fishing, and any other outdoor activity where you need to keep your toes protected and your feet warm and dry.
Gone are the days when you came back from the hunt with your feet colder than that beer at the back of your fridge! With these boots, you are completely protected from harsh elements while indulging in your favorite pastimes.
In addition to being 100% waterproof, these light-weight boots also have breathable Airmesh lining and will also form to any calf girth comfortably. They have a durable rubber outsole with wrap-up toe bumper to ensure solid footing and protection on any rugged terrain.
Whether you're an avid hunter or fisherman, or maybe you just work (or play) a lot out in the cold, these boots are the perfect addition to your winter outdoor wear.
This is an extreme boot for extreme conditions, a must-have for all outdoor enthusiasts from hunters to anglers and even bird-watchers. Most customers who purchased this boot recommend that you buy one size up as sizes tend to run small.
Pros
100% waterproof
Durable, designed to outlast wear and tear
Ideal for extremely cold temperatures
Tough outer sole designed for solid grip in snow or mud
Cons
Sizes run small, Snug in calf area
9. Bogs Men's Classic Ultra High Insulated Waterproof Winter Boots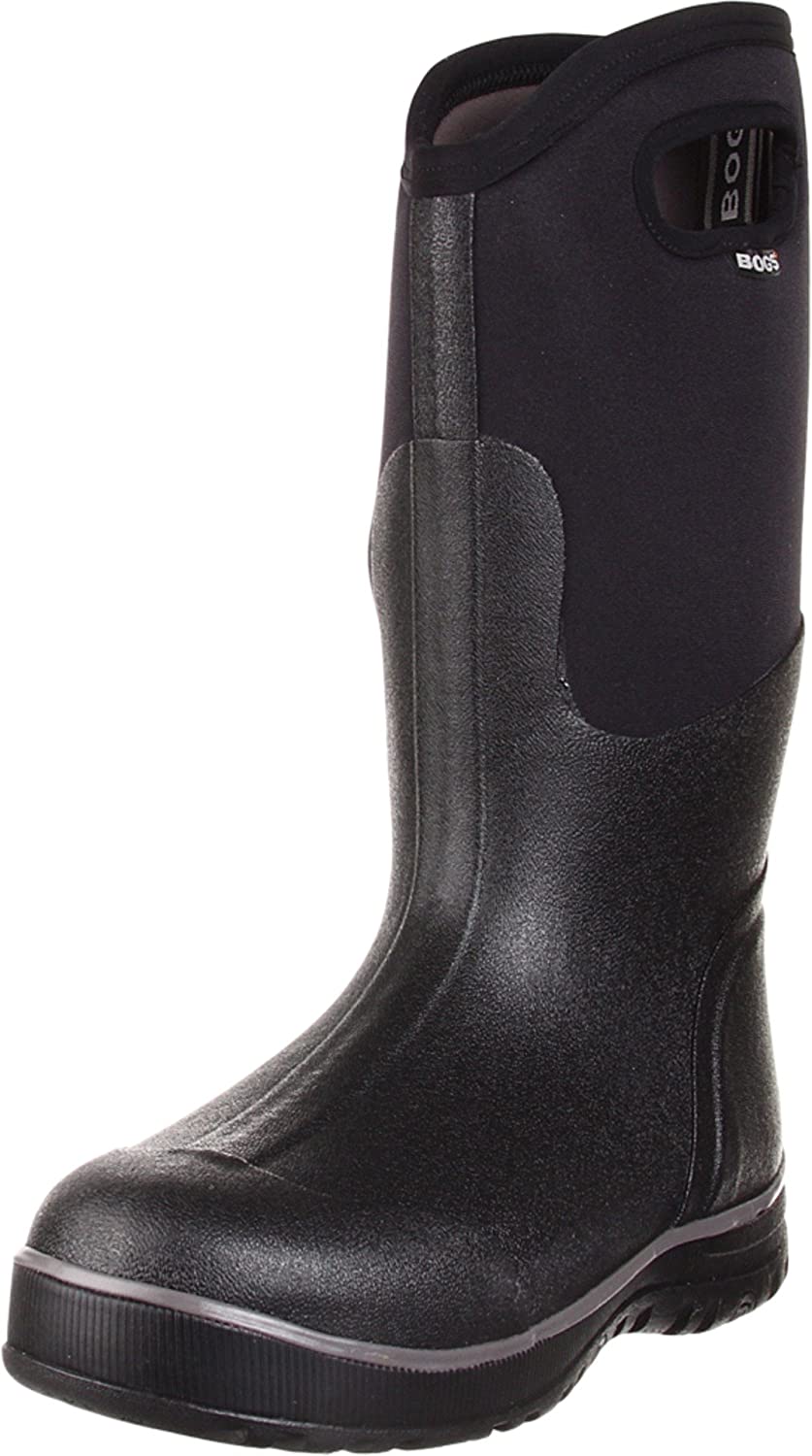 These boots are designed for seriously heavy use and will protect your feet from water, mud, and snow. They are waterproof and have a sponge-based middle sole for extra comfort during those long hunts. They have a very solid feel to them, and they come in different colors including army green and black.
Far from being just your normal rubber hunting boots, these boots fit perfectly and even come with handles for easy donning. The tread isn't as deep as other Bogs models, but it's deep enough for a strong grip and a solid footing on snow, mud and uneven terrain.
These boots have a 'fit as expected' approval rate of 78% which is very high, but as with all winter boots, make sure that you buy one size up in order to make allowances for those thick winter socks that you're going to want to pair these boots with.
The majority of owners of these Bogs boots all agree that they are the most comfortable rubber hunting boots they've ever owned. Some customers even report wearing these without socks and still being comfortable!
Pros
Can withstand temperatures as low as -40 degrees
Super comfortable with sponge middle sole
Great sizing, high 'fit as expected' rate
100% waterproof rain and snow boots
Cons
Tread is not as deep as some of the other hunting boots offered by Bogs
10. LaCrosse Men's Grange 18" Hunting Boot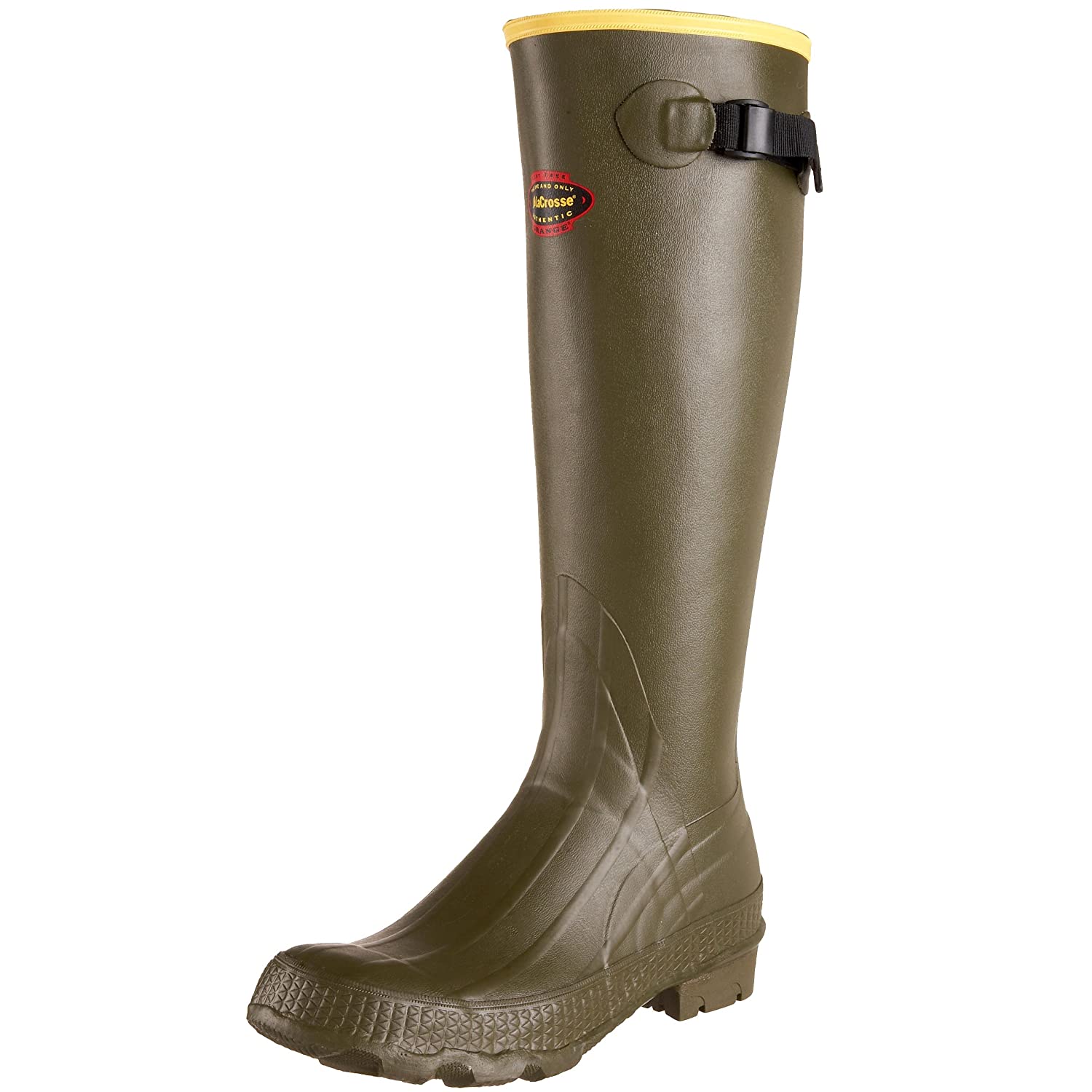 LaCrosse has done it again. They have produced yet another high-quality hunting boot with amazing features. The Grange rubber hunting boot is tough and durable, with 100% waterproof qualities.
It is ozone-resistant and has a removable foam cushion that makes it extremely comfortable and ideal for wearing over long periods of time.
The outsole on these boots is chevron-cleated, so they won't track mud or dirt. They shed debris and mud while offering amazingly strong traction and grip.
You won't have to worry about slipping while walking or running in these boots. Great for hunting, farming and all other messy situations, these are ideal to have in your arsenal of outdoor gear.
If you need a boot that will perform extremely well in wet conditions and mild temperatures, then this un-insulated Grange offering is your best bet.
The ankle-fit of these boots ensures that they won't get pulled off accidentally in heavy mud. They come with convenient buckle adjustment for sealing out moisture.
Pros
100% waterproof protection
Ozone-resistant rubber outsole
Removable footbed cushion for comfort
Ankle-fit for more secure and snug fit
Cons
Very narrow calf proved to be uncomfortable for some
Buying Guide – How to Choose the Best Men's or Women's Rubber Hunting Boots
We highly recommend that you invest in a pair of high-quality, waterproof hunting boots. But with so many boots to offer, how do you know which ones are the best rubber hunting boots for you? Here are some of the main factors to consider:
Hunting Boot Insulation
How cold will it be where you intend to use your boots? Depending on the weather, the insulation your boots offer will ultimately determine the level of comfort that you feel. The warmest hunting boots are well worth the money.
That is because weather conditions in different terrains can drop during the hunt. if so, it you can either choose to stop your hunt, back off and call it a day or continue the hunt and just bear the cold. This is where insulation boots puts you into an advantage. It keeps your feet warm as you go, allowing you to keep a straight and calm aim.
How Should Your Boots Fit?
You need a rubber boot that fits well, is snug around the ankle and heel, and allows your toes ample room to prevent your toes from bumping against the toe cap when you're going downhill. If it's cold or wet and you're planning to wear liners inside, or extra thick socks, then you should go one to two sizes up from your usual fit.
On the other hand, if you plan on using thin socks like ankle socks, then you just want to get a boots of the right size. The great thing about wearing thin socks to go with your boots is that it's comfortable for you to walk or run around as you hunt.
However, it doesn't provide much insulation compared to a thick sock and just sizing up the boots a few notch. It also doesn't provide enough space for your toes to move around and provides less air circulation.
Weatherproof Boots
Can your boots handle rain and snow? If you plan on using your hunting boots where there's a possibility of going through water or snow, then you have to ensure that they are equipped to protect your feet through it all.
Weatherproof boots are basically the most ideal type of hunting boots. It is a general-use boots that provides protection and comfort regardless of weather conditions.
However, the downside of weatherproof boots is that the durability may not be that strong since that the materials used have been adjusted to provide protection in different conditions. The quality and durability have been traded for the purpose of the boots.
Durability
Make sure that the boots that you choose are durable, tough and strong. Good quality hunting boots will last you for years before you need to replace them.
As said previously, if you opt for a hunting boots for different weather conditions, it may not be that strong. It could provide great comfort and protection regardless of the weather but will possibly last shorter than specific hunting boots for specific protection such as boots for cold weather or hunting boots for rain, etc.
Terrain
The terrain you're going to be on will have a significant effect on the type of boots you eventually choose to go with. For example, upland hunting boots are ideal for flat, easy terrain, whereas rubber muck hunting boots are mainly for marshlands, creeks, bogs and muddy paths.
Never buy a hunting boots designed for a specific terrain and expect it to provide optimum performance and protection when used on a different terrain. If that's the case,  you might want to opt and look for a multi-purpose hunting boots such as weatherproof boots and more.
Final Word
Finding the right and the best rubber hunting boots will not only help you improve your hunting skills but it could also keep you safe and protected during your hunt. It is by fact that a completely geared hunter will always have an advantage rather than getting yourself in a hunt without bringing any protection.
It's also a bonus for a boots to be cozy and comfortable. Especially when hunting during cold and rain seasons, an insulation hunting boots could really help you out with such conditions. It is also the same with other boots for different terrains such as walking around in muddy or swampy areas or climbing up highlands or mountains.
Good boots are an essential part of a successful hunt, and we hope that this Best Rubber Hunting Boots Review has been helpful in answering the question of which hunting boots are best for you.
10 Best Rubber Hunting Boots