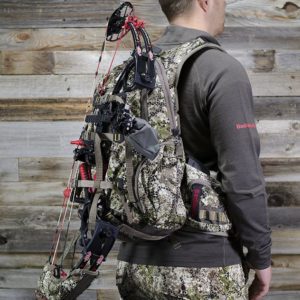 When it comes to elk and big-game hunting, you know that the type of backpack you carry will have a tremendous impact in your hunting expedition's success. Get it right, and you'll have everything you need quickly at hand. 
Your backpack is like your companion during the journey. Here, we are going to get familiar with some of the best elk hunting backpacks on the market, and give you a guideline about buying the best one for you.
Related Article: How to Choose a Hunting Backpack
Elk Hunting Backpack – Comparison Chart
Product
Features
Latest Price

1. Badlands 2200 Camouflage Hunting Pack

T-6 Aircraft Aluminum frame
Integrated load lifter straps
Built-in pistol holders

Check Price

2. Eberlestock Team Elk Pack

Intex-ii tubular aluminum frame
Grapple compression straps
Included zip and flip covers

Check Price

3. ALPS OutdoorZ Commander + Pack Bag

Water resistant
Integrated Spindrift collar
Large main compartment

Check Price

4. Badlands Superday Camouflage Hunting Backpack

Water resistant
Thermo Mold system
Made from 100% polyester

Check Price

5. Tenzing 6000 Back Country Hunting Pack

Sleeping bag compartment
Specialized zip pockets
Padded hip support

Check Price
Reviews of the Best Elk Hunting Backpacks for the Money
1. Badlands 2200 Camouflage Hunting Pack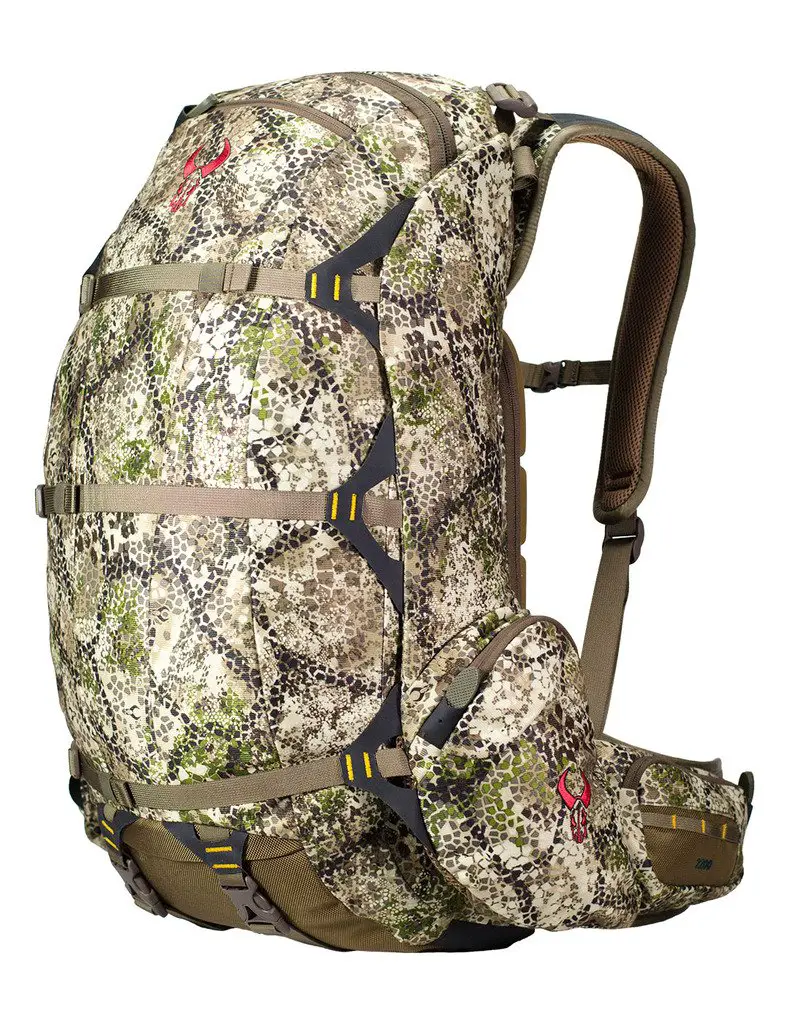 This elk hunting backpack cum meat hauler is made of KXO-32 fabric. As it is a hunting pack, it has good built-in meat shelf. 
The backpack has a zippered rear entry panel for quick access. DWR treated fabric is used in the backpack. This treatment means that you have a scent suppression system. 
The fabric resists moisture and blood too. The KXO-32 fabric is pretty much quiet and helps you to stay stealthy. The backpack is also comfortable to carry thanks to its ThermoMold suspension system.
Pros
T-6 Aircraft Aluminum frame
Load lifter straps 
Built-in hip belt pistol holders.
Compression straps
Hydration system can be integrated.

Blood and waterproof
Cons
Water resistance facility is not of a high grade
2. Eberlestock Team Elk Pack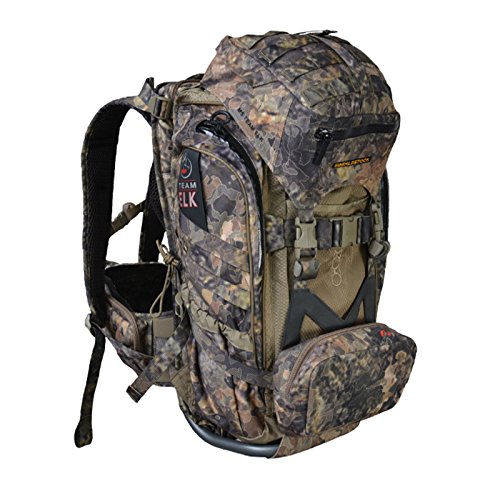 This pack is structured for comfort. The Intex frame of this backpack provides comfort and stability.
It is an excellent performer as a meat hauler. You can remain quiet and undetected all the time during hunting. 
There is also a hydration pocket, as well as compression straps, making this pack adjustable in structure and function.
Pros
The intex-ii tubular aluminum frame
Grapple compression straps 
Zip and flip covers are included
Two access point
Cons
The chest straps

are poorly designed

Heavier

than other models
3. ALPS OutdoorZ Commander + Pack Bag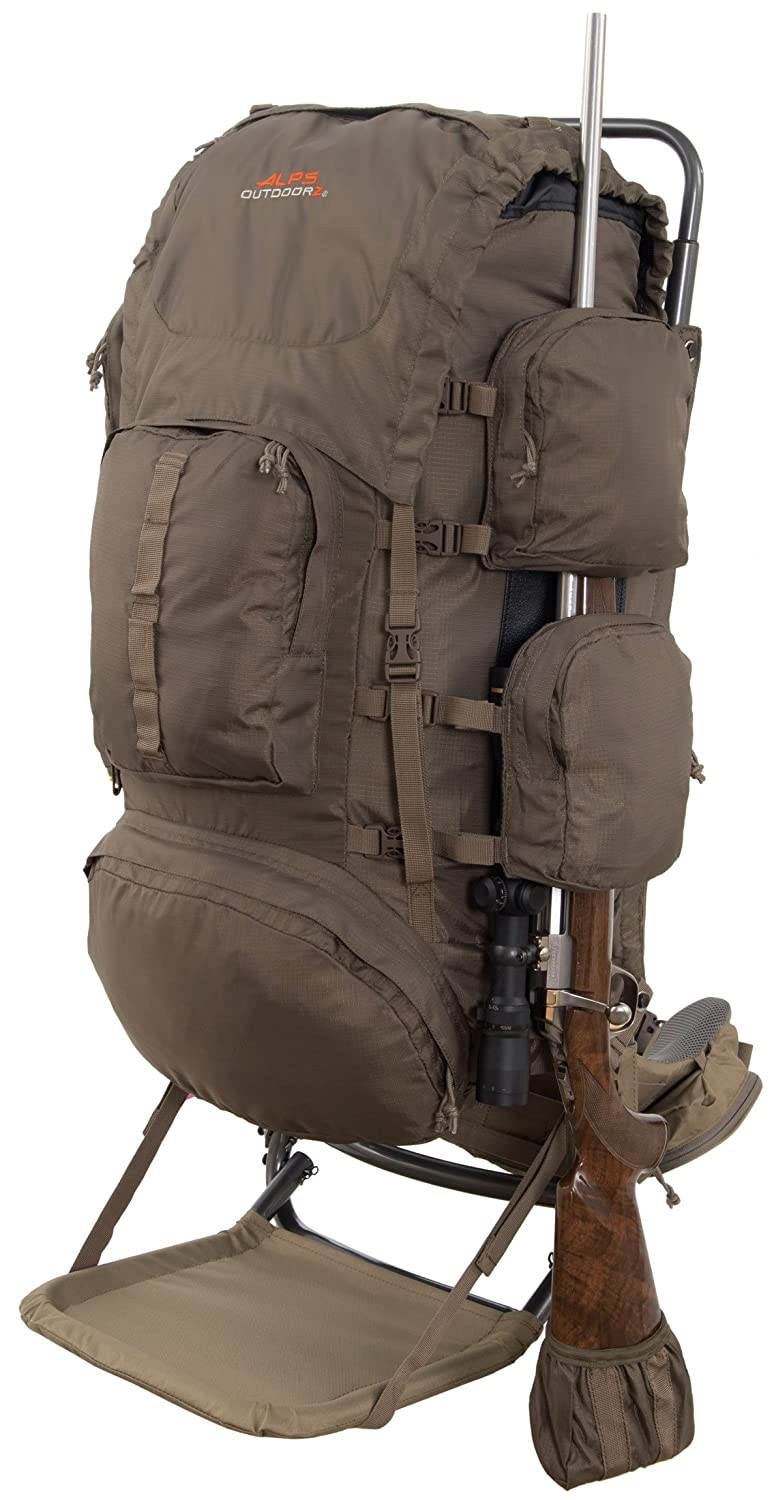 This backpack is made of nylon ripstop fabric. This fabric is water-resistant, which means your product will remain dry even in the wettest weather.
You will also get a clip holster along with the bag for easy access. A drop-down rifle pocket means that you can carry your rifle easily along with the backpack.
You can even detach the bag and use the mainframe to haul meat.
Pros
Water-resistant
Spindrift collar integrated with Drawcord.
Hydration port and pocket
Large main compartment
The horizontal divider divides the internal space.

Detachable meat bag
Cons
The clips of the bag are not user-friendly.
Stiff frame
4. Badlands Superday Camouflage Hunting Backpack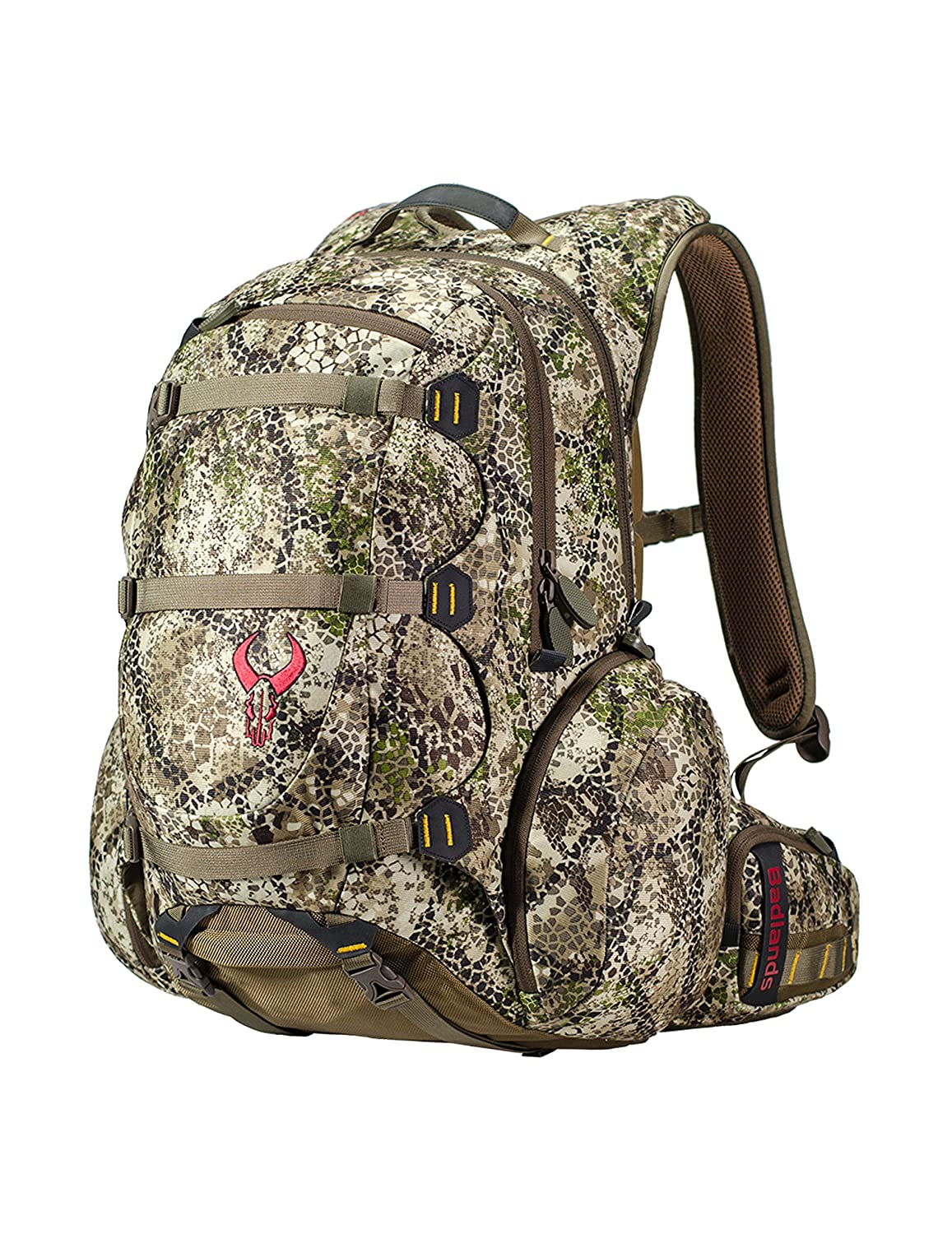 This pack helps you to stay stealthy and hidden from your target all the time. The strongest day pack on the market, in our opinion.
Pros
Molded foam for comfort
K

XO-32 fabric: waterproof, scratch-proof, high durability

Hydration system compatible

Silent zippers and features
Cons
I

nconvenient pistol holders
5. Tenzing 6000 Back Country Hunting and Hiking Pack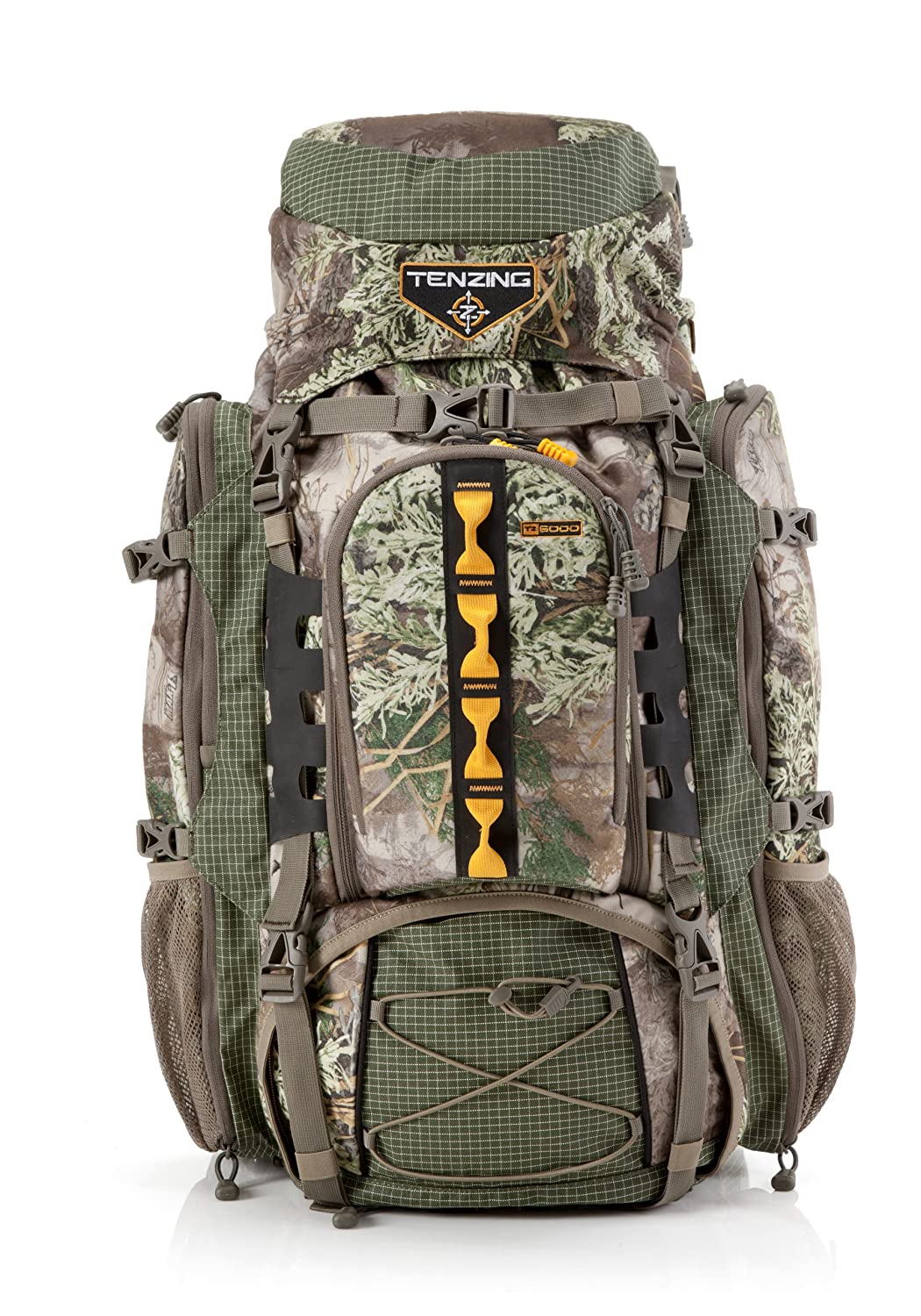 Two rigid internal aluminum frames give built-in torso suspension which can be adjustable as per your comfort.
You will find padded hip support and many air channels so that your back doesn't sweat.
Pros
Rain cover 
Separate sleeping bag compartment
Three access points
Five specialized zip pockets
Compressor straps
Cons
Average stitching
Average zipper quality
Elk Hunting Backpacks Buyer's Guide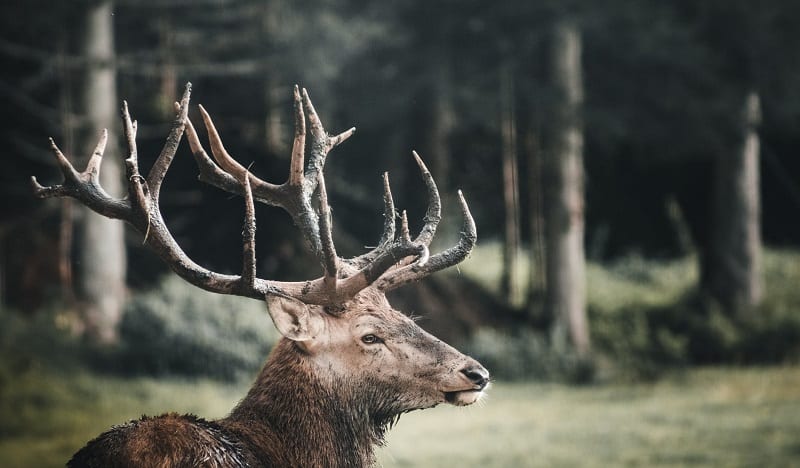 Features to look for:
Design
Design always matters no matter what you buy in the market. Nowadays people care a lot about design. You will see a lot of designs and styles. Even though you are looking for a backpack for hunting, yet these also have varieties of design.
Whatever you choose, the only thing that matters is your comfort and satisfaction. You should be satisfied with the design of the bag, and your flexibility should not be hampered.
Frame
The two styles of frame are the external frame and the internal.
The external frame allows air to flow between your back and backpack which lets your back stay dry. The external frame also gives a strong structure and shape to the product. Internal frames are better for lugging meat.
Both of the frames have advantages and disadvantages. Consider your hunting habits to assess the right frame for you.
Durability
No matter what features a product contains, if the product doesn't last long, in one word, it's useless. As you are targeting the best elk hunting backpack to buy, you should think and worry more about the product's durability.
Stitches
Backpack for elk hunting means you have to carry more load than usual in the backpack. If the stitches are strong enough, then you will be able to use the bag for a long time.
If there is poor quality stitching, the backpack may tear if you try to carry heavy kinds of stuff or use it roughly.
Fabric
As you are planning to buy a backpack for hunting, you must buy one that is made of water-resistant, scratch-proof and durable fabric.
A lot of things depend on fabric quality. You will find many types of fabric in the market. Some will also have good color combinations that are attractive. But you should judge the durability and service as well as the capacity of the fabric which is a priority.
Zippers
When you intend to buy a backpack for hunting, you must make sure that you are purchasing a backpack with smooth and durable zippers. Rough and noisy zippers can slow you down, or draw attention to yourself in the wilderness. 
Poor quality zippers also have a tendency to break when it is used often. Make sure the manufacturer has integrated the best zippers in the product that can provide you smooth service for many years.
Final Verdict
You have to keep many things in mind when buying yourself a hunting backpack. There are many, many elements to a good backpack. Before you even have a look at the backpack itself, set your standards. Know your needs, and don't settle for anything less. Once you've established your needs you can start looking at the packs, feature by feature, and find what measures up. 
Elk Hunting Backpacks – Video Review