10Rangefinders did research and write best Simmons Volt 600 laser rangefinder reviews, If you want to find short distance about 10-Yard to 600-yard then Simmons volt 600 one of best for you, This rangefinder is not for long range distance for hunting or golf purpose because Simmons made for very short distance measuring but it's easy to operate, light in weight with small LCD screen.
Simmons volt 600 lacks of many bells and whistles and also low quality that's why the cost of this rangefinder is in the range of 75$ to 170$, we can easily range any target in open areas but can't in shrubs or forest!
Simmons Volt 600 Models with Features:
There is main 3 models of Simmons Laser Rangefinder, These are:
801600
801601
801600T
| Model Number | Range | Magnification | Size (in.) (mm) | Weight (oz./g) | Battery Type | Color |
| --- | --- | --- | --- | --- | --- | --- |
| 801600T | 10–600 | 4x | 1.9x3.6x4.2 / 50x107x103 | 7.7 / 278 | 9-volt (not incl.) | Black |
| 801601 | 10–600 | 4x | 1.9x3.6x4.2 / 50x107x103 | 7.7 / 278 | 9-volt (not incl.) | Camo |
| 801600 | 10–600 | 4x | 1.9x3.6x4.2 / 50x107x103 | 7.7 / 278 | 9-volt (not incl.) | Black |
Key Features
The Vertical range is 4 x 20mm
Easy to operate with only 1 Button
Range at 10-Yard-600-yard
One of the best rangefinder under $100 to $ 150
The optical range 4x magnification
You will get carry case or bag with it
9 volt battery
Essential for Bow Hunting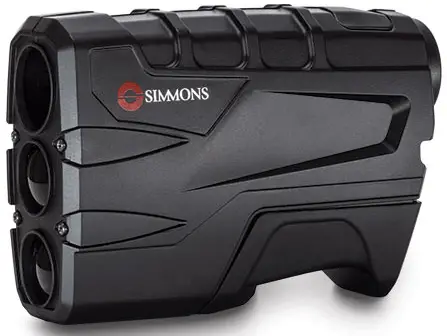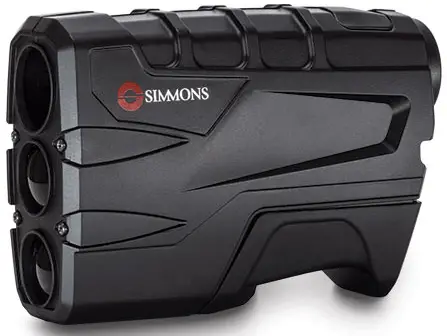 Pros and Cons
Pros
Pros
If you want rangefinder with Basic functions, Simmons Volt 600 have all you need!
Fast & easily find short distance
You will get complete bag or box with battery and charger
Solid physically, don't worry it's not tender too much
Very inexpensive than others
Cons
Cons
Not water and dust resistance
You can't range more than 10-600 yards
Less features as compared to other expensive rangefinders
Hard to check readings
Design, Color & Size
This Simmons rangefinders only available in 1 color but in some markets you can get 2 more colors (Black, Brown and Camo). Dimension 3.9 x 4.7 x 2.8 inches; 8.8 ounces with smooth cover and crystal display gives more clear reading and better look.
What task can I done with it?
Simmons Volt 600 Rangefinder very small in size & lack of latest functions so we can measure short distance like can range the buildings, Trees and playgrounds!
We can also use it to measure the roads, streets and parks distances.
This laser rangefinders not for professional hunters or golf players but essential for new users! One press button helps you to find short distance easily!
FAQ's for Simmons Volt 600
Is it Waterproof & Water resistance?
No, Its not
What's accessories includes in this pack?
With this pack you will get small cover bag and charger!
Can use for hunting or Golf purpose?
You can use it for any purpose but range should be 10-Yard to 600-yard
Yes, Very easy to use with 1 Button task!
You can get at bottom of the box
Hold for 3 seconds and leave then again depress, done!
Thanks for reading our review for Simmons range finders, give us reviews about your experience with this one!
Check out: LACROSSE RUBBER HUNTING BOOTS REVIEW