Welcome 10Rangefinders for the review guide about TecTecTec VPRO500 Golf Rangefinder, today we will deeply review qualities/features, pros & cons & customers response for PRO500!
Golfers? are you searching for the way to improve your golf game? What about best Tectectec equipment to range your target easily? Want to have a best budget golf rangefinder?
Or are searching for the rangefinder which can measure golf course distance easily & accurately?
It's really hard to find Portable, durable and quality rangefinder device which can measure golf course distance fast and accurate but after paying lots of time to review different rangefinders of few manufacturers we got bestseller device where we stopped called Tectectec vpro500 golf rangefinder because of all upgraded features golfers really need!
Like other needy equipment Tees, Golf cart, Club head covers & Ball mark repair tool the rangefinder also important equipment for the pro golfers!
| | |
| --- | --- |
| Yard Range: | 5-540 yards |
| Magnification: | 6X |
| Tournament Legal: | VPRO500 -Yes/VPRO500S -No |
| Display Type: | LCD/Black |
| Waterproof: | No. Rain-resistant only |
| Dimensions: | Approx – 4.2 x 3 x 1.5 ", 7 oz |
| Measuring Systems: | Yards/Meters |
| Measuring Distance: | VPRO500-Line of Sight/ VPRO500S-Slope |
Why You Should Have a Rangefinder With Upgraded Technology?
Well, according to golf game most of the problems are hilly areas or bent golf course which comes between the player & target, weather like fog or dusty wind and also rain after knowing these kind of problems 10rangefinders found Tectectec vpro500 golf rangefinder which can defend all the problems in golf course & helps to make you pro level player!
Tectectec Laser rangefinder top rated product at Amazon and official Tectectec store with thousands of positive customers reviews from all over the world which shows the quality of it.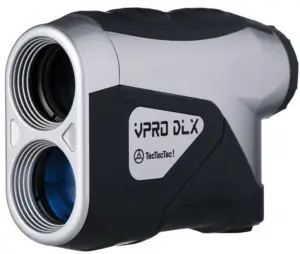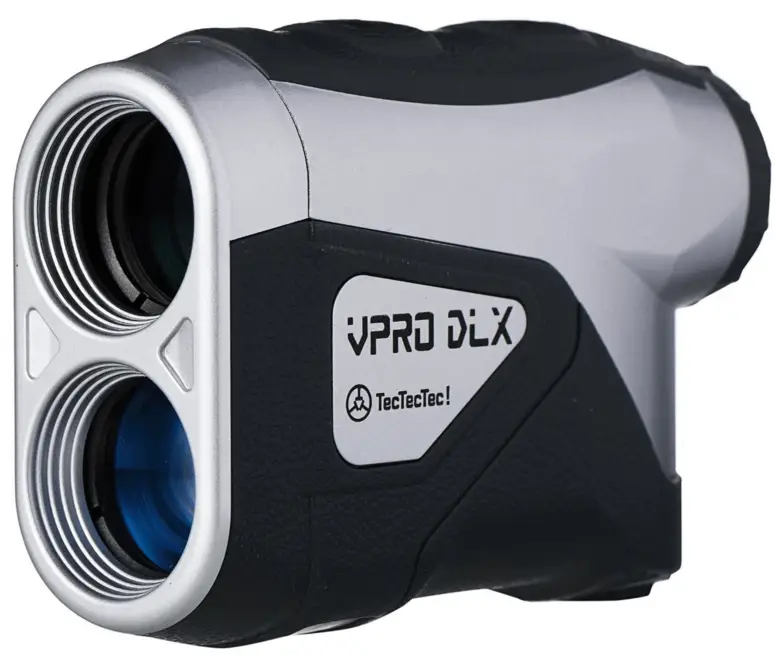 Finding user-friendly and perfect measurement device is not easy. There are lots of cheap & low-quality rangefinders available in the market but wishing durable, accurate & high magnified rangefinder with professional shape Tectectec can help in golf course!
We dig the Tectectec vpro500 specs, wrote review guide & reveals the unbelievable features of vpro500 rangefinder under the range of $200 for the golfers!
About Tectectec Company
(From last 5 or 6 years Tectectec has been pioneers in technologically, affordable and trusted laser rangefinders, company headquarter in France manufactures different rangefinders for hunters and golfers now! )
Tectectec vpro500 most popular and familiar golf rangefinder from Tectectec brand with max 400 yards range and max 6x magnification! It makes you the pro in your game provides accurate and quick measurement.you will not face the issues like wrong measurements, sight view issue or issues caused by weathers, Tectectec Vpro500 & Vpro500s rangefinders provide solutions for all and about 2000+ review at Amazon proof of it!
Why Recommend Tectectec Vpro500?
Well, thinking about why are 10Rangefinders forcing golf players for Vpro500?
Let Discuss in details why golfers are Crazy about It?
Vpro500 latest upgraded laser rangefinder technology which can measure up to 540 yards distance accurately that's makes it the premium product for Ttectectec, let's discuss some features of Ttectectec vpro500.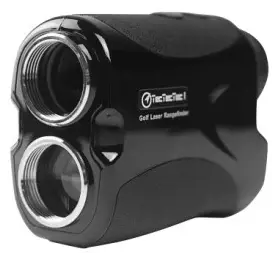 Features:
Small and compact body (easy to carry everywhere) with black dark colour.
Accurately measure distance up to 540 yards range.
Really easy to read values in yards or meters.
Magnification up to 6x Forfar golf targets.
Vpro500 lightweight and portable rangefinder

weighing just 185g

which is easy to carry for hunting, golfing or survey purpose.

Tectectec gives 2-year warranty with 30 days money back guarantee.
Coated with different layers & finishing make it look more pretty good!
Durable body for all weather conditions (waterproof and dustproof product).
Advanced target seeking technology with smart scan mode. (Easy to target and measure your point.)
And Tectectec provides free delivery and returns facility. (waterproof and dustproof product).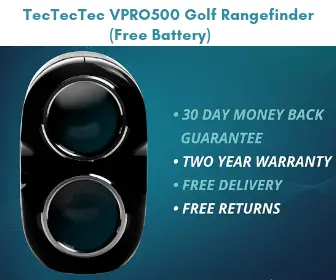 What you will get with it?
With Tectectec vpro500 you will get the free CR2 battery, carrying bag for a rangefinder, cleaning cloths, guidebooks and specially shock-resistance smart case which safe it in all conditions (running in hilly areas or forest etc).
Golf Tournament authority Approved this laser golf rangefinder for golfing and Tectectec used binoculars technology for better accuracy and experience. Most of the golf rangefinders haven't pin sensor technology but tectectec vpro500 and vpro500s prove itself!
TecTecTec VPRO500S Review
VPRO500S Slope laser rangefinder also has good rating and review but less than vpro500. buyers really satisfied for this rangefinder have the same spec as Vpro500, its 100% waterproof and efficient measuring device and best seller product in Amazon and office Store!
Pros:

High quality optics/lens which gives a clear view of the target.
Buyers trusted is low as compared to Nikon or bushnell brands
Waterproof, dustproof and weatherproof product!
Its dedicated rangefinder for golf purpose not for all domains.
Lowest cost as compared to others golf rangefinders.
Some customers reviews not fog proof!
Lightweight and portable device.
Can measure distance upto 540 meters.
Eyepiece can be adjustable.
30 days Money Back guarantee
FAQ's
Can measure the distance over sand traps?
Yes, it's great distance measuring device for over sand traps that's why we recommend it!
What kind of battery should I buy?
There are many kinds of batteries you can go but CR2-3 volt battery which you will get free during purchasing so you must go with original CR2-3 volt battery!
Measurement in meters or yards?
Yes, you can choose both units, during turning on your rangefinder you can select yards or meter!
What do I need to do when have displaying issue or stopping?
Simply you can restart it and use again if you got the issue many times you can replace it!
Is it worth it?
As compared to other golf rangefinders Tectectec vpro500 and vpro500s cost under $200 provides many beneficial points.