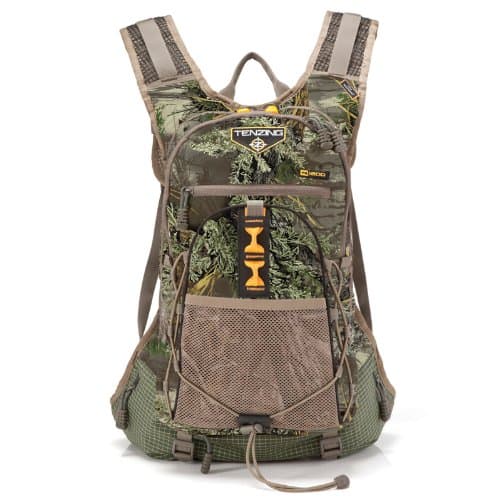 Sometimes when going out on a day's hunting expedition, the last thing you need is a lot of luggage. You might not want to carry that much gear because, of course, you're just going out for a day. Perhaps you don't even want to hunt big game. Maybe you're hunting birds or smaller animals.
The problem is, most backpacks are built to accommodate large amounts of gear. Most of them take on a large shape with lots of space. This isn't a bad thing if your needs are diverse and you want to carry gear that is equally as diverse.
However, if all you want to take with you are the basics of hunting, then a large best hunting backpack would only weigh you down. What you need is a daypack that's lightweight and compact.
What you need is the Tenzing TZ 1200 daypack. This is a beautifully made pack that bears all the benefits of the bigger backpacks but at a smaller design.
Tenzing crafted this bag with the light carrier in mind. But don't take its small design to fool you. It is a highly functional pack that anyone can carry around. So, let's dive into the Tenzing TZ 1200 ultralight day pack review.
Relevance
Tenzing TZ 4000 Hunting Backpack
Tenzing TZ 6000 Backpack (Large/X-Large)
Tenzing TZ 2220 Day Pack (Max 1 Camo)
Features of Tenzing TZ 1200 Day Pack
Size
From the outside, it looks quite compact, but when you take a closer look, you'll realize it's got enough space for your day's hunting trip. It has a main compartment that bears dimensions of 17 inches by 10 inches by 2.5 inches.
And if that isn't enough for you, it's still expandable so you can cram in there more gear with ease. At an instant, you can add another 15 inches by 9 inches by 2.5 inches. That's like adding another pack in there.
On the front face of the TZ 1200, there's another compartment that has dimensions of 15-inches by 9-inches by 2.5-inches. In here you can carry your electronics or perhaps the meat on your way back.
To carry your ammunition, or items that you want within reach, there are two side pockets that measure an ample 3 inches by 4 inches by 2 inches.
Add all the other smaller pockets, and you get a total of eight at your disposal. This daypack's small size certainly belies its capacity to carry a generous amount of items within it.
Breathable Mesh Back and Shoulder Straps
When you hear the word breathable, the first thing that comes to mind is, of course, air. Nice, clean, refreshing air, flowing around and within. This is what happens on your back.
Bearing this highly functional daypack, filled to the brim with gear for your trip, the mesh back allows air to circulate between the daypack and your back freely.
The air flow keeps your back nice and cool leaving your feeling fresh even after carrying the pack the whole day. Your shoulders, too, run the risk of generating a lot of heat.
And Tenzing made the shoulder straps breathable as well. The TZ 1200 lets air get to the ideal places, the places which bear the brunt of the weight. Because of this, you'll be able to carry the pack for longer.
H20 Compatible
Water is essential for any expedition, much less a hunting one. And the need to gain access to it quickly is also required when on the prowl for your prey.
Because of this need, Tenzing made this daypack hydration compatible. This allows you to add a hydration reservoir plus a bladder to keep you supplied with water while on the move.
The maximum capacity of the reservoir that the TZ 1200 can accommodate is 2 liters. And this is just the right amount to freshen you up in a day's trip.
Compression Straps
At some point, you might find that there's no more room left in the backpack yet you still have more items that you need to carry. At this point, do you begin to compromise?
Do you think of taking a bigger backpack? Well, Tenzing pack still gives you the capacity to carry all you need using this compact pack. On the lower side of the TZ 1200, there are two compression straps.
Using these straps, you can attach the extra gear that you need to carry. This daypack won't let you leave anything behind.
The compression straps are sturdy enough to secure the gear firmly, so you don't have to worry about your items falling off.
Padded Hip Panels
So we've seen how versatile and functional this daypack can be. We've confirmed that it can, indeed, carry a lot of items despite its compact size. However, this might get you wondering how comfortable it is to lug it around.
First, of all, the mesh back and shoulder straps we mentioned keep your shoulders and back cool. Then, there are padded hip panels.
These panels provide a soft positioning for your hips so that as the daypack rests on your back, it does not send the strain to your hips.
As the straps lay over your shoulders and send the weight to your back and hips, the padding provides comfort by absorbing the strain of the pack's weight.
Pros
The Tenzing TZ 1200 has a large, expandable main compartment.

This is a lightweight daypack, weighing just 2 pounds.

The TZ 1200 has a breathable mesh back that allows for free air flow between your back and the daypack.

With hydration compatibility and the capacity to carry a 2-liter reservoir, you'll be able to keep yourself supplied with water throughout the trip.

This daypack has eight compartments and pockets which accommodate more than enough gear for a day's hunting trip.

An addition of lower compression straps provides the capability of extra strapping gear on the outside.

The padded hip panels provide a soft and comfortable carrying experience.
Cons
Tenzing didn't make the TZ 1200 to be waterproof, though it's slightly water resistant.

There isn't a waist strap on the TZ 1200.
Frequently Asked Questions (FAQs)
Q: Does the Tenzing TZ 1200 have a frame?
A: No, this daypack doesn't have a frame although that is only necessary for bigger backpacks that carry more weight.
Q: Can I use a water bladder with the TZ 1200?
A: Yes. It's fully hydration compatible, and you can attach a reservoir and use a bladder with it.
Q: Does this model have an expanding bungee compartment?
A: Yes, it certainly has this compartment to provide more carrying capacity.
Q: What is the total carrying capacity of this Tenzing daypack?
A: It can carry about 1200 cubic inches.
Q: Does it come with a hydration pack and bladder?
A: No. You'll have to buy those separately.
Final Verdict
The Tenzing TZ 1200 comes off as a small day pack, but it can carry more than the average day pack can. And it does this without looking bulky. The TZ 1200 is strong and durable, perfect for the outdoors.
If you have a larger bow hunting backpack and need a backup one, this one is for you. If you want a smaller day pack for those short hunting trips, this one is for you.
If you want a day pack that can take in all your gear and then some more than this one is for you. It does everything right. And the interesting part is, it comes at an affordable price. What more could you ask for?
So we end this Tenzing TZ 1200 ultralight day pack hunting backpack review by giving this pack two thumbs up.