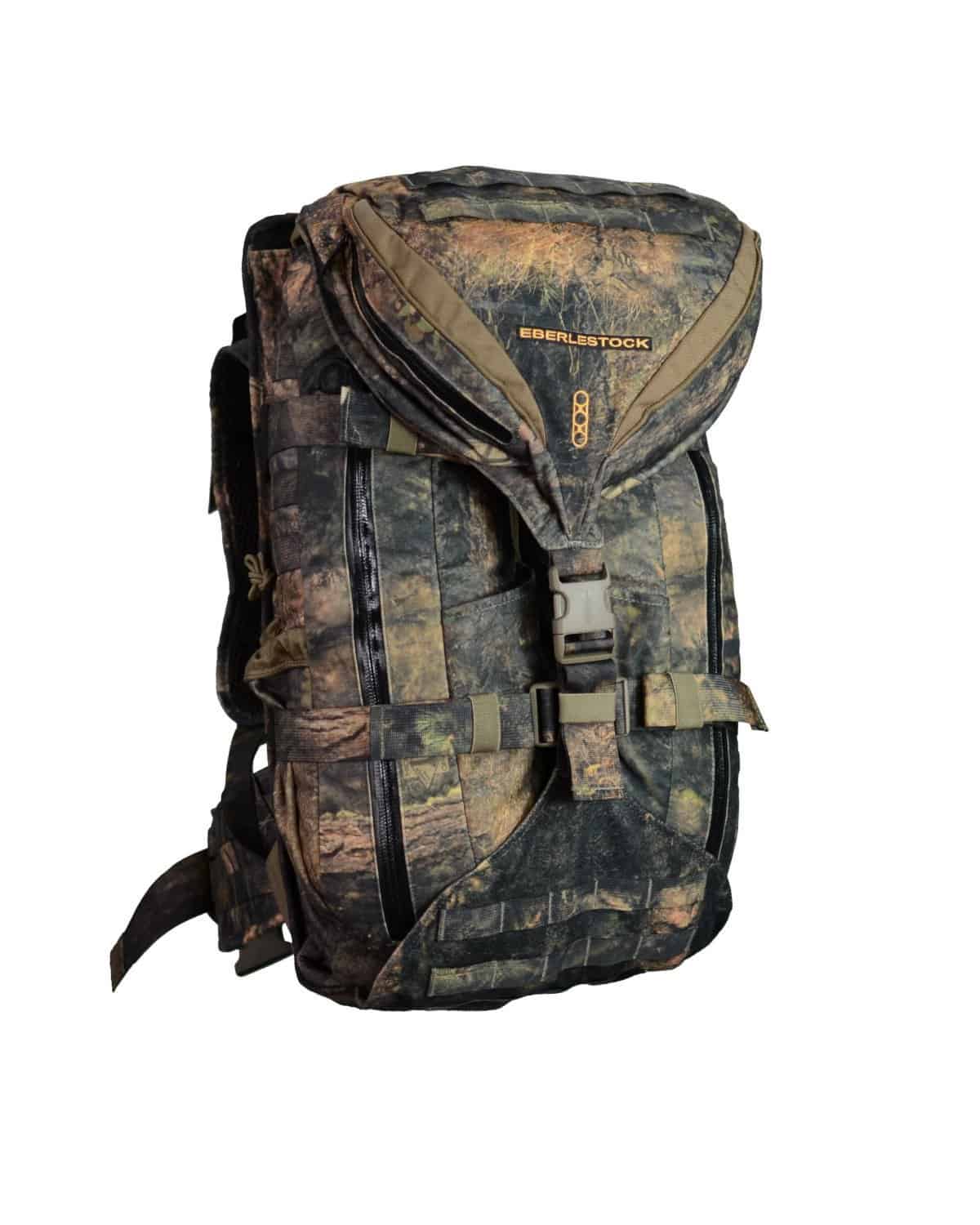 When going hunting, there are numerous things that you might want to carry. Indeed, certain items might not be as important as others. For instance, nothing takes precedence over your weapon of choice.
Still, it's good to have the freedom to be able to carry everything you need. With a less than an ideal backpack, you might find yourself leaving certain items behind, not because you forgot but because the backpack you're carrying can't accommodate everything.
And no one wants to be lugging around more than one bag, right? With the Just One Pack from Eberlestock, you'll need just the one backpack.
This is an amazing bag that can accommodate all your gear and still have enough room to fit in the meat on your way back. And as you'll see in this Eberlestock J34 Just One Pack Review, this backpack is also friendly to your back and shoulders.
What is it that you look for in a backpack? As we delve into the features of this spectacular pack, you'll find out more why it's called the Just One. Okay, introducing the J34.
Relevance
Eberlestock HalfTrack Military Pack
Eberlestock X3 LoDrag Pack (Coyote Brown)
Features of Eberlestock J34 Just One Pack
Expandable Size
Eberlestock package and sell the Just One as a daypack. And it performs that job with zeal and verve. But it can still fit just the right amount of gear for more than one day of hunting.
It has a footprint of 25 inches along the length by 11 inches in width. Then, with a depth of 6 inches, the pack carries a good amount of gear.
And it certainly can fit a generous number of items with its 2300 cubic inches carrying capacity. That isn't enough? Don't worry. The Just One expands. If you need to carry more, take advantage of what eberlestock j34 call a built in Cam Expansion system.
In simple terms, the backpack will, as if by magic, gain another 2300 cubic inches of space. This gives you a total of 4600 cubic inches to take advantage of.
Streamlined Shape and Adjustable Torso Length.
With such a spectacular carrying capacity, you're most certainly going to be filling the eberlestock j34 to capacity.
All the stuff you thought you didn't need to carry now will fit snugly in the backpack. That might get you worrying about the comfort of carrying the J34.
Perhaps you wonder how easy or difficult it would be to haul it about on your back. To solve that problem, Eberlestock designed this pack to have a streamlined shape. This shape makes it compact and allows it to take the shape of your back as it embraces you.
The eberlestock j34 just one will neatly curve along your torso and flexibly change its shape in unison with your body movements. Then, with the adjustable torso length, you can change the size of the backpack to fit your size.
Having the right Torso size ensures the weight of the pack won't strain your shoulders. It'll be evenly transferred along with your back down to your waist and hips.
3D Ventilated Padding
All the best hunting backpacks have a ventilation system that allows air to flow between your back and the backpack freely. The Just One isn't left behind.
It has this feature known as the 3D ventilated padding. As you walk bearing the massive load, the heat might begin to take a toll on your back, causing you discomfort. The 3D ventilated padding on the J34 creates a space between your back and the Just One backpack.
Through this space, air flows freely, keeping your back nice and cool. Because of this, you'll be able to walk further without compromising on your comfort.
Mesh Fronted Meat Compartment
Your prize from a successful hunt is the meat. That's why you go out there. But where do you carry it if you already filled the bag to the brim? You carry it in the exclusive meat compartment, of course.
The eberlestock j34 just one has a compartment that's dedicated for carrying the meat. And it's a ventilated mesh-fronted compartment. For the meat to remain fresh, it needs to be kept cool.
The mesh fronting allows air to pass into the compartment and do just that. By the moment you get home, you'll have meat that's as fresh as when you first sliced it from the animal's body.
Quick Draw Back Scabbard
The one thing that sets a best hunting backpack apart from other backpacks is the inclusion of a compartment for carrying your weapon.
Be it a rifle or bow and arrows, and there has to be a convenient way for you to haul your arsenal. And the J34 has this fantastic feature included. It has a conveniently placed scabbard right at the back.
Here, you can insert your firearm or even a quiver of arrows. But that's not the best thing. What makes it amazing is the fact that the weapons are placed within reach allowing for a quick draw at a moment's notice.
Pros
The Eberlestock J34 Just One Backpack has a carrying capacity of 2300 cubic inches which is still expandable to 4600 cubic inches thanks to the Cam Expansion system.

The shape of the Just One flexibly fits your back and changes shape as you move making the backpack comfortable to carry.

With an adjustable torso length, the Just One can easily fit people of varied body sizes.

The interior is high visibility, that is, it allows light to enter easily ensuring you don't need a flashlight to look inside.

Having a ventilated padding allows air to pass freely between the backpack and your back, therefore, keeping your back cool throughout.

Eberlestock included a dedicated meat compartment in the J34. This compartment is ventilated, keeping the meat cool and fresh.

The back scabbard is conveniently placed to allow for a quick draw of the weapon.
Cons
The Just One doesn't have a frame which would make it easier to haul large loads.

In the rain, the back scabbard tends to fill up with water as there's no drain for it.
Frequently Asked Questions (FAQs)
Q: What are the color options there for the Just One backpack?
A: You get three color options; Open Timber Veil, Hide Open Rock Veil and Hide Open Western Slope.
Q: What is the internal depth of this backpack?
A: It has an internal depth of 6 inches.
Q: How much does the Just One weigh?
A: The weight is about 7 pounds and 8 ounces.
Q: Is the scabbard detachable or built-in?
A: The scabbard is built in but can be folded away when not in use.
Q: Does it have any compression straps?
A: Yes, the Just One J34 also has compression straps attached.
Final Verdict
As we come to a conclusion of this Eberlestock J34 Just One Pack Review, we admit the Just One impressed us and are sure you're impressed as well.
It's a daypack but can easily haul a load for more than a day's hunting. The expandability is a feature that comes in handy when you have a lot to carry while the streamlined shape allows you to bear the weight on your back comfortably.
Then, having a dedicated meat compartment is one feature that the avid hunter will welcome with arms wide open. The Just one is truly a spectacular backpack.
You May Also Like to Read: