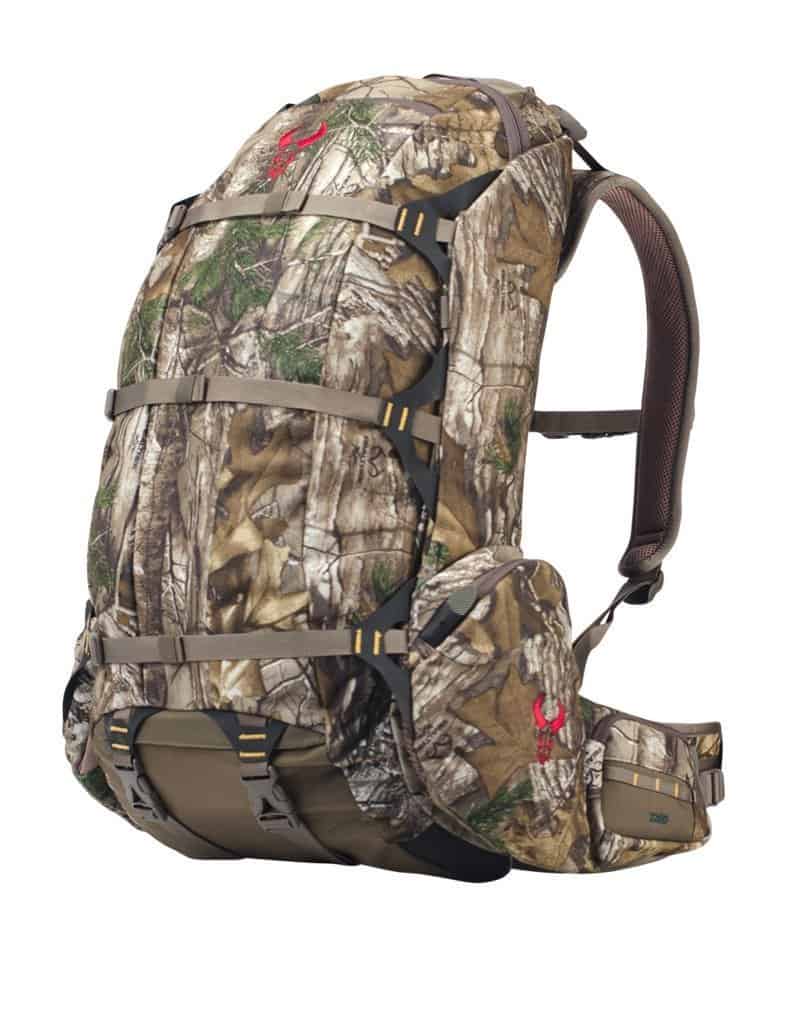 Numerous hunting backpacks have been created and released into the market for the avid hunter. There isn't a shortage of options for the outdoor folks. From the large and carry all you can backpack to the compact daypacks; they all seem to be striving for attention.
However, they all have one thing in common, their looks. Most of the best hunting packs and, come to think of it, gear doesn't really score highly in aesthetics. We have to believe that there isn't any room for beauty in the hunter's universe. That's been the case until now.
With the Badlands 2200 Camouflage Hunting Backpack, the first thing that strikes you is a look that isn't common in such packs. It's beautifully designed and crafted. The shape was made with ergonomics in mind. The straps were built to embrace you on the shoulders.
It takes one's breath away. And being a Badlands product, we already have a reassurance that it'll do what a hunting backpack is meant to do and more. So, here's the Badlands 2200 Backpack Review.
Relevance
Badlands Superday Camouflage Hunting Backpack
Badlands Bino Case Mag Camouflage Hunting Binocular Case
Badlands Bino X Camouflage Hunting Binocular Case
Features of the Badlands 2200 Backpack
Size and Capacity
This 2200 looks compact. Don't be fooled; it isn't. It's more than a daypack. With dimensions of 19 inches by 17 inches by 9 inches, the backpack should have enough room for your gear.
And it does. The main compartment has a total carrying capacity of 1980 cubic inches. But wait, there's more. The badlands 2200 backpack has a total of 7 pockets which make up a total carrying capacity of 2250 cubic inches.
All this space is enclosed in a beautiful and compact backpack that doesn't bulge in unsightly ways when full.
Whatever you need, be it your spotting scopes or even tripods, there's more than enough room for all your hunting gear.
T-6 Aircraft Aluminum Frame
The Badlands 2200 backpack has proven that it can take in all your gear. And we know you're most probably going to be packing it to its utmost. That's why Badlands went the extra mile to fit into this pack a frame.
But it isn't just any frame. This is a T-6 aircraft aluminum frame. First of all, it's a sturdy and durable grade of aluminum meaning it won't cover from bearing the massive load this backpack will have.
Then, the aluminum is lightweight. Of course, the only weight we want to be hauling is for out gear, and so the frame's weight is kept to a bare minimum. List this backpack onto your back and lay the straps over your shoulders.
The weight gets transferred from your spine and is rested on your hips and waist. This creates an impression that the pack is lighter than it is, allowing you to carry it longer and farther.
Built in Meat Shelf
Obviously, the one thing you'll come back with from a hunting expedition is the meat. Most backpacks fail to take this into consideration. Badlands did. They included a blaze orange meat shelf built right into the pack.
It has no hassle whatsoever. It's big enough to bear all the meat hunted. The material allows it to neatly enclose it inside keeping it fresh and also protecting your other gear from getting into a bloody meat mess.
Still, it works hand in hand with the frame to keep the weight from bogging you down, allowing you to carry a larger portion of the game.
KXO-32 Fabric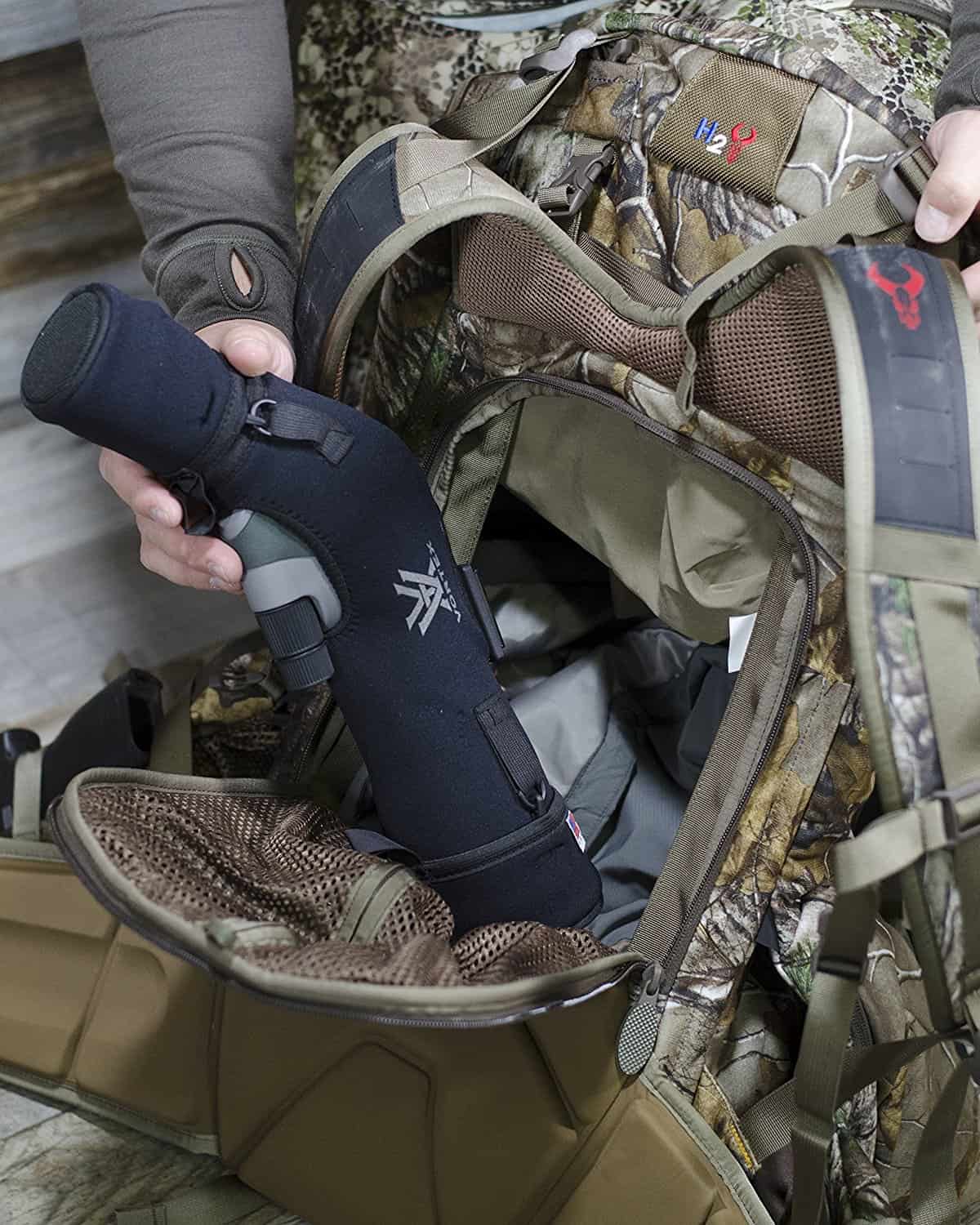 Durability is a quality that's a must have for a hunting backpack. Without this, you'll find yourself buying a new pack every so often. Made of Badland's KXO-32 fabric, the pack is assured of acquiring this fabric's hardwearing quality.
It is said to the strongest material in the hunting world. They didn't lie about that. The material also makes the pack waterproof, excellent quality for a product that will face a lot of the outdoors.
Still, it's a very quiet material. This is a huge plus as silence is a quality that every hunter yearns for. With all these, the backpack should handle the harsh outdoor world with gusto.
Weapons Carrying System
Of course, a hunting backpack wouldn't be complete without a weapon carrying system, right? The Badlands 2200 backpack provides a versatility that is rare among its peers.
It is an ideal backpack for both rifle users and bow and arrow wielders. It is also compatible with a pistol. Right on the hip belt, there's a pistol holster in which a pistol will snugly and securely fit.
All your weapons are within easy reach to you so that whenever you need it, you can reach and pull it out. There's no struggle and no need to take off the backpack to access them.
Pros
The Badlands 2200 backpack has eight pockets which deliver a total carrying capacity of 2250 cubic inches.

It also has a hydration pocket which can carry a 2-liter water bottle.

Made of KXO-32 fabric, the backpack is strong and durable.

This fabric also endows the backpack with a silent nature, making it excellent for hunting.

Built into the pack is a meat shelf which carries a generous amount of meat.

With the T-6 aluminum aircraft frame, you can easily carry heavy loads without feeling a strain on your shoulders or spine.

The Badlands 2200 is compatible with a rifle, bow and a pistol.

It is an ergonomically designed backpack to enhance comfort while carrying.
Cons
The torso adjustment range tends to be limited and might not be enough for people with larger body sizes.
Frequently Asked Questions (FAQs)
Q: What is the weight of the backpack alone?
A: It weighs just 5 pounds and 15 ounces.
Q: Does the Badlands 2200 have a dedicated spotting scope pocket?
A: It certainly does.
Q: Is this backpack waterproof?
A: Yes, that's thanks to the KXO-32 fabric.
Q: What does it mean when you say the fabric is quiet?
A: That means that when moving, the backpack won't produce a sound.
Q: What capacity hydration bottle can fit in the backpack?
A: It can accommodate a 2-liter reservoir.
Final Verdict
We love the way the Badlands 2200 best bow hunting backpack looks. We love its ergonomic design and its lovely compact size. We also love that it can fit in a large amount of gear without a hassle.
The fact that it's a highly functional backpack makes it a must have for any hunter. The KXO-32 fabric really is as durable and waterproof as Badlands say it is. This pack just doesn't seem to get anything wrong.
Your collection of hunting backpacks isn't complete until you have the Badlands 2200 backpack. So, as we end this Badlands 2200 Camouflage Hunting Backpack Review, we declare that this is the pack to have.
You May Also Like to Read: