Hunting in mittens might sound counterintuitive because you need your fingers to: calibrate the scope, pull the trigger and even put that rattle call to good use. So it goes to reason that, while you need to have some hand protection from the elements, you also need to retain some level of dexterity, and that's not something you can get with mens mittens; or can you?
On the face of it, you might be convinced that mens mittens just aren't the kind of protection you need when hunting. However, before you completely dismiss the idea, it might be prudent to look at the reasons why some of the best hunters in the land believe in using waterproof mens mittens for hunting.
Benefits of Using Mens Mittens for Hunting
There is an argument to be made for waterproof…anything when it comes to hunting. Whether it's gloves, mittens, pants, and even a jacket, having waterproof protective clothing is by far one of the best ways to stay dry while out there in the woods.
Considering that you will be coming in contact with the underbrush and other dew-covered vegetation, rain, and even snow, your need to stay warm and dry is tantamount to life and death.
Choosing the right pair of waterproof mens mittens could mean the difference between a comfortable (as comfortable as hunting can be) and successful hunt and one that is miserable and possibly ending up in the ER. That being said, here are some of the top reasons and advantages of wearing waterproof mittens when hunting:
They Are Waterproof
While this might sound rather obvious from the title, it's a feature that is still worth mentioning. In fact, it's arguably the most important feature of hunting mittens. When hunting in frigid weather, simply keeping your hands warm isn't enough.
You also need to keep them dry as well. You must keep the water from the rain, snow, and even ice from seeping through your mittens and onto your hands.
Waterproof mittens do this very well. Not only do they have warm layers of insulation, but they also have breathable waterproofing layers, so your hands remain warm and dry without becoming clammy and dump.
Effective Insulation Against Extreme Weather
When it comes down to it, mittens are the most effective type of insulation against extreme weather. This is mostly because of the simple fact that your hands get and remain warmer when your fingers stay together instead of when they are separated by fabric as they would be when wearing a glove.
There is a great deal of technology that goes into making the best hunting mittens in the market today. Waterproof hunting mittens work by trapping the air in the spaces between the special fabrics used by the different manufacturers. Most low-quality mittens use thicker and bulkier fibers to keep you warm, but those don't trap the air quite as effectively.
For example, the HOT SHOT Men's Camo Huntsman Pop-Top Mittens offer excellent insulation against the elements. These pop-top mittens are lined using 80 grams of 3M Thinsulate Insulation, ensuring that you are extremely warm without your hand feeling bulky.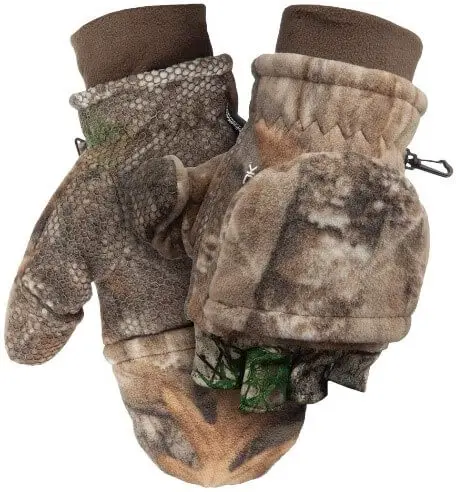 Also Read: The 10 Best Snake Proof Boots in 2021
Multipurpose Protection
The thing about having an excellent and highly effective pair of waterproof hunting mittens is that they aren't necessarily limited to just the hunting seasons.
Many hunting gloves are quite essentially pop-top mittens, allowing you to pop the top off your mittens and expose what cut be a full-fingered glove or half-fingered glove underneath. This means that you can use the mittens to carry out pretty much any task that would require dexterity from your fingers without necessarily taking the mittens off.
Do you feel like going skiing, driving, or even doing the odd chore around the yard in frigid weather? You can wear your waterproof mens mittens and get the job done. Keep them clean and stored away – come hunting season, you have them on the ready.
They Are Comfortable and Practical
Depending on the brand you buy, waterproof mittens can be extremely comfortable. Most of the best brands use fleece-like lining on the insides of the mittens to help cushion your hands. The designs are often flexible and tend to feature knit wrists that are easy to slide your hands in and out of whenever you need to.
Furthermore, hunting mittens tend to be pop-top mittens, as already mentioned. They also tend to feature a flexible foam lining that allows for some level of control over tools and equipment. If you are concerned about your trigger finger being impeded, the pop top design allows for easy finger dexterity, making these mittens very practical hunting gear.
They Are Durable
The best brands don't design products that are meant to last you through just one hunting season. Many of these hunting mittens are made out of high-quality materials such as polyester with antimicrobial lining technology, which keeps them pretty much odorless.
Companies don't go through that much trouble to sell you a product that isn't going to last. Not only are the best mens mittens hardy (some have leather palms for better grip), but they are also sensitive and quite durable. They are designed for the great outdoors, after all.
They Can Protect You Against Injuries
The fact that the best hunting mittens are made out of durable high-grade materials means that they can easily protect your hands against injuries. Many are cut resistant and puncture-resistant, abrasive resistant and tear-resistant, all qualities that go towards making the mittens almost indestructible.
Once you find the perfect pair of mens mittens, you know that you have a good addition to your hunting gear list; something that will not only help keep you warm during those frigid hunting months but also help to protect your hands against cuts, water, and abrasion.