The backcountry is generally remote and underdeveloped, which leads to some difficulty in accessibility. There is limited vehicle access and a general lack of facilities. You rely on your raw human power to get there, and you should carry everything you need for the period that you plan to be out there.
On the other hand, this remoteness and restricted human access is part of the reason prized game like backcountry deer and elk thrive in this environment. They have adapted to this habitat from many years of free-roaming.
An intruder will be easy to spot in such a setting, so if you plan to hunt in the backcountry, you need to blend in as much as you can, which is why we are going to review some of the best camo backpacks to give you a head start as you gear up for your expedition.
The Best Camo Backpacks for Backcountry Hunting
1. Badlands 2200 Hunting Backpack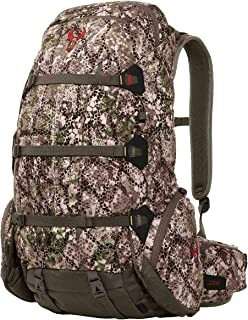 The 2200 comes billed as the perfect combination of meat hauler and hunting pack in an indestructible package. It is made of strong KXO-50 fabric that is tough and has been treated to be water-resistant.
The stress points are reinforced with Aramid bartacking stitching, ensuring it does not come apart under the heavy weight of the meat you will be hauling (one aramid strand can hold up to 100lbs).
The fabric is silent and will not produce a sound when you brush against tree branches, vegetation, or in the process of your setting up. The treatment to repel water also prevents absorption of blood, so it is easy to clean once you get the meat off.
2. ALPS OutdoorZ Extreme Commander X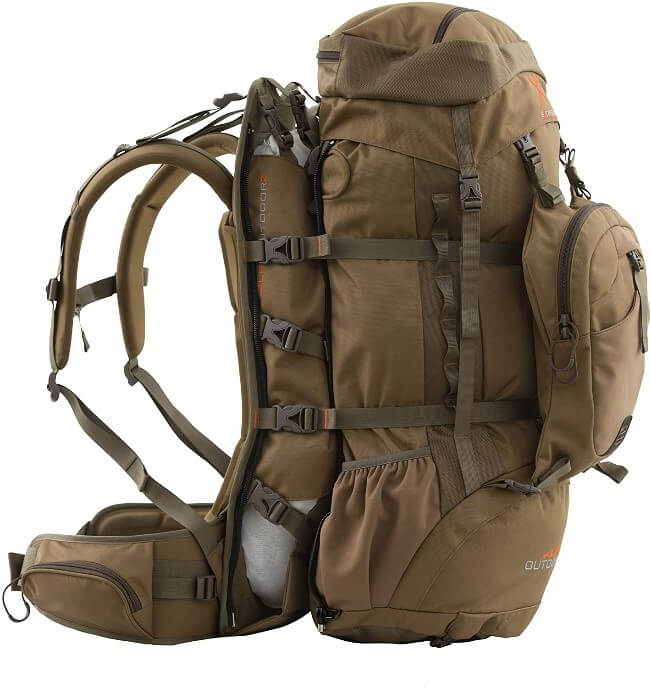 The Commanders freighter frame is built for meat hauling with two aluminum stays and high-density polyethylene. A lashing system enforces this with a compressed wing and a lower shelf that ensures the frame's load is secured. The weight is evenly distributed by the system, which makes it easier to carry.
The suspension has molded foam contours for a comfortable fit so that your back can breathe as you carry it. The comfort gets enhanced further by the incorporation of Lycra soft-edge technology on the wide shoulder straps. This distributes the pressure on the shoulders and eventually adjusts to the shape of your body.
3. TideWe Large Hunting Backpack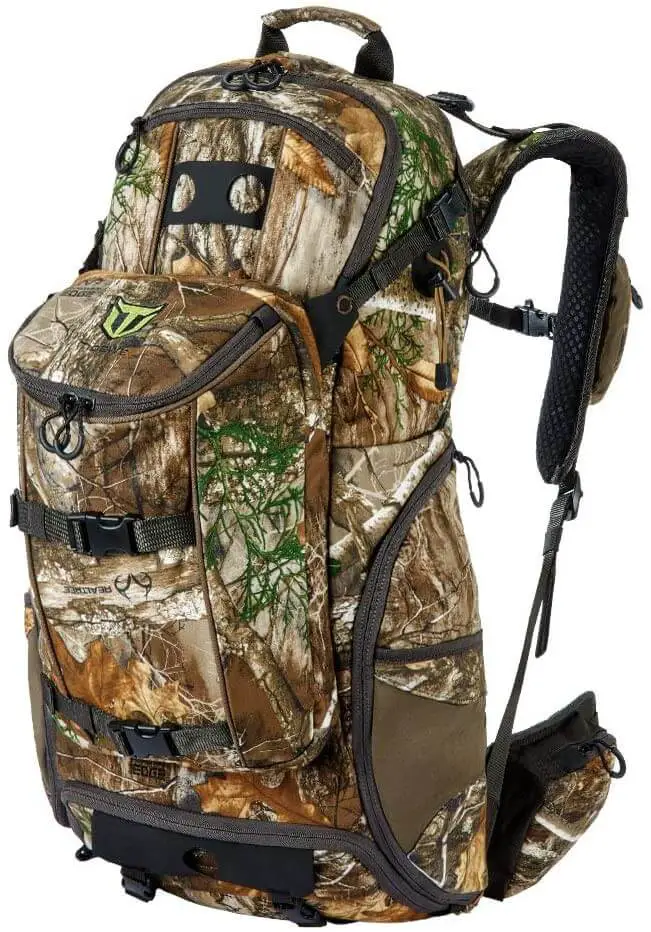 This bag has been designed to be comfortable for long hunting trips with adjustable waist and shoulder straps which are customizable to your exact measurements.
hese harnesses have soft and thick padding, which reduces the body's pressure when ferrying heavy game. The fabric is breathable to prevent the pack from sticking to your body courtesy of sweat.
The main pack is detachable from the frame, allowing you to carry a less imposing backpack on the hunt, ideal for hunting before you have to haul the meat back home. It has a waterproof rain cover that can be deployed to protect your gear in case you are caught up in the rain.
4. Badlands Diablo Dos Hunting Pack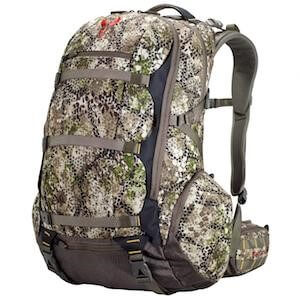 This camo backpack stands out because of its load-lifting comfort made possible by a combination of Hypervent technology, allowing the free circulation of air between the pack and your body, and load lifting straps above the shoulder harness, which relieve the shoulders from strain.
They make it easier to endure the rugged terrain. The Approach camo color allows them to blend with the background, providing much-needed cover in any terrain.
The fabric is also soft and supple and will not make any noise to alert the prey of your presence. This camo backpack also comes with compression straps to facilitate the hauling of extra luggage.
5. Badlands Pursuit Hunting Daypack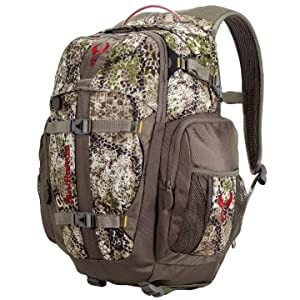 This bag is lightweight and designed to maintain your agility levels by staying out of the way during your hunting expedition. It employs Badlands AirTrack suspension, a combination of air channeled foam and breathable mesh material on the shoulder strap and the back panel.
These make it extra comfortable so it can be worn for longer without inducing fatigue. It is made of durable KXO-32 fabric, which is quiet and lightweight, allowing you to sneak into your hunting zone without drawing attention to yourself.
6. ALPS OutdoorZ Dark Timber Daypack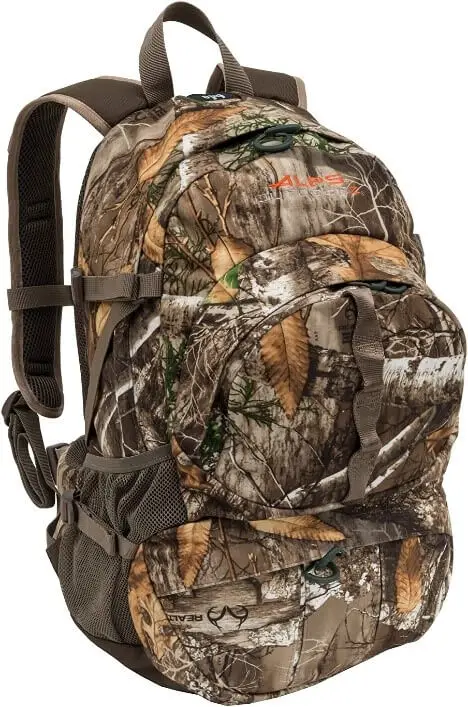 This is an expandable backpack whose capacity can be raised instantly by opening the zipper on the side up to 64L. This bag has large main and front accessory pockets that can fit a reasonable haul when required. It also has a lower storage pocket where you can move some of your gear to create space for your haul.
It comes with side compression straps designed to hold the weight closer to your body, making it easier to carry, especially when loaded. Your larger gear can be lashed on the bartacked webbing, which creates multiple attachment points at the front of the pack. The padded shoulder straps with an adjustable shoulder strap and padded waist belt ensure comfortable wear despite the weight.
7. PANS Military Backpack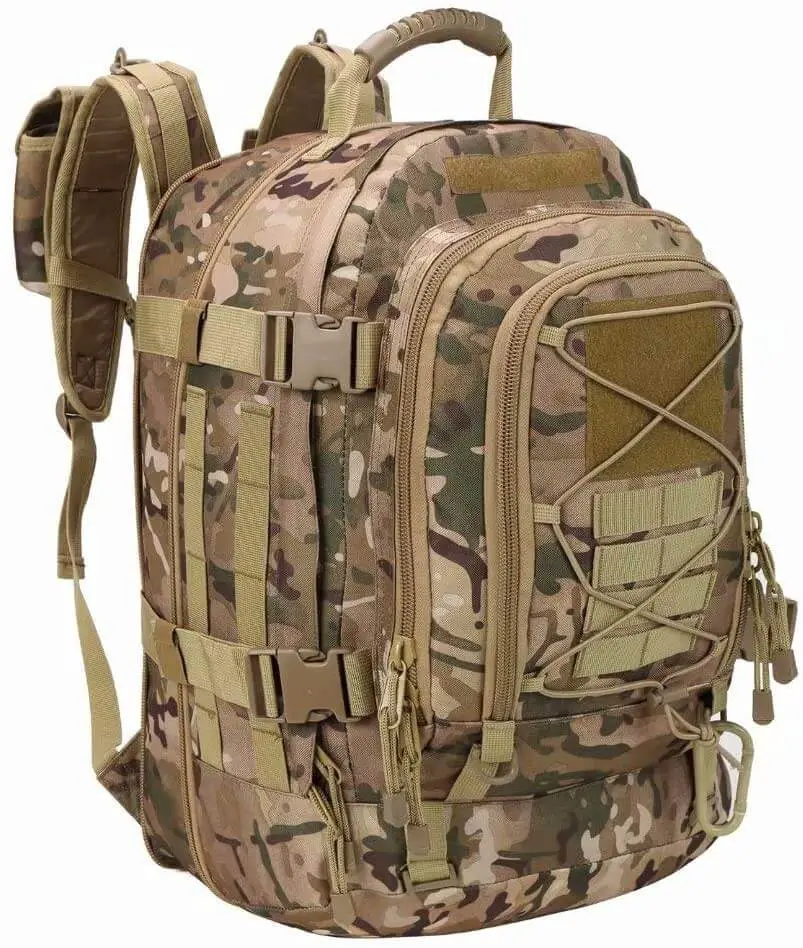 This backpack was made for the badlands because it is tough, water-resistant, and can be expanded easily from a width of 8 inches to 13 inches using a zipper. This enables you to adjust the size to what suits you, keeping the contents intact.
It has removable belts that help keep the load stable as it grows; you don't have to use them when you feel they are not necessary. There is a molle system at the front on which you can add extra tools or attach smaller packs.
8. QT & QY Tactical Training Backpack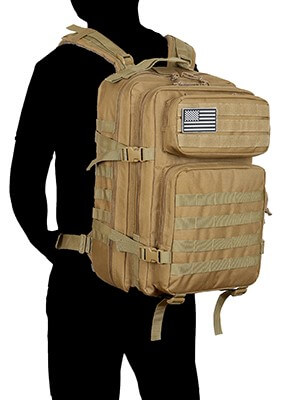 This is a waterproof backpack with dedicated bottom webbing that can be used to carry extra hunting tools like game bags to comfortably free up space inside the bag. Its molle system also runs throughout the front and sides, providing accessible storage slots for extra gear. It is double stitched for extra strength, so you can haul weight without worrying about it coming apart.
Many camo backpacks have a military background in design, so they naturally make it easy to ferry your weapon of choice while blending with the terrain. These qualities make them ideal for hunting in the backcountry. We hope these reviews will help you identify a decent backpack that will serve you for many days.