Gone are the days when carrying a gun was only allowed if you were a law enforcement officer or a part of the armed forces. Recent developments have led to everyone feeling like they need to protect themselves constantly. One of the greatest debates of this time is gun laws, from possession to public display.
These debates form part of the reason you should avoid public display of your firearms whenever you feel the need to have them on you while interacting with other people. In this article, we shall not dwell on the merits of gun ownership but rather on how to avoid spooking other people or alerting your would-be attacker while carrying your personal defense weapon (PDW).
Carrying a Concealed Weapon (CCW)
This is slowly being accepted for self-defense, although the regulations around it vary from state to state, and you might want to familiarize yourself with local regulations before experimenting. It provides the element of surprise when you are attacked and prevents altercations with anti-gun crusaders.
Today we will look at facilitating CCW by using backpacks that are becoming popular among civilian gun owners.
What to Consider When Packing a Gun Backpack
What we will discuss here will seem straightforward, but you will be surprised that most backpackers don't apply these tricks in real life, and they end up not realizing the full potential of their CCW packs.
Placement
Place the weapon in the bag with the muzzle facing downwards or away from where you will pull it out from, depending on the design of the backpack. This way, the handle always comes out first when you open the bag, making it easier to deploy as you will be holding it just right.
However, the gun's entire weight will be resting on the muzzle and weighing down on a particular spot of the backpack. This may wear a hole on the pack after some time if it is not made to handle that kind of abuse. Alternatively, the gun will bulge awkwardly at that point of contact if the backpack is made of light material.
The bag should have reinforcement sturdy enough to handle that kind of pressure on it. Some have multiple layers of material, while others have molle webs to holster the firearm such that the weight doesn't rest on the fabric directly. The stitching should also be strong enough to carry the weight of your guns.
Loading the Gun
Pack it ready for action with a loaded magazine but with the chamber empty and safety on. The chamber should be empty as you can never be 100% sure the trigger is fully covered and protected, and long guns are also not drop safe.
Carrying a gun with an empty chamber makes it less action-ready, and it will take longer to deploy. However, if the gun is chambered and ready, it should be housed in a secure holster so that it does not inadvertently go off. A backpack cannot guarantee this level of safety as it is off the body, which exposes it to external interference.
Packing the Sling
When using a long gun outside the home, a sling is a necessary attachment as it will be the holster for your gun. There are high chances you will not get a safe place to place the gun, plus you will need to free up your hands occasionally for other things. It also helps you avoid pointing the gun at people in the process and reducing the chances of having it yanked away from you.
A 2-point sling is better than a 1-point sling because once you let go of the gun, it will not dangle downwards facing your feet; rather, it will hang parallel to the ground like a sling bag. Ensure to pack the sling in a compact manner to prevent it from getting caught in the backpack when you are retrieving your firearm.
You also don't want it interfering when it's time to discharge the weapon. You can always store the sling in a separate compartment if the bag offers the option, so you will only retrieve it when you need it and have the opportunity to.
Balancing the Weight
Whenever you are backpacking for long distances, you will feel the impact of an imbalanced load. You should strive to balance the load even on short hikes to prevent injuries and unnecessary body strain. The ideal backpack is heavy towards the bottom with an even distribution of weight from left to right.
Fitting a handgun on one side affects your gait, which in turn stresses your hips and knees. The body will subconsciously try to adjust to compensate for the imbalance, making it hurt more while impeding your agility. Your endurance will also naturally reduce because you will be easily fatigued, miserable, and susceptible to blisters, chafing, and sores in the process of compensating for this imbalance.
Weapon Maintenance
Ensure it is protected from extreme elements such as too much heat, corrosive material, and any form of water. Firearms and water do not mix, so it shouldn't come into contact with body sweat, the rain, liquid contents inside the backpack, or any water body you may be exposed to during your activities.
The ability to do this while retaining all your survival options involves making your EDC backpack more intentional by designating a concealed firearm compartment within it.
Versatility of the Backpack
While equipped with the tactical features required to safely carry your weapon and its related gear and accessories, the backpack should also accommodate other conventional items.
You should arrange it in a way that still enables you to carry your books, clothes, hunting or camping gear as well, depending on the day's activity. The gun is not always the highlight of the day. These items go a long way in facilitating the concealment of your firearm.
The 'Gray Man' Concept
This refers to attracting as little attention to yourself as possible and blending with the environment to minimize the chances of being perceived as a threat or a target. The ideal bag should have a discrete non-tactical appearance. It should look like an everyday backpack that does not seem out of place in an office, coffee shop, or gym.
Having many pockets gives the bag an advantage as you can fit the firearm in its own pocket so that you don't risk exposing it every time you reach in the bag to remove your sunglasses or laptop.
The molle webbing being on the inside will go a long way in helping you separate the dismantled gun and magazines so that they don't keep moving around and banging into each other. Too much of this molle webbing and compartments on the outside will arouse suspicion that it's a tactical bag, and you may no longer blend into the crowd as desired.
*Check out this backpack project video for more illustrations on CCW in a backpack.
The Best CCW Packs in 2021
We shall now look at seven backpacks currently on the market that we feel embody the essence of the best concealed carry backpacl to get a feel of the terrain.
1. Vertx Gamut Pack 2.0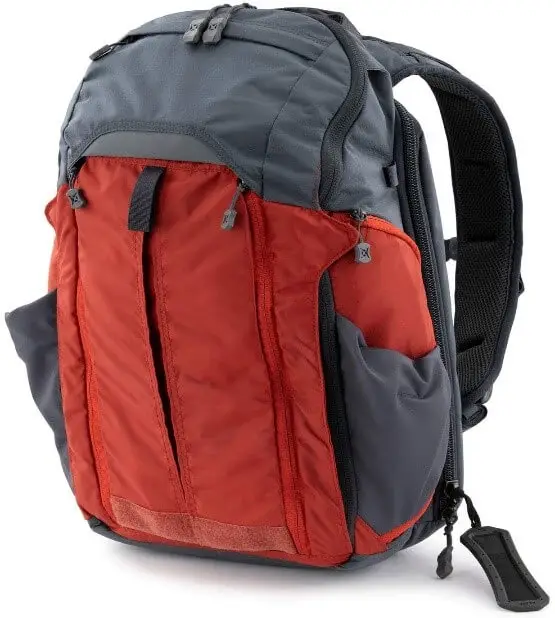 This is the ideal CCW backpack because it combines stealth and accessibility effortlessly. With colors such as smoke grey and Mars red and the extra compartments are hidden on the inside, it will be least suspected to be a tactical bag.
The zippered side compartment opens separately towards the body as a safety measure. The laptop compartment is separate from the main one, allowing you to keep your firearm a secret even as you go about your daily business.
It has a rapid access pull tab for swift deployment and is sewn with bonded nylon thread throughout for extra strength. It is rated at 25 Liter total capacity.
2. 5.11 Tactical COVRT18 Backpack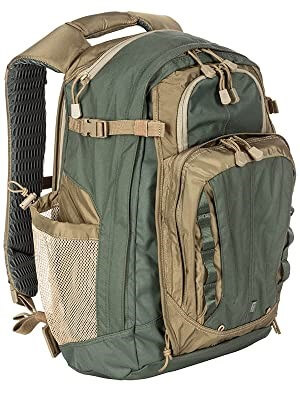 This low-vis appearing bag is made of 500D water-resistant nylon, which provides strength and assurance of durability. It has a designated roll-down assault compartment (RAC) in which you can conceal a full-sized firearm. The separate main compartment has two storage zones and a padded laptop sleeve, so it easily passes as a regular EDC backpack.
3. Maxpedition Entity 21 CCW EDC Backpack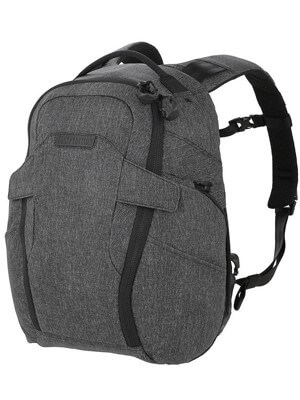 The entire Entity Series of bags is focused on Maxpedition's non-tactical/tactical (NTT) concept, which seeks to facilitate prepared citizens who wish to stay out of the limelight with efficient CCW options. The minimalistic exterior has nothing to indicate it is a tactical backpack, yet it masks an interior built for situational readiness.
It has a dual side access CCW compartment with a security lock-out strip and loop lining to enable the organization of whichever gear will be required.
4. Elite Survival System's Stealth SBR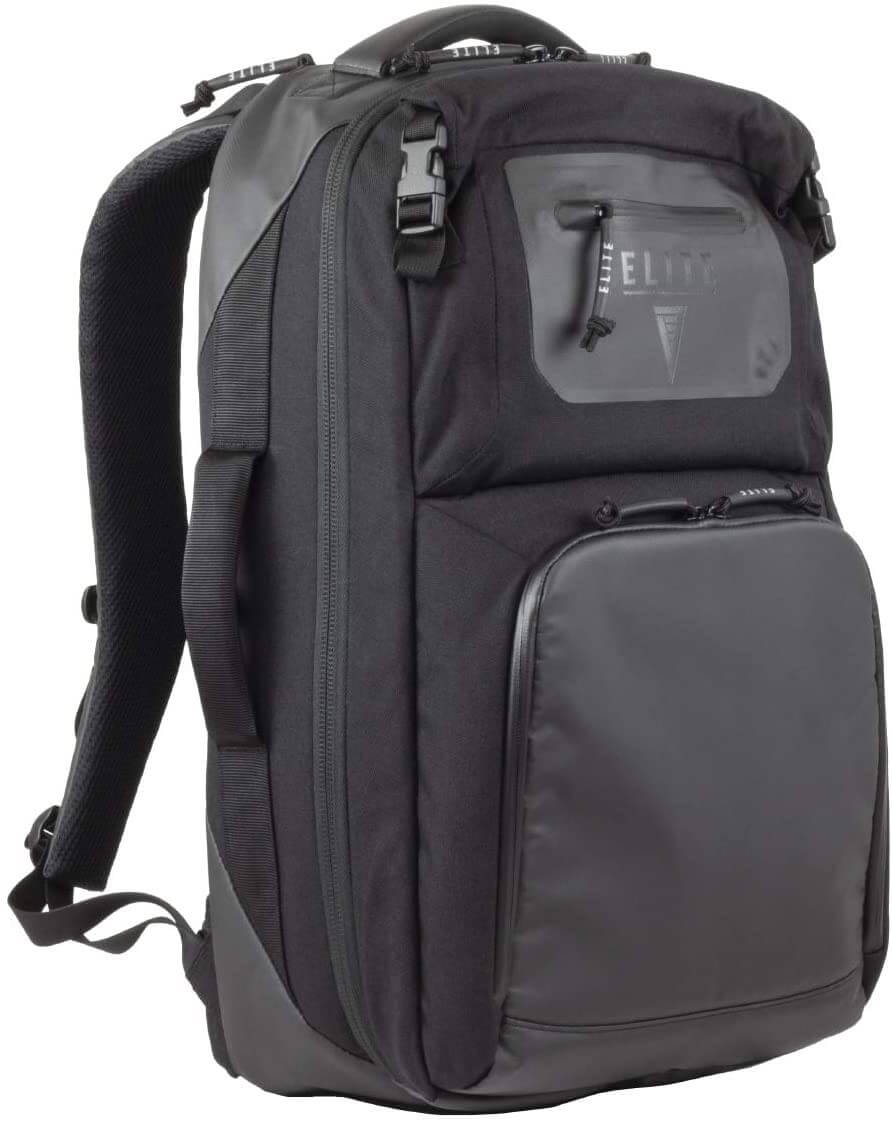 This one has even furnished it with a tie-down system designed to hold a short-barreled rifle in place and a zippered mole panel for your armor and ballistics. It's a fully functional tactical backpack with a deceivingly generic outlook.
All its 10 zippers are covered, making it water-resistant, and the vented back panel has been enforced by an aluminum stay for more stability. It is heavily padded, which makes it comfortable to carry and also protects your firearm.
5. The GPS Tactical Range Backpack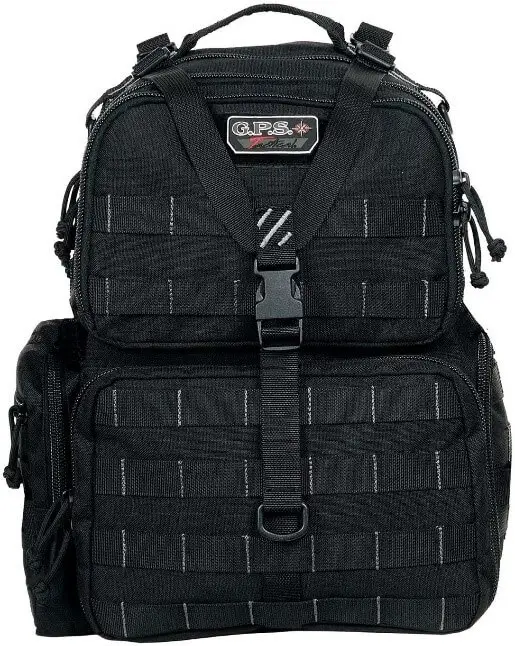 This is a must feature in our list because it has 3 CCW provisions in the form of removable padded pistol storage cases, each able to accommodate a pistol and four magazines. These are secured by lockable YKK zippers and will give you two extra fighting chances if your first weapon is discovered by an assailant or is not working for a reason or another.
It comes with a waterproof pull-out rain cover that enables you to keep moving despite weather extremities.
6. Condor Ambidextrous Sling Bag
This is another bag with a minimalist outlook that enables you to pack your piece without drawing unwanted attention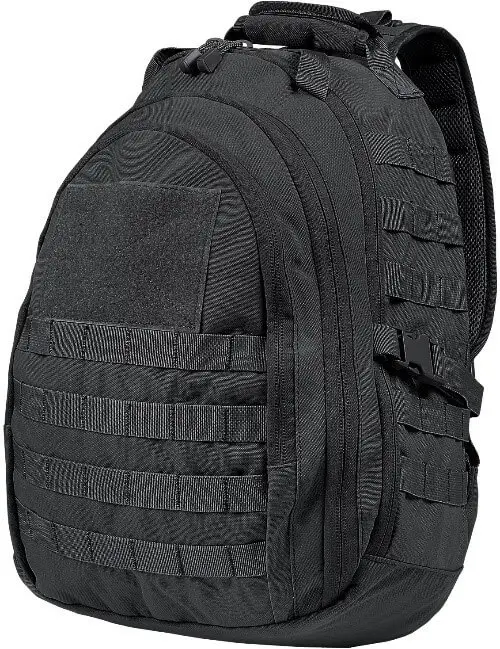 . It has one main compartment and two outer compartments, so you can easily separate your firearm from other items to avoid exposing it to prying eyes. It has multiple pockets and heavy-duty webbing in the main compartment for ease of organization and to keep your items intact.
The shoulder strap of this concealed carry bag is uniquely designed to be ambidextrous, making it easy to haul over longer distances; both shoulders share the weight.
7. Maxpedition Sitka Gearslinger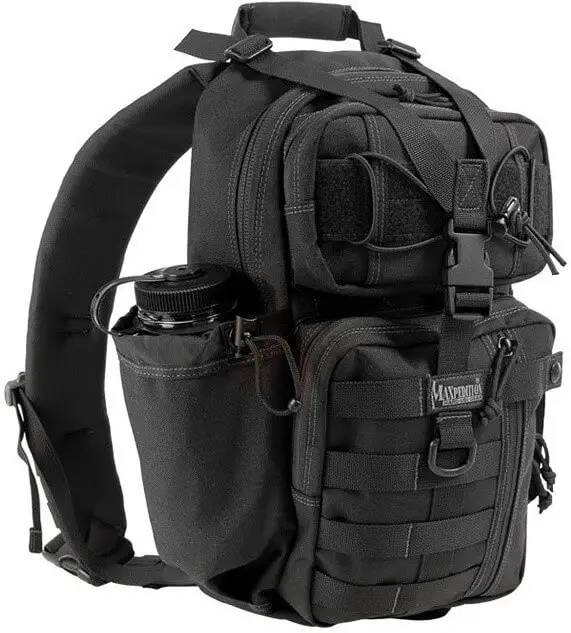 It has an easily accessible CCW pocket on the side with lockable zippers that can accommodate large pistols. You can easily swing the pack to the front while still wearing it to access your firearm.
It was originally designed for law enforcement professionals out in the field and is strong enough to take a firearm's weight without losing shape. It is made of 1000 denier ballistic nylon fabric, which is water-resistant.
It has a hydration compartment that can be converted to accommodate your gun accessories without exposing them to the public.