As you gear up for hunting, there is always a resistance to allocating resources to a backpack as opposed to the actual hunting gear. The winning combination has always been seen as hunting skill and efficient hunting tools. True as this may be, the tools need to somehow make their way to the hunting ground, and even the most skillful hunters require comfort and peace of mind to concentrate on the task at hand.
A great hunting backpack is essential to attain this level of efficiency, and you should exercise due diligence, so you don't end up pulling the trigger on what you think is a deal only to find out it does not suit your needs at all. The opposite is also possible; spending on an expensive backpack only to realize there was one closer to your range with all the attributes you needed.
Here are some of the basic things to consider as you shop for that rifle backpack that is best suited for your hunting needs.
Weapon Storage
A hunting backpack should come with a gun or a bow holder; otherwise, it will just be a backpack that you took hunting. You need regular relief from carrying your weapon by hand so that you can perform other tasks.
It should secure the weapon such that it does not accidentally discharge or get caught in vegetation or any other impediment in the terrain. The weapon should also not be easily accessible by a third party who may want to pry it from your possession. The accessories required to discharge the weapon should be easily accessible for swift action.
Capacity of the Pack
The backpack size is measured in terms of how much volumetric space it has in cubic inches or liters. The backpack should have the capacity to accommodate all your hunting gear and other necessities like snacks, water, and communication devices. What does not fit inside the bag can always be fitted on the outside using a combination of molle webbing and straps guaranteed to hold everything together.
Many considerations are in play when determining the right size for a hunting rifle backpack. Besides the type of gear, you need to consider the trip's duration as the longer it is, the more supplies will be required. Also, keep in mind the type of game you are hunting and whether you intend to haul it inside the pack (which is easier) or carry it separately.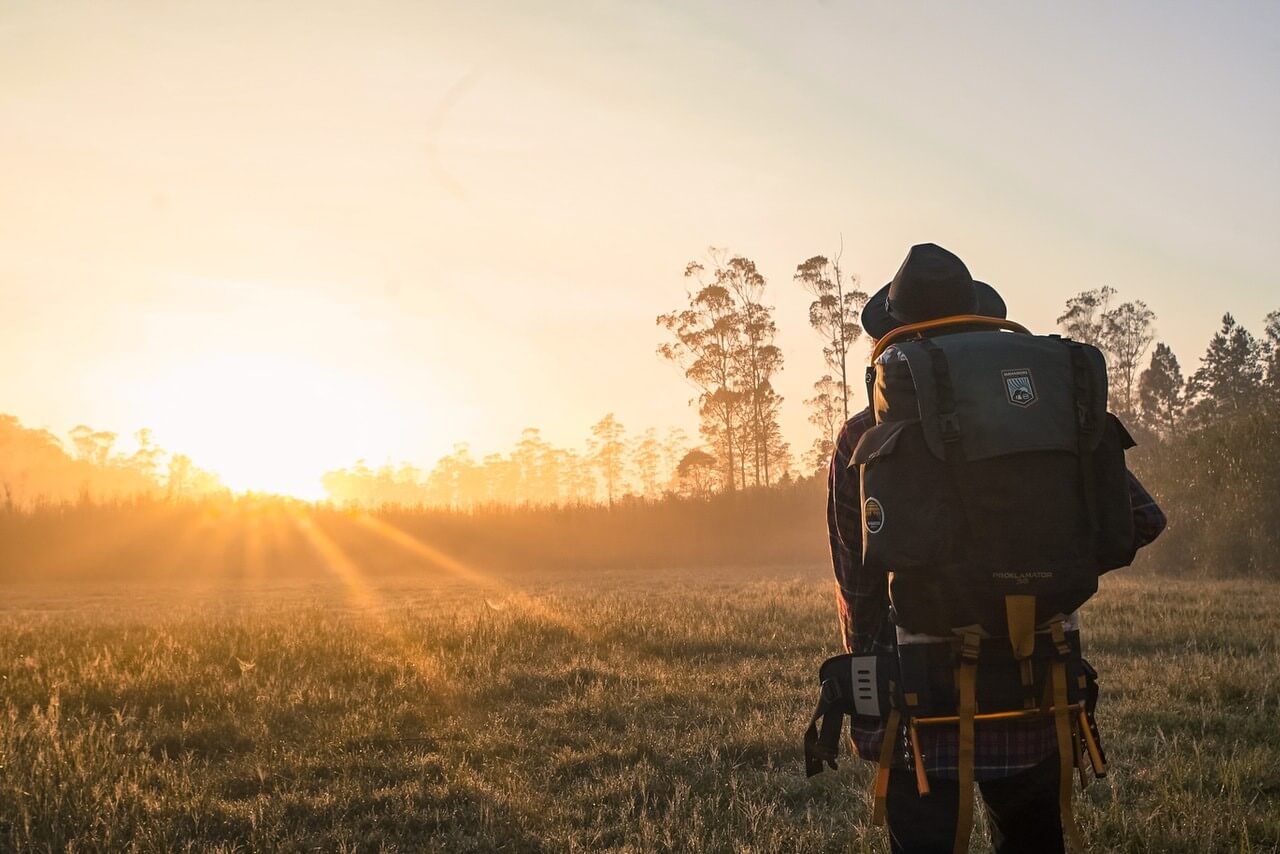 Your range starts from fanny packs that carry basic hunting gear for short-term excursions to day packs where you can include a change of clothing, extra ammo, trail cameras, scopes, and a collection of small hunting tools. Day packs have an approximate capacity of around 3,000 cubic inches.
Then there are the slightly bigger overnight packs with a capacity of up to around 4,000 cubic inches and full monster expedition packs, which extend up to 7,000 cubic inches. These can be sufficient for days and can haul everything you need.
While an expedition pack like the WintMing 70L Tactical Hiking Backpack will accommodate everything you need, it is more conspicuous and heavier to haul around. You should try to be as minimalistic as possible for ease of movement and endurance by carrying no more than what you need for the hunt.
Some packs like the ALPS OutdoorZ Pathfinder Hunting Pack and the ALPS OutdoorZ Big Bear are designed to enable you to enjoy both worlds without purchasing separate hunting backpacks for different occasions. They are lumber packs that can be transformed into daypacks whenever more space is required. A daypack is simply unrolled from the fanny pack, providing an additional 1,100 cubic inches of space.
Sound
In hunting, stealth goes beyond camouflage; it is also about the ability to be silent. Some game like whitetail deer and turkey are very sensitive to even the slightest noises and will take off immediately. This results in missed shots and wasted ammunition.
The pack shouldn't make any sound as you move around when in contact with your skin or as it rubs against trees and shrubs.
Water Resistance
Quality rifle backpacks should protect the gun from rain. Firearms and water do not mix. You should be able to shield the sensitive parts of the gun from direct exposure to water.
Access to Hunting Equipment
Bullets, magazines, range finders, and binoculars should be stored within arm's reach because they are used in the heat of the moment, and you may miss opportunities while looking for them. Any decent rifle backpack will have adequate systems for organizing these items in an easily accessible manner.
Now let us explore a hunting backpack that we feel embodies all these attributes we would recommend for a beginner.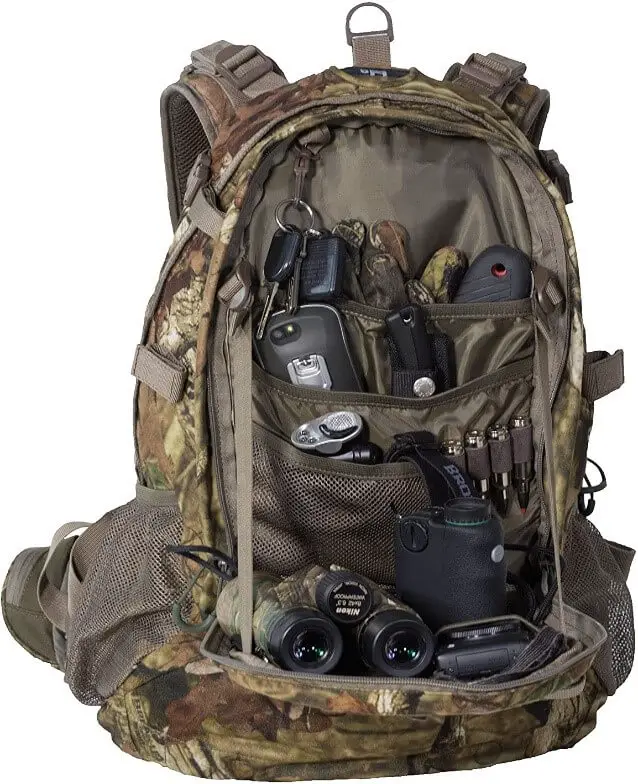 It comes with a unique lashing system that secures your bows or guns as you scour the terrain. It is capable of holding many bows and is compatible with several gun models.
They hang at just the right height, which is not too high to get caught on the limbs of trees and bushes, or too low they hit your legs. The waist belt also has clip-style holsters for a small firearm, and it has quiver holders on each side.
You will find a small pocket stuffed with a rain fly at the bottom of the bag that can cover the entire bag and its content on a rainy day.
The many pockets, lashings, and molle attachments offer quite a number of setup and organization options for your tools and gear. It has a designated organizational shelf pocket on the front to keep your most needed gear easily accessible. The waist belt has easily accessible pockets where you can keep your bullets or magazines to easily reload if the previous shot was not successful.
It is made of polyester but feels like felt because the material has been treated to resist water. This material does not make a sound as you secure your vantage point.
Although it does not have a designated position to pack meat, the main compartment has sufficient storage space if you have a game pack. You can lash the contents of the main compartment on the outside of the bag to create space inside to accommodate your meat.
A rifle backpack is a critical hunting accessory for all kinds of expeditions. Its basic functions cut across all hunters, but the one that suits your particular needs will depend on how you plan to execute your hunting expeditions. A versatile bag is recommended for beginners before you curve your niche and specialize.