Fanny packs are a convenient means of carrying minimalistic gear or tools when hiking, camping, or working on a project. We prefer them because they hardly get in the way, and we can move with agility without having to lay our tools down, which often results in us looking for them the next time we want to use them. You will see them worn like belts on the lumbar region or groin area, depending on the design and user preference.
Shoulder straps are a great addition to a hunter's fanny pack because they restrain the fanny pack from flopping around past your butt or falling off entirely due to the weight as you move. A hunter who intends to use a fanny pack will definitely need a shoulder strap. Agility is key in the game.
Today we shall review 5 of these fanny packs with shoulder straps that come highly recommended to figure out what sets them apart from the rest and find out just how beneficial they can be to a hunter.
1. WOTOW Multi-Functional Fanny Pack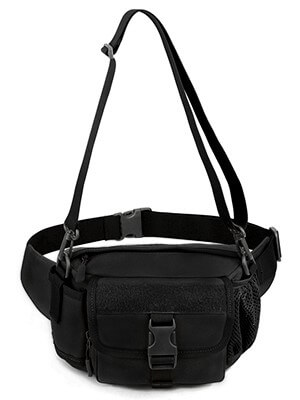 This is a fairly priced workhorse that is guaranteed to return your investment due to a combination of durability and functionality. Both the belt length and shoulder straps can be modulated to upwards of 46 inches, giving you a wide range of fitting options, making it possible to customize the fanny pack to your body frame and preference.
The waist and shoulder straps are both detachable, so you can carry it as a fanny pack or a sling bag if you prefer (when the distance to be covered is not long or the load isn't heavy).
They have quick-release buckles to make this transition seamless. Using both straps at the same time gives you better weight distribution and frees up your hands. It is made of 100% tear-resistant polyester and has been reinforced such that it maintains its shape and hardly droops even when full. The zippers are made of high-density nylon parachute rope and are very silent in operation.
It will not attract undue attention when you are out hunting. We love it because with all these great features you do not have to break the bank to afford it.
2. Timber Hawk's Gut Hook Waist Pack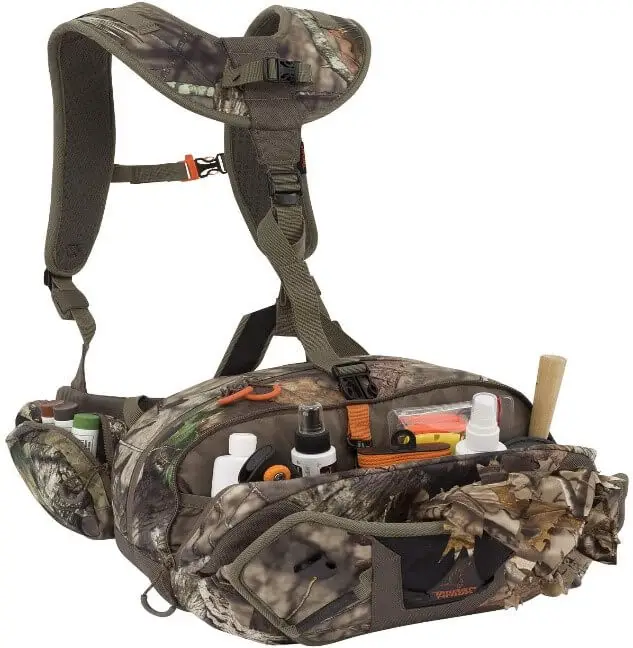 This fanny pack comes with a yoked and padded shoulder harness system which enables you to comfortably haul its entire 15.2-liter capacity without digging into your shoulder.
This shoulder harness is attached to an adjustable sternum strap that helps to fit it better to your body and houses an emergency whistle. A whistle will facilitate reaching out in case you need to call for help or relay your location to a rescue team.
This camouflage fanny pack has a padded waist belt with high-density breathable foam, making it comfortable to wear in any environment. It also has side webbing that can be used to secure additional gear outside the pack, such as a quiver, sidearm, or bear spray. This keeps them within arm's reach for emergencies.
The design of this hunting fanny pack enables you to transport a compound bow without engaging your hands which is a unique feature for a fanny pack making it stand out. You can use the numerous accessory pockets to arrange your accessories according to your preference on each hunting trip.
It has three waist pockets and a sizeable main compartment with three interior accessory pockets. The possibility of carrying a compound bow and its associate quiver and other hunting equipment is what made this fanny pack stand out for us.
3. Badlands Monster Fanny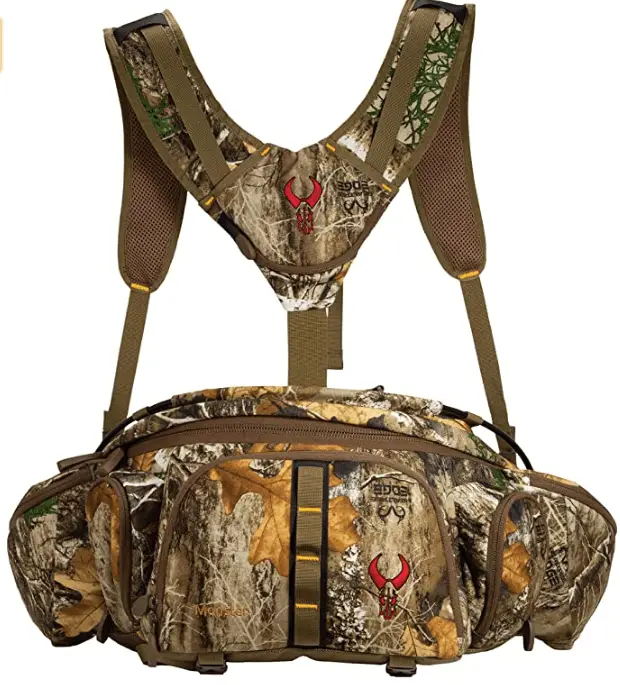 The Badlands Monster fanny pack is hard-wearing due to the application of Badland's tough yet lightweight KXO-32 material that is also extra waterproof thanks to C6 DWR durable water repellent treatment.
It is tacked with aramid thread that is very strong (a strand of fiber can hold up to 100 pounds). This is assuring as it won't let go and come apart at the stress points. This is an important feature for a bag with a capacity of 1,100 cubic inches.
Badlands' molded memory foam suspension carrying system ensures the shoulder and hip straps do not cause discomfort by digging into your body. The padding is comfortable to begin with, and the mold conforms to the contours of your body as you keep wearing the fanny pack, eventually adjusting for the perfect fit.
The Badlands Monster fanny pack has seven storage and accessory pockets to accommodate your hunting gear in whichever arrangement you prefer. It is reinforced by a Delron Flex Frame, which ensures it maintains its shape even when it is carrying heavier loads, so the items don't start bulging out unnaturally.
It caught our attention because of its eerily realistic Realtree Edge Camo pattern that makes the bag disappear in a forest setting, even at close range(ironically). This is every hunter's dream.
ALPS OutdoorZ Packs
It would not be fair to you if we concluded this list without mentioning the world's most reviewed brand of fanny packs and hunting gear in general. ALPS OutdoorZ was established by ALPS Brands, their mother company, in 2007. The goal was to develop quality performance-driven hunting gear, which they have successfully done for more than a decade now.
Besides packs, they offer sleeping bags, furniture, ground blinds, gun cases, and other hunting and camping products. We have included two of their best shoulder-strapped hunting fanny packs in this review.
4. ALPS OutdoorZ Little Bear Hunting Pack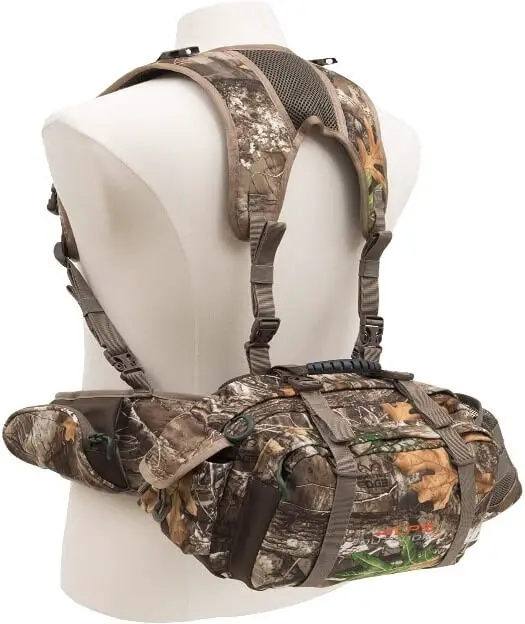 This tactical waist pack has four pockets of different sizes, a large main pocket, a front pocket, and two side pockets. The removable waist belt also has two extra pockets. These are adequate to carry your hunting gear and organize them in a manner that is easy to access.
The waist belt and shoulder straps are removable, which leaves you with various ways to wear your fanny pack. It can be a swing bag using only the shoulder straps, a fanny pack without shoulder straps, or a fanny pack with shoulder straps.
The latter is preferred when you have loaded the pack to its full capacity as it helps distribute the weight and prevents the pack from sagging below the waist.
Both the shoulder harness and waist belt are wide and padded for extra comfort. They spread the weight and will not bore into the skin or exert extra pressure, which usually happens if a pack is worn for long.
The Little Bear's modularity allows you to accessorize with hunting essentials such as binoculars and turkey calls. It has a custom call pocket and binoculars pocket that are sold separately and can be clipped to the front.
It also has an optional game bag which will facilitate getting the catch home clean without exposing it to flies and dirt or soiling yourself with it.
It is also made of the Realtree Edge Fabric that is camo-ready and allows you to blend with nature. We selected it for its all-around versatility and multiple recommendations from expert hunters.
5. ALPS OutdoorZ Pathfinder Hunting Pack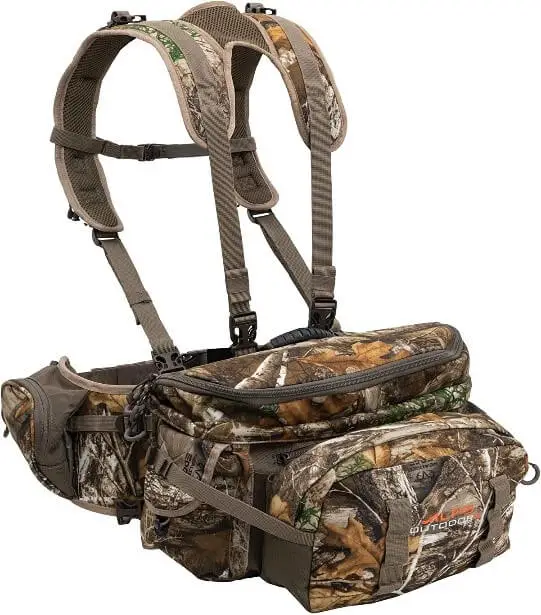 It is also compatible with the ALPS OutdoorZ call and binoculars pockets which you can clip to the front for easy access in your hunting expedition.
This pack is designed to secure and comfortably carry heavy loads. It even comes with extension lashing straps for larger items. When more room is required, a daypack is unrolled from the fanny pack, adding an extra 1,100 cubic inches of space.
The daypack section has a hydration pocket and port, so you don't need to carry your water with your hands. When using it as a daypack, its universal design can fit various compound bows in its bow pocket.
It also has a drop-down pocket where the butt of your rifle lies, allowing you to carry the rifle safely when you are not using it. This frees up your hands for other activities.
We chose it because of the ability to transform from a lumber pack to a day pack whenever you need more space. This makes it the most versatile installment in the ALPS OutdoorZ line of fanny packs yet.
The most important hunting skill is staying focused at all times. It gives you an upper hand over your prey and allows you to take in the environment so that you can rig the situation in your favor. This can only be attained when you have no distractions of any kind.
Distractions may come in the form of trying to locate items in your fanny pack, fatigue from carrying too much weight, among other reasons. Therefore, a well-organized fanny pack that is comfortable to carry is an often unappreciated component of a successful hunting expedition. It should be taken seriously when laying down the logistics of any such activity.