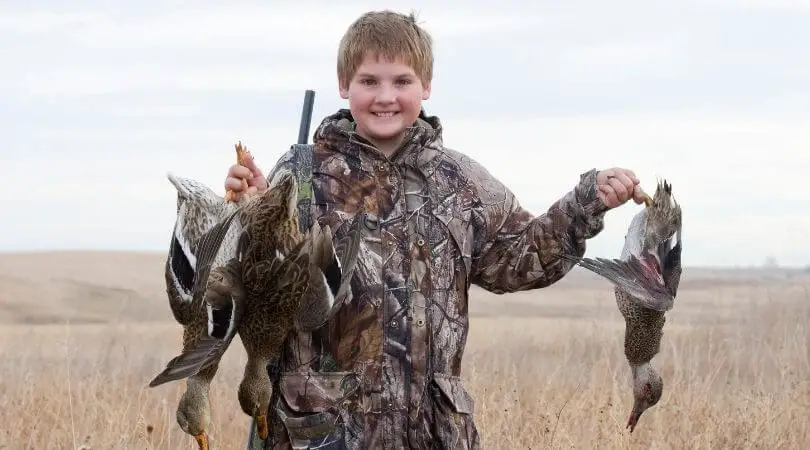 Duck hunting
When you go duck hunting, you need the best duck hunting waders, which are waterproof overalls to keep your clothes and body dry even if you walk through deep waters.  
With a pair of waders, you can be more successful on duck hunting expeditions and stay protected despite venturing into dangerous, cold, and wet terrains.  
What Are the Best Duck Hunting Waders?
There are a variety of waders designs to suit different people. Waders are a better option compared to hip boots because it is easier to move in and it allows you to tread into deeper waters without getting wet.  
In this handy guide, we will look at and compare some of the best waterproof waders with boots. All these waders are easy to put on and will improve your skills during duck hunting expeditions. 
This is a good pair of waders to wear over your clothes because the waders are very wide and come in various sizes. The Realtree Max 5 camo color is perfect for camouflaging in swampy or river regions during duck hunting. 
These waders are not lined but are made of a tough neoprene shell with double layers over the knee area. All seams are fully sealed to ensure a fully waterproof wader. The chest area has a large pocket for you to store small items or slide your hands underneath to keep them warm.
The boot foot design will protect your feet from the cold or wetness and will also offer protection from sharp objects or snakes. These boots are not made with the thickest insulation, which makes it more suitable for warmer weather hunting expeditions. 
Specifications
The waders by Frogg Toggs are slightly better than the previous set because they have a more impressive front and back design. Many feel that the Velcro suspenders are not the best idea because it is tough to stay in place.
The waders are made of a tough neoprene shell that is 100% waterproof and reinforces on the knees. You can get these waders in three different colors.  
There is a large pocket on the chest with a fleece-lined hand warmer pocket beneath it to help keep you warm. The waders unfortunately don't have other pockets or shell holders.  
The boot-foot design will protect your feet from getting wet but with just 600-gram insulation and no interior liners, these waders are not the best set for colder climates.  
Specifications
These waders are a good pick for slightly colder regions because they have 1,200-gram thinsulate boots that will keep your feet nice and snug.
This pair is only available in one color, but it comes in various sizes. It is also designed with an outer layer made of neoprene. Unlike the other waders on our list, this one offers even more protection because the leg area is coated with polyurethane.  
The boot foot design is ideal for hunting in wet and swampy regions. The boot has 8mm wool midsole insulation and the buckle strap design is fully adjustable.  
Specifications
These waders by Drake are ideal for hunting in extremely cold temperatures because they come with a removable 125 to 200-gram liner that insulates your body from the cold.
The waders are available in three different colors: Green Timber, Realtree Timber, and Mossy Oak Bottomland. They are made of highly durable 100% polyester and Guardian Elite3-layer fabric that makes them waterproof.
The boots of these waders are some of the highest quality boots you can find. The design has buckshot mudder boots with 1600 grams Thinsulate. These thicker boots will protect your feet and keep you nice and warm.
Some of the key benefits of the wader include lots of storage pockets, handwarmer pockets, and 6 shell holders that make these waders ideal for hunting. 
Specifications
If you love waders with lots of storage, then this pair by Frogg is the right pick.  
These waders are made with durable waterproof neoprene fabric.  The waders don't have any lining but a wide design makes it easy to layer your clothing underneath the waders.  
The waders come with 1200-gram Thinsulate boots that are fully lined with neoprene.  These boots are perfect for relatively cool climates and they have removable EVA inserts that are ideal for reducing pain in your feet when you walk long distances. 
The waders have a large chest pocket, internal fleece-lined hand warmer pockets, and 11-count shell holders on the chest.  They also come out with 2 removable 7-count shell holders on the belt that you can either keep or take off.  
Specifications
What Size Wader Should I Buy?
It is always best to check out the size guide before you buy a pair of waders. The boot length sizes are not always standard, and some companies offer additional sizing options for you to consider.  
Wader sizes are usually determined by their boot size, but there are some brands like Drake that provide additional size options such as taller, shorter, wider, and slimmer waders. In most cases, you can simply buy the waders that correspond with your foot size. 
Most companies manufacture waders with a very wide size (usually around 40) so these waders will fit comfortably over your clothes and can be worn by people with different waist sizes.  
The waders usually come with a belt that you can use to draw it closer to your body for a more snug fit. These bigger sizes may feel a bit too baggy, but they're ideal for layering over your clothes so you can stay warm in different climates.  
For many, it is better to buy a slightly bigger pair because this ensures that the boot won't pinch and will allow them to layer socks in cold climates.
Final Thoughts
We hope this guide helped you find the best duck hunting waders to wear. If you are looking for other quality accessories, you should hop over to some of our other guides to learn more about other quality products.