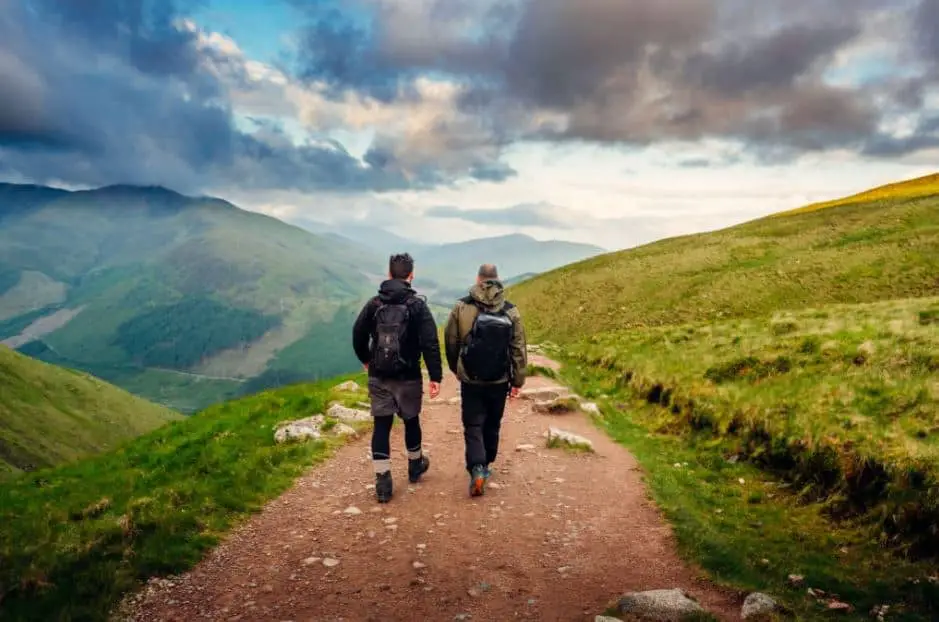 Truly, any distance you get outside is going to be a good thing. One mile? Five? Ten? Forty? It's all awesome — go for it! But to give you a frame of reference, let's bookend the extremes.
On one side, the record holders for speed hiking average 40-plus miles per day on the Appalachian Trail and Pacific Crest Trail. On the other side, most public lands require that you hike at least a half-mile from the trailhead before setting camp.
Personally, I think hiking 1 to 2 miles one-way is ideal if you want to stick close to home on a first-time backpacking trip, especially if you're camping with kids and telescoping with them (Here's best rated telescoping ladder.) Once you're more comfortable, anywhere from 5 to 10 miles each day is a whole lot of fun.
Read Article: Things You Must Carry on Your Backpack While Hiking
Planning Group Hikes
As a general rule if it feels good, is within your physical capabilities and gets you away from the city and crowds, it's the right distance for you — but if you're planning a group trip, make sure that everyone is on board for the type/length of backpacking outing you've got in mind. If some members of the group want to log more miles, they can make extra/longer sorties from the group base camp.
Gauging Your Distance
Once you have the hang of the whole backpacking thing and want to cover some longer hikes, here are a few different ways to figure your average per-day hiking distance:
A good estimate: If you're in good shape and pack light, logging 10 miles a day is no problem.
Once you're in a good thru-hiking groove, doing 20-plus miles a day on easy terrain is not uncommon… but not everybody actually wants to walk that far.
Some folks prefer to lounge around camp for a while, walk more slowly, or make frequent stops to soak in the backcountry beauty.
A better estimate: In the late 1800s, a Scottish mountaineer named William Naismith crafted a formula for estimating hiking time: One hour for every three miles, plus an extra half-hour for every 1,000 feet of altitude gained.
There's just one little problem with that: Your typical hiker averages closer to 2 miles per hour on uneven ground. Make that adjustment to the formula and you've got a pretty good estimate.
The best estimate: Take a few day hikes with your fully loaded pack — it won't take you long to figure out how much distance you can handle while still having fun! And you'll be getting a great workout at the same time.
Just keep in mind that you're going to have to do the same thing the next day(s) on the way back — so if you feel like you need a day to recover after a 15-mile day hike, better keep your backpacking outings to less than 10 miles per day until you can work up to the longer distances.
Other Things to Keep in Mind
Just because there are 24 hours in a day doesn't mean you're going to spend all of them hiking. Remember to leave yourself time for a full night's sleep, setting up and breaking camp, exploring your surroundings, and opportunities to stop and eat at least two hot meals per day (usually breakfast and dinner), plus lunch and snacks on the trail.
And again, the only "right" way to backpack is doing it safely! As long as you're outside, you're enjoying yourself and you're following Leave No Trace ethics, it's all good.