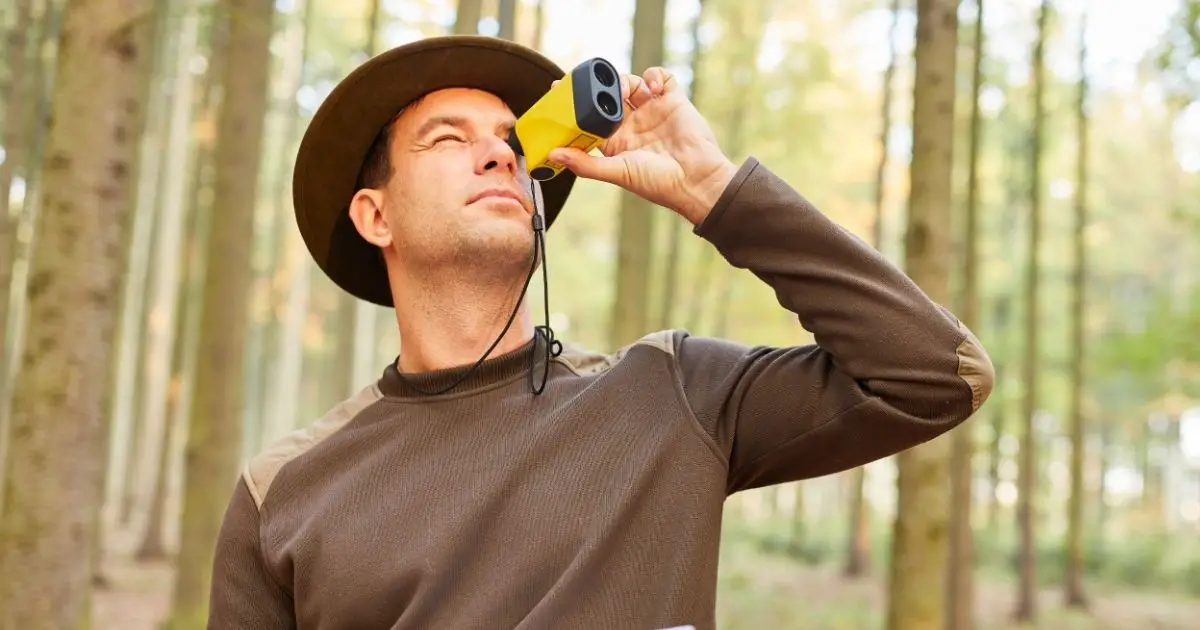 If you're into long-range shooting or hunting, there's no reason you shouldn't have ballistic rangefinders in your arsenal. These precision-based devices provide you with the distance and other valuable correction data to make accurate shots. 
Finding the best rangefinder with ballistic calculator isn't always an easy job. There are hundreds, if not thousands, of different options available in the market. Some of them can be quite confusing, especially for beginners in this field.
So, in this article, our team has researched and compiled the top-rated options. We've also detailed the factors that make up good ballistic rangefinders. Read on to find your perfect pick!
What is a Ballistic Rangefinder? 
A ballistic rangefinder is a rangefinder with a built-in ballistic calculator. The rangefinder measures the distance between you and the target. Meanwhile, the calculator provides you with the data required for a precise and accurate shot. 
The types of data vary from one ballistic rangefinder to another. Usually, it will analyze the environmental inputs (information about environmental factors that you manually enter before shooting). Then, it will calculate the correction for air resistance, gravity, and wind deflection. 
Although many aren't aware of this useful tool, having it is almost mandatory for long-range hunting and shooting. Not only does it increase shot accuracy levels to great extents, but it also saves the bullets from being wasted. Plus, it comes at a fairly affordable price.
Reviews of the Best Rangefinder with Ballistic Calculator 
If you're looking for the absolute best ballistic rangefinder, there's no better choice than the Vortex Optics Ranger Laser Rangefinder. It is a simple and easy-to-use tool designed for all skill levels. 
While the illuminated display and clean menu make navigation easy for beginners, the advanced 1,800-yard range offers competitive shooters a chance to polish their long shots. It features a primary HCD mode that displays an angle compensated distance. All types of shooters and hunters should find it useful.
The rangefinder also has an advanced LOS mode. It enables you to measure long distances and high-angle shots with unbeatable precision. The scan feature provides continuous readings as you track the target and view the landscape. 
What's more, the rangefinder has adjustable brightness settings that make usage possible in all light conditions. The overall build is also water and fog-resistant to survive the harsh outdoors. 
All in all, the Vortex Optics Ranger Laser Rangefinder is a great pick for both beginners and experts. Its easy-to-use design, coupled with advanced features, makes shooting precise yet fun.
Are you hesitant about spending hundreds on a ballistic rangefinder? Well, worry not because there is an amazing low-priced option here to help you out: the ATN Auxiliary Ballistic Rangefinder!
This affordable tool has a compact and lightweight build that makes it easy to hold for long periods. Your hand won't shake or ache while you pan across the landscape. 
Also, the rangefinder has a high-quality aluminum structure that can withstand most damage. No need to worry about inaccurate readings after accidental slips and falls!
As for the ballistic calculator, it offers you unmatched precision up to a 1,000-yard distance. You can easily range the target from long distances and angles. It's also possible to integrate the calculator with your smart scope.
Just press the calculator button on top, and both devices will integrate for easy ranging. Typically, you can pair it with ATN's X-Sight 4K, X-Sight II, and ThOR 4 scopes. Since you only need to press the button, the process will hardly take a few minutes.
You can even connect it with your smartphone. The rangefinder will add a distance tag to all your hunting videos. You'll always know how far you were when taking that perfect shot!
The ATN Auxiliary Ballistic Rangefinder is an amazing choice for people who have budget restraints. It does not offer advanced features and drains batteries quickly, but it performs its basic functions well. 
Here comes another ballistic rangefinder from ATN, though this one takes things to the next level. It is a portable and sturdy rangefinder that is completely waterproof. You can rest assured that the unit won't fail during unfavorable weather conditions.
On top of that, you won't ever miss a target with this ballistic rangefinder. It offers outstandingly accurate measurements for distances up to 1,500 meters. That's about 1,640 yards!
The rangefinder also has smart Bluetooth compatibility. That means you can pair it to your phone and other smart scopes for streamlined calculations. However, the real benefit of this compatibility unlocks after you download the ATN smartphone app. 
All you have to do is enter the environmental data, and the app will do all the calculations while you scan the landscape. It also lets you create more than a dozen profiles for rifles, ammo, and scope combinations. With the app, you're always ready to make quick adjustments and start shooting. 
Perhaps the sole drawback of this brilliant ATN ballistic rangefinder is that the button for ranging distance and changing modes is the same. If you're not careful, you can end up switching modes instead of measuring the distance. Nonetheless, the unit comes stocked with amazing features.
Easy and precise, ATN's theOpticGuru Ballistic Calculator Rangefinder possesses many features from the previous models. It features a similar, user-friendly design. You'll find it to be handy, portable, and robust.
It also has a unique fog mode that enables you to read distances in even the most challenging weather. The thing that makes it stand out most, though, is the value provided for the price. 
This unit is not only easy-to-use, but it is highly precise in its calculations for up to 1,500 yards. It can provide corrective data for many useful factors.
Plus, the presence of Bluetooth technology means you can pair it with your phones, scopes, and other devices effortlessly. Download the app, pair the devices, and receive data for the perfect shot instantly. Unfortunately, this ATN's respective app went through its last update a few years ago.
So, you might not be able to pair newer phones. But worry not because one call to their responsive customer support will have the problem sorted out in no time!
Overall, if you wish to get a reliable and quality rangefinder within $300, theOpticGuru Ballistic Calculator Rangefinder is an ideal option. It will serve you well in basic hunting trips or even shooting competitions. 
If you don't mind spending about $1,000 on a hunting tool, we highly recommend the Burris Eliminator Scope with ballistic rangefinders. It is basically a rifle scope that features a built-in ballistic calculator, a rangefinder, and even an inclinometer. You get an all-in-one unit designed to take down targets in a single shot.
The Eliminator has a high-precision ballistic calculator that determines the target distance and factors the trajectory with immense accuracy. You won't have to take repeated readings again and again. One scan over the landscape will produce the data necessary for a flawless shot.
Its inclinometer makes things even better by offering accuracy when shooting on steep, undulating lands. Also, the rangefinder goes beyond 1,200 yards to ensure you can take ethical shots even at the farthest distances.  
Moreover, the Eliminator has a premium lightweight build made from the finest materials. It is easy to use, carry, and attach to the rifle. Almost anyone can make use of this incredible tool, but experts will benefit the most.
As the name implies, the Eliminator indeed eliminates all the guesswork and extra variables to make your hunting more efficient. Certainly, this is a must-buy for professionals and experts.
How to Choose the Best Rangefinder with a Ballistic Calculator? 
There are many factors worth considering in ballistic rangefinders. Of course, the research and comparison between different products can be very time-consuming. For those short on time, here's a quick guide on how to choose the best one. 
Design & Build Quality
Ballistic rangefinders are generally easy to use and grip. But, if you're a complete beginner, you'll want to pick one with illuminated displays and highly intuitive menus. These features will make navigation super simple.
Beyond that, consider the overall build quality. Since hunting fields do not always have ideal conditions, you'll want a sturdy ballistic rangefinder. It should also be waterproof and dustproof to prevent any sort of damage.  
Distance
Rangefinders are for calculating long distances, but ranging capability varies between different models. Some rangefinders can measure up to 500 yards, and some go beyond 1,200 yards!
Consider the average distance over which you shoot, and choose accordingly. Most people do well with a 500-yard range, though a competitive shooter may find 1,000+ yards better for an ethical shot. Learn what is the best distance for shooting an animal here!
Advanced Features
We've already discussed the basic functions of a rangefinder with a ballistic calculator. It will coordinate with the input data to provide corrective values for air resistance, wind deflection, and gravity. Some models come with advanced features that are definitely worth the extra cost.
For example, the fog mode in theOpticGuru ATN Laser Ballistics Range Finder is very handy. It ensures accurate measurements even in difficult weather conditions. Similarly, the adjustable brightness settings in Vortex Optics Laser Rangefinder make sure you have a good view of the calculator both day and night. 
Compatibility
Generally, groups of people are present on a hunting trip, so there is always someone to hold the rangefinder while you take your shot. On solo adventures, though, things can get tricky.
It's why you should pay special attention to the rangefinder's compatibility. Go for one that is compatible with tripod adaptors so that you can use it on a tripod or even a car window mount. You would also want a rangefinder that can connect to scopes, your phone, and other gadgets via Bluetooth/WiFi. 
Frequently Asked Questions 
Is a ballistic rangefinder worth it?
Yes, a ballistic rangefinder is 100% worth the money. It makes life much easier, taking away all the guesswork and manual calculations. Using it, you can rely on accurate data to improve your long-distance shooting.
How much does a ballistic rangefinder cost?
Usually, a high-quality ballistic rangefinder will cost you anywhere from $150 to $500. The precise value depends on the features and brand. You may also find premium options up to $1,000.
Best Rangefinder with Ballistic Calculator Brands 
Countless brands manufacture rangefinders with built-in ballistic calculators. Our team has handpicked these particular brands for a reason. Here's what makes them our top selections.
Established in 1986, Vortex Optics is a popular American company that specializes in scopes and rangefinders. Since it's a veteran-owned family business, you can expect fine, high-quality products.
ATN stepped into the hunting optics market in 1995. The US-based manufacturer is famous for developing innovative vision technologies. It just recently released its Smart HD technology that takes ballistic calculations, wireless streaming, and much more to the next level.
Burris has been making reliable, durable, and affordable ballistic rangefinders for more than 50 years. Apart from tools, they also have their own academy to make ballistic rangefinder usage easy for beginners.
Wrap Up
All in all, a ballistic rangefinder holds great importance for both passionate hobbyists and professionals. It makes your long-distance shots accurate, precise, and efficient. So, if you haven't bought one yet, do so today!
Still confused about which one to buy? Well, our team compared the top five options included in this list to uncover the ultimate ballistic solution. It turns out that the Vortex Optics Ranger is the best rangefinder with ballistic calculator.
It has the widest distance range (1,800 yards) and advanced modes like HCD and LOS. Additionally, it has a robust, portable, and super-simple design. People of all skill levels can use it without hesitation. A must-buy, for certain!