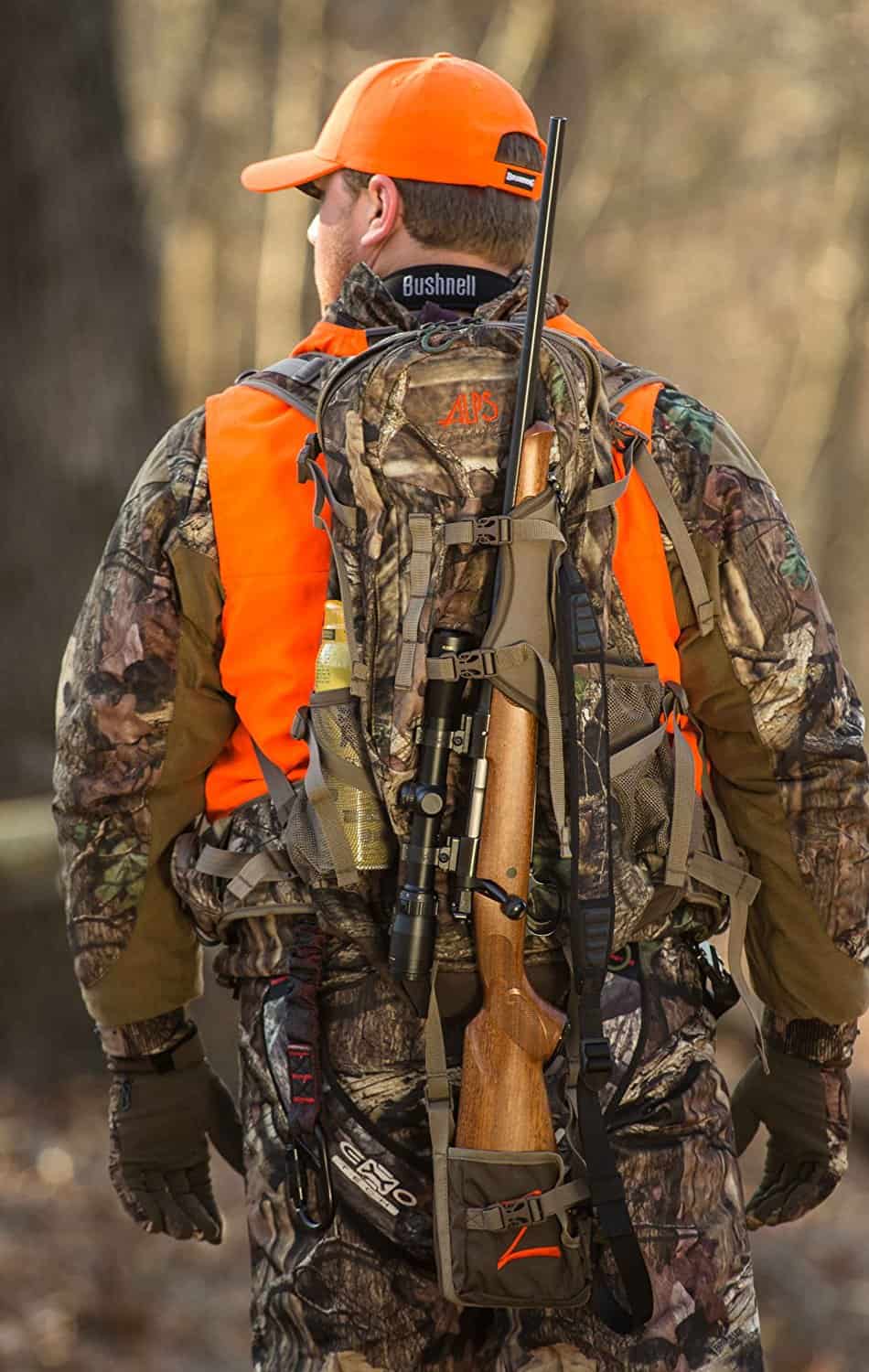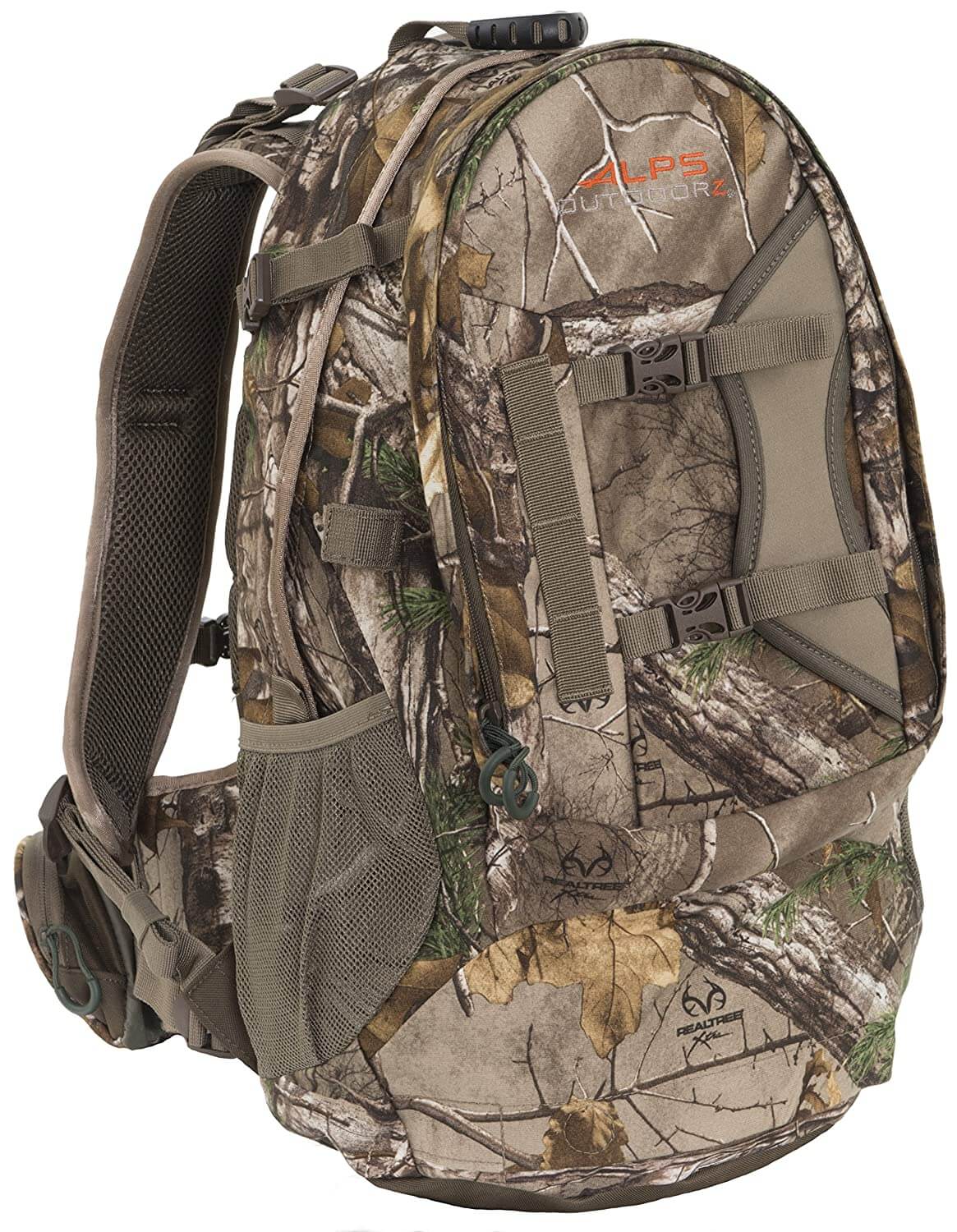 Features of The ALPS OutdoorZ Pursuit Hunting Backpack
Here are the ALPS OutdoorZ Pursuit hunting backpack features that make it the perfect choice for your outdoor activities:
Storage Space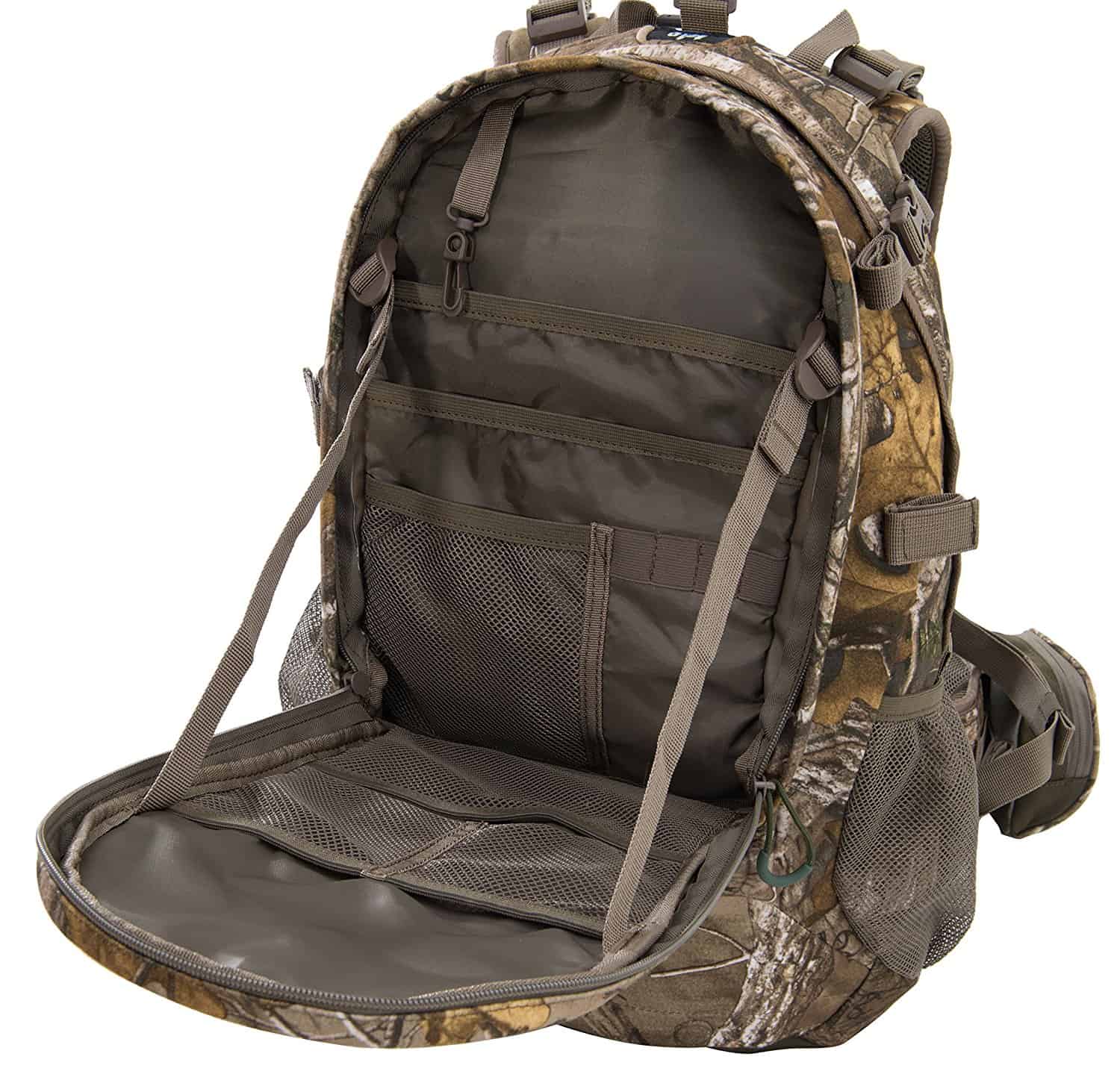 Its size, its weight, its very demeanor is meant for a day's hunting adventure. However, that doesn't stop it from trying to push its carrying limits. And it does.
The pack has some pockets for storage including a large front pocket together with an equally ample main pocket. It also has lower side mesh pockets and a padded waist belt with two pockets.
It features a total of 11 pockets, including the minor ones and two reasonably large main compartments. The pockets at the back of the backpack have a unique design with extra interior pockets to help you properly arrange your hunting gear.
All these grant you a total carrying capacity of an amazing 2700 cubic inches. If there isn't enough room on the inside, you can still lash extra gear on the outside thanks to the webbing loops on the front face.
There should most certainly be enough room for carrying all your gear and more.
Weapons Carrying System
The one feature that sets apart a normal backpack from a hunting backpack is the weapons carrying system. This is what gives these packs the soul of a warrior.
It's what defines a true hunting pack. And the ALPS OutdoorZ Pursuit shows this intent. It was made for the hunter who prefers the use of a bow and arrows. But that isn't all. It was also made for the rifle hunter.
In short, this backpack has a versatile personality that's ideal for all hunters. On either side of the pack, there's a quiver holder.
The placement of this enables you to easily reach your arrows without the need to take off the backpack or to even turn around to search for them.
Additionally, there's a drop down pocket in which a rifle or bow can comfortably sit. This too puts the weapons within reach allowing for a quick draw.
Brushed Realtree Xtra HD Fabric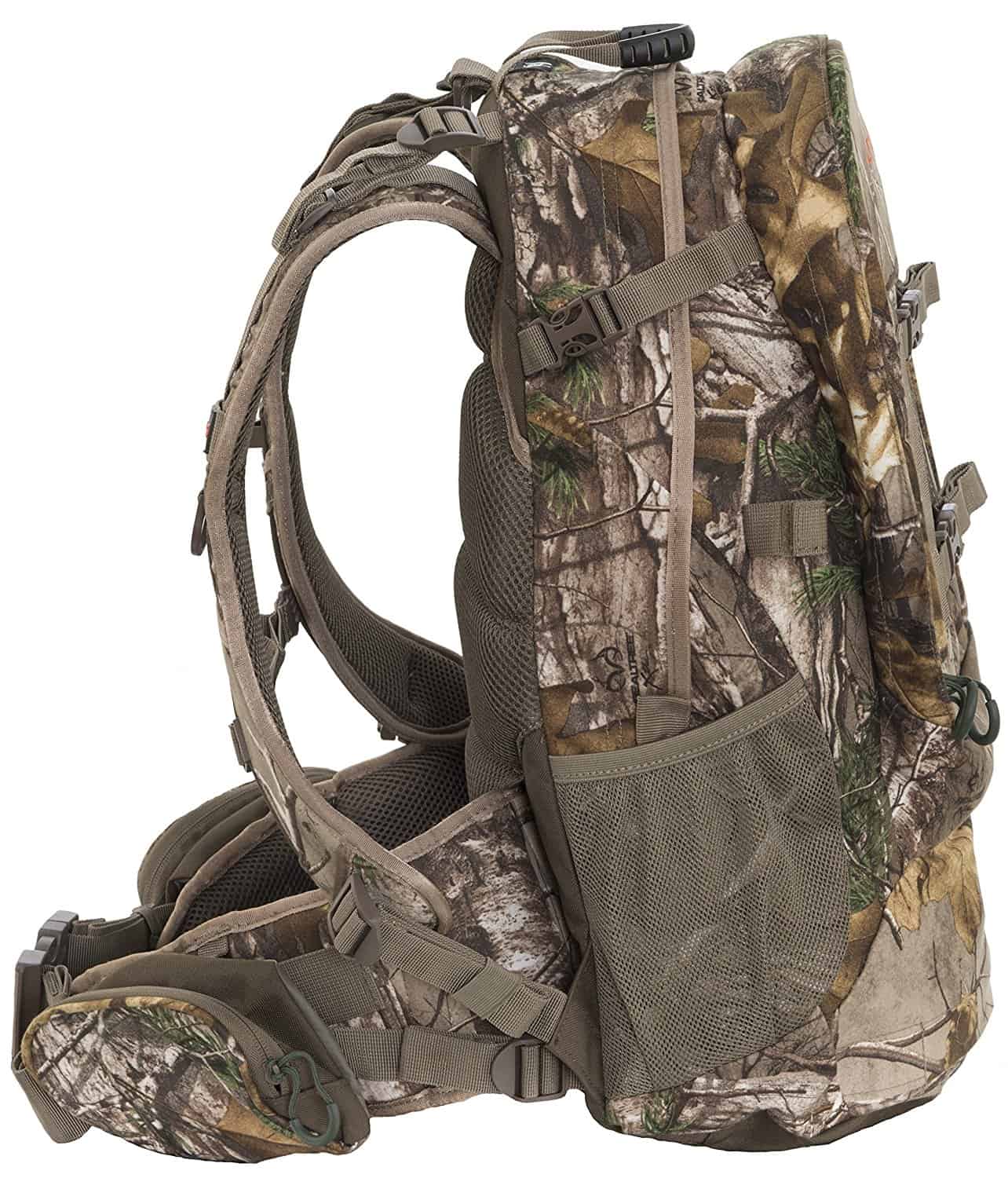 Durability is a quality that defines an excellent bow hunting pack. The Outdoor Z Pursuit sits right up there among the best. Clad in the Brushed Realtree Xtra HD fabric, the backpack is endowed with a hard wearing quality.
The general fabric and mesh fibers make this bag unique. The netting and cushioning on the back surface, as well as the arm and waistline straps, are exceptional and won't stress you out on long hikes. While it provides adequate ventilation, it will keep you warm with its high-quality ventilated design.
This fabric doesn't easily tear. In the face of numerous tree branches and bushes that might cause damage to the backpack, the fabric withstands this brutality allowing the backpack to remain in good condition.
The straps also connect to the firearm boot, which is made of high quality materials that should last. However, the buckles could have been more durable. Although they work fine when turned on and off, they frequently get damaged and have a poor elastic feel to them, which is most likely the cause of the breakage.
The color gives the pack and, by extension, you a much-needed camouflage. It easily blends into the environment hiding you from the animals.
In case it starts raining, there is a blaze orange rain cover included. Simply pull it out and lay it over the backpack to keep the rain from entering the pack.
Design
The product has the perfect design that the avid hunter or hiker needs to add to their trekking backpack collection. It has the traditional boxy appearance with a designed frame, strong shoulder straps, and broad waist belts.
The back support is constructed of cushioned mesh materials that aid in ventilation but aren't nearly as effective as ventilated systems found on other packs. This could be a problem on hot days. However, it does an excellent job of keeping your back dry most of the time.
It's available in two great colors – Realtree Edge and Mossy Oak Country. ALPS OutdoorZ has struck an excellent mix between spacious design and a robust body that can withstand weight.
If your back can handle it, packing 60-80 pounds of stuff in here won't cause any damage to the backpack's structural integrity.
Frame
The frame of this backpack is one of its best features that provides sufficient support to your baggage load, especially if you've overpacked. This backpack strikes a perfect balance between a spacious, yet sturdy, design that acts as the perfect support for your baggage. 
However, the quality and efficient frame doesn't guarantee zero stress on your back. Although it prevents back pain by reducing the load on your back, it can't help you much if you've packed beyond its limit. The frame is made of high-quality aluminum and supports approximately 60 to 80 pounds, which should be sufficient for your trip.
Hydration Pocket and Port
This backpack has your best interests at heart. That's why built into it is a hydration pocket in which you can insert a water reservoir of 2 liters.
As you're walking on, you'll have little time to take off the backpack and reach for a water bottle. That's why, through the hydration port, you can pass a bladder that's connected to the reservoir.
This bladder can then be within your reach. When in need of hydration, simply pick the bladder and take a sip of water. This hydration system is designed to offer total convenience to the hunter on the move
Lifetime Warranty
The confidence you'll have in your best hunting backpack depends on the confidence the manufacturers themselves have in their product. And a warranty is what communicates that level of confidence.
If you get a one year warranty that tells you at least, the manufacturers know it can last a year. A two-year warranty gives you a greater amount of confidence.
What about a lifetime warranty? This shows us that the backpack is designed to serve you throughout your life. And ALPS outdoorz pursuit are so confident in their backpacks that they offer support for a lifetime.
The design, the workmanship, the build quality, it all screams quality. The OutdoorZ Pursuit should indeed last a lifetime.
Dimensions and Weight
The ALPS OutdoorZ Pursuit is pretty light for a 44L backpack, weighing only 4 pounds 1 ounce. This is primarily due to the pack's lesser aluminum border and thin fabric, which are very different from similar models.
It boasts of a sturdy size and form, with a boxy design that makes packing heavier goods easier. It's perfect for hauling meat; however, you shouldn't count on the material being completely water-resistant.
It's relatively tiny for a day pack of a similar caliber, being 22 inches in height and 14 inches broad, making it easier to carry through dense forests.
Pros
The Pursuit backpack is lightweight, weighing in at only 4 pounds.

It has a carrying capacity of 2700 cubic inches.

The backpack has an elaborate system of pockets ranging from the large main pocket to the organizational shelf pocket. This gives enough storage room.

In case the inside is full, more gear can be lashed onto the outside on the webbing loops.

With a hydration pocket and port, you can store water to keep you hydrated throughout the expedition.

Made of the Brushed Realtree Xtra HD Fabric, the backpack is resistant to scratches making it highly durable.

It comes with an orange rain cover for protection from the rain.

The ALPS OutdoorZ Pursuit is ideal for both gun and bow hunters. The drop down pocket can easily fit a rifle or a bow, and the side quiver holders place your arrows within reach.
Cons
The backpack doesn't have a frame for better stability.
Frequently Asked Questions (FAQs)
Q: Is the fabric quiet?
A: Yes it's very quiet. You can be able to get pull out your weapon without making a sound.
Q: What material is the frame made of?
A: Unfortunately this pack doesn't have a frame.
Q: What are the dimensions?
A: It measures 20 inches by 14 inches by 14 inches.
Q: Is there a center aluminum stay?
A: Yes, there's a sturdy aluminum remain in the Pursuit.
Q: Is the backpack waterproof?
A: The backpack itself isn't waterproof, but it comes with a cover that is.
Final Verdict
If you're looking for a backup hunting pack to carry for a day's hunting trip, then this is the perfect option. Perhaps you're camping and need a smaller backpack to carry away from the base.
No doubt, the Pursuit is perfect. It bears all the great qualities of the hunting bags. From durability to carrying capacity, it doesn't fail to impress. Sure, there is no frame, but this is a daypack.
In any case, the padded shoulder straps and waist belt make carrying it comfortable enough. The ALPS OutdoorZ Pursuit Hunting Back Pack earns itself two thumbs up.
You May Also Like to Read: